Dell Venue 10 7000 hands-on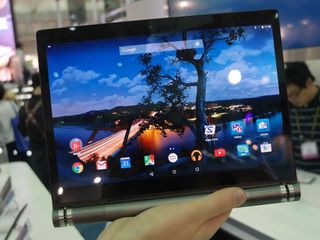 One of the biggest Android tablet surprises of 2015 has been the Venue 8 7000 series, the super-thin tablet with a depth-sensing camera and a gorgeous display, which gets even better with Lollipop. Now the manufacturer's back with a second Android 5.0 slate, the 10.5-inch Venue 10 7000 series. Like its predecessor it eschews the traditional tablet form factor in favor of an unconventional handle/hinge design, while also running a high-end Intel processor with the chipmaker's RealSense 3D camera tech.
Sure, Dell's still terrible at naming most of its products, but we can't deny that the veteran PC maker is coming out with some interesting Android tablets this year. Head past the break for a closer look at Dell's latest 10-incher.
Image 1 of 3
If you ignore the one big, obvious design change, the Venue 10 isn't so dissimilar from its 8-inch counterpart. Dell's 10-inch Android slate is thin, almost unnaturally light and framed in metal, with a sturdy yet attractive aesthetic. Bezels are minimal, and because the battery is located in the cylindrical handle at the tablet's base, there's no need to pack this in behind the screen. Holding onto the Venue 10 by this cylindrical bulge is easy too — it's more graspable than the average tablet border, and it also helps that the weightiest part of the device — that 7,000mAh battery — lives in there too.
The Venue 10's front proudly displays its 2560x1600-resolution OLED display — a stunning screen with bright, bold colors and super-sharp pixel density. That's the same resolution as the Venue 8 spread across a larger area, and it looks just as good. Around the back you'll find a collection of Intel and Dell logos, topped off by the three-camera array used by Intel's RealSense camera. And the Venue 10 bundled gallery app comes with some familiar tricks, involving creating a faux-3D effect in photos, refocusing your images and measuring the distance between spots.
The tablet's internals are a known quantity too — it's running an Intel Atom Z3850 quad-core processor with 2GB of RAM, and 16 or 32GB of internal storage. With the latest Lollipop update update, the Venue 8 manages smooth, speedy performance throughout the Android UI, and given the hardware similarities we'd expect the same from the Venue 10. During our brief time with the tablet at Computex, that certainly seemed to be the case.
Speaking of software, the Venue 10 runs the same near-stock Android UI as its little brother. While there are some preloaded apps — to take advantage of the tab's Intel RealSense camera tricks, for instance — it's mostly the same as what you'd find on a Google slate like the Nexus 9.
Image 1 of 4
The Venue 10 really comes into its own when paired with the optional keyboard dock. The keyboard attaches to the tablet's cylindrical handle, effectively turning it into an Android-powered laptop. The resulting combination is a bit more cumbersome than a purpose-built notebook — for instance, opening the entire contraption once closed isn't as easy as we'd like — but it's a natural enough fit for busting out a few emails or blog posts on the go. There's a trackpad below the standard QWERTY layout, which works as you'd expect it to, and the keyboard, though small, matches the full width of the tablet. Overall, it's one of the better Android dockables we've seen of late.
Dell's Android tablet lineup was once limited to bland entry-level offerings — no more. The Venue 8 7000 series took a confident step beyond the interchangeable craplets of old, and the Venue 10 shows signs that the new Dell is here to stay. Now let's maybe think up some more exciting names for these things.
MORE: Computex 2015 coverage from Android Central
Android Central Newsletter
Get instant access to breaking news, the hottest reviews, great deals and helpful tips
Alex was with Android Central for over a decade, producing written and video content for the site, and served as global Executive Editor from 2016 to 2022.
Looks interesting, almost literally just hit "pay" on an order for the 8 inch and then read this too.

This is very pretty... I would imagine Lenovo are talking to their Lawyers right about now...

LOL! XD Posted via my HTC One M8

I thought the exact same thing . It looks very similar to our Yoga 2 Android Tablets ...

It does look similar. Better yet it's looks better.. Posted via the Android Central App on my Nexus 5 or Nexus 7 2013

Exactly. I was thinking "Unique form factor my ass"

Nice looking tablet! Can't help but notice it looks similar to the Lenovo tablets due to the cylindrical handle. Now I have this tablet and the Sony Xperia Z4 Tablet on my wish list. Hmm...which one should I get lol? I've already read the reviews on the Sony tablet and they're generally very positive. So, I'm leaning towards Sony for now. Once I've seen reviews on this Dell tablet, I can then confidently make a final decision between the two. Posted via my HTC One M8

What would really motivate me to buy one of these tablets is if Dell fixed the issues they created with their last update to the Venue 8 3830 - right before they EOL'd!!! At first it was just browser issues (black blocks, crashes, and reboots) but now the new Google Photos app won't even start!!! Dell's track record for support is abysmal!!!

If only I could get Adobe products on Android tablets...too bad. I would probably try to switch to Android and ditch carrying my PC around if so.

Only 2 GB of RAM? It should be at least 3 for a high-end tablet nowadays. Posted via the Android Central App

I'll stick with my yoga2 lte

I have one of these and it's pretty slick. My only problem with it has been the bugs when trying to use it with the Dell Cast adapter. I submitted a bug report and haven't heard anything.

Thanks Alex - - Does it have Micro SD card expansion?
Also - did you get any shots of the keyboard dock in action? Posted via the Android Central App

There is a micro SD card slot on the side that can hold up to 512GB. It is all hidden right by the micro USB and headphone jack.

How's Dell's record when it comes to Android OS updates? That's always going to be the elephant in the room.

It's never been good... So there's that. Posted via the Android Central App

But dell uses vanilla android so custom roms should be easy. Posted via the Android Central App

The pricing on high end android tablets is way out of wack. This thing is the same price of the vastly more capable surface 3. Anyone who would buy this or a iPad air over a surface 3 needs their head checked. Posted via Android Central App
Android Central Newsletter
Get instant access to breaking news, the hottest reviews, great deals and helpful tips
Thank you for signing up to Android Central. You will receive a verification email shortly.
There was a problem. Please refresh the page and try again.