Debbie downer Xiaomi explains why we can't have 100W fast charging yet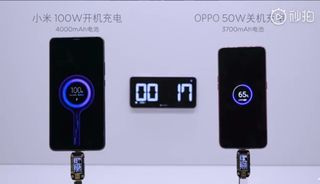 (Image credit: Venkatesh Gorantla on Youtube)
What you need to know
Xiaomi VP Lu Weibing took to Weibo to explain the challenges with pushing charging tech further.
Despite showing off 100W charging last year, the company has yet to debut a phone with its 'Super Charge Turbo' technology.
Weibing points to a loss of battery capacity at higher charging speeds as the biggest hurdle in adopting the tech.
Is it just me, or has Xiaomi become a bit of a Debbie downer recently? All its execs seem to want to do these days is tell us why we can't have good things (yet). Having smashed our hopes of seeing an under-display camera this year — regardless of whatever those Nokia rumors say — Xiaomi VP Lu Weibing is back at it again, this time throwing cold water on our desire for ever-faster fast charging.
Even though the company showed off its 100W fast charging tech nearly a year ago, the best Xiaomi's come up with, in a production model at least, is 65W fast charging. Why the delay?
Well, Weibing points to five big challenges with charging your phone at such a quick pace. I'll paraphrase his comments below:
Battery capacity loss: the faster the charging speed, the faster the battery starts losing its capacity to hold power. According to preliminary estimates, a 100W fast charging battery has about 20% less battery capacity than a 30W battery. In short, a 5,000mAh battery becomes a 4,000mAh one by increasing the charging speeds from 30W to 100W.
Technical implementation: Here, he simply refers to the "ultra-high voltage charging scheme." Presumably, using high voltages isn't good for the battery.
Performance: Xiaomi worries about not just making 100W charging technically feasible but also sustainable in the long run, especially if the phone is being charged for long periods.
Security: faster charging solutions obviously require a greater emphasis on safety, with Xiaomi implementing multiple protections for the motherboard, battery, and charger.
Multiple charging scenarios: the company is also looking at how the tech will work in different charging scenarios, such as wireless charging and compatibility with other chargers.
Weibing also notes that the advent of 5G is a further hurdle in implementing faster charging technologies. Given that 5G phones require a lot more power, the battery capacity losses he refers to earlier become even more of a concern with devices using the next-gen networking tech, making companies wary of increasing charging speeds at the expense of the already shorter battery lives of 5G devices.
As with his previous post about under-display cameras, he ends on a positive note and points out that 100W charging is nearly ready for mass production. Hopefully, we'll see a Xiaomi phone sporting the tech sooner rather than later.
Xiaomi Mi Note 10 preview: Meet the world's first phone with a 108MP camera
Get the Android Central Newsletter
Instant access to breaking news, the hottest reviews, great deals and helpful tips.