CyanogenMod 10.1.3 stable builds now rolling out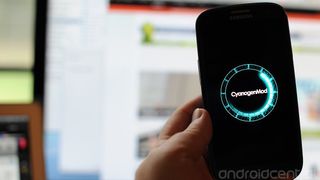 Even as Cyanogen, Inc. prepares its new installer and partnership with Chinese manufacturer Oppo, it's still hard at work bringing stable CM builds to other devices. Today CyanogenMod 10.1.3 has reached stable status, with builds now available through get.cm — at the time of writing a wide variety of phones and tablets have 10.1.3 builds available, so you'll want to check the site to see if it's out for your device.
In a Google+ post, the Cyanogen team says this is the final planned release for CM 10.1, as the move ahead with the Android 4.3-based CM 10.2 and eventually Android 4.4 Kit Kat-based firmware, presumably CM 11. CyanogenMod account functionality has also been activated in version 10.1.3, allowing you to track your phone if it's lost or stolen.
Source: +CyanogenMod (opens in new tab); Download: get.cm (opens in new tab)
Alex was with Android Central for over a decade, producing written and video content for the site, and served as global Executive Editor from 2016 to 2022.
Can I update to CM10.1.3 from 10.1.2 without any issues? I see the update popped up on my phone. Will it keep all the settings /data? Posted via Android Central App

It should work.
But make a nandroid before the update, just in case.

My Uncle Harrison just got an awesome metallic Kia Rio Sedan hop over to this web-site... http://x.co/2Pl3l

Mine (Sprint Galaxy S3) updated from 10.1.2 to 10.1.3 with just a click of the 'download update' then 'reboot'. Didn't affect any of my settings, desktop or apps. Very smooth, CM... very smooth.

Lol I can't even update at all. I keep getting an error status 7 whenever I do. Anyone know what's going on? Btw I'm using a rooted Rogers S3 running 4.1.2 Jelly Bean. Also I have the latest bootloader and am using the D2ATT version of 10.1.3.

Update your recovery to the latest version, also preferably do a factory reset before flashing. android central app

I tried updating CWM to 6.0.3.7 and after it says installation successful, I reboot recovery and it's still on 6.0.3.6. What gives?

if i use the build for HTC One S, will it work on HTC One V?

I wonder if I should flash this stable build or stay with my 10.2 nightly build Posted via Android Central App

10.2 N is working great on my Galaxy S, but this is great for those who don't need constant updates and want a stable phone for 3 or 4 months at a time.

I wonder how this whole CM, Inc. thing is going to work out because the stable builds usually have more issues than the nightlies.

Or when someone asks support for an ETA for the next release and gets kicked off the forum

In my experience there's no such thing as a stable CM build, and I've used CM 6, 7, 9, 10, 10.1, and 10.2 across 4 different devices. There's always at least one quirk that keeps me away, and yet I still keep trying. Posted via my thumb(s) and the Submit button

Same here.
But I always go back to CleanRom. 0 issues but doesn't look as good (it's same as stock) and not customizable as much. Posted via Android Central App

Worked just fine for me on my Samsung Galaxy Note 2. I used ROM Manager 5.5.3.0 to backup and perform the update. ROM Manager will also download and install Google Apps for you, and you can update CWM to the most recent version if you haven't already done so.

Spoo,
I noticed you are running CM on a Note 2 - did you just concede the use of the S-Pen, or is it working in CM 10.1, now?

Plaid, I haven't had any S-Pen issues since changing to CM. I also don't really miss the S-Pen utilities that come stock as they're terrible.

Plaid, You can also use GMD S-Pen Control in place of the stock S-Pen utilities.

do you have any graphic glitch on certain apps ? feedly for example was unusable on nightly rom i installed...

Im so glad I've got the nexus 4:) Posted via Android Central App

Is 10.1.3 based on Android 4.3? I'm probably going to take my VZW Galaxy Nexus back to stock or use CM because I am having way too many issues with Liquid Smooth and pretty much any other ROM. I'm tired of beta testing ROMs! VZW hasn't even released Android 4.3 for the Galaxy Nexus months after it was released for all other Nexus devices.. so ridiculous. This is why I am leaving VZW ASAP!!

All the 10.1.x builds are based on Android 4.2.2. CM 10.2.x is Android 4.3-based, but all builds to date are nightlies, not RC or stable.

I agree that you should leave verizon ASAP.
As far as getting a stable recent build of cyanogenmod stable is 4.2.2 but it's probably worth a shot. It's got to be more stable than Liquid Smooth.

Cm10.1.3 is based on Android 4.2.2. If you want android 4.3 you need to download the cm10.2 nightlies.

that's why i'm on CM! love verizon for the network and customer support, and finally they are carrying good phones, but the update process takes way too long, been on CM for almost 4 years and love it

Can someone send me a link on how to use the new build to update my Galaxy S Vibrant? Thanks!

Is 10.1.3 based on Android 4.3? Posted via Android Central App

No...4.2.2 Posted via Android Central App

I've rooted my Samsung Galaxy Note 8.0. But now I cannot update from Android 4.1.2. Can someone tell me how to get the Android updates for a rooted device? thanks

You can't. Once you root your device you can no longer receive official software updates unless you flash the official software which will make you loose your root.

But I could flash the official software, then re-root. How do I flash to official software? I thought you couldn't do that once you had rooted.

Find and download the official firmware as a zip file. Save to your device. Go to ROM and install from there...

I've been experiencing many issues since updating to 10.1.3 from lag, mobile data drops and random screen freeze. Found R2 much more stable.
Did complete wipe, clean install. Tried twice just incase. I always install Wind Kernel 2.5 but doesn't seem to matter with 10.1.3. Although battery life is top notch with 10.1.3r2 and Wind.
Android Central Newsletter
Thank you for signing up to Android Central. You will receive a verification email shortly.
There was a problem. Please refresh the page and try again.