Citrix GoToMeeting and Citrix Receiver pre-loaded on Droid 3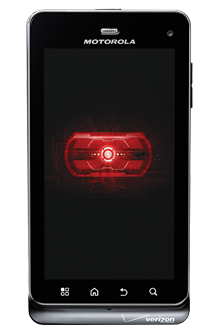 For those of you who managed to wrangle up a Motorola Droid 3 from telesales, when it arrives and your fire it up for the first time you'll find that Citrix GoToMeeting and Citrix Receiver are both pre-loaded on the device out of the box. If you're familiar with the web conferencing solution then you'll no doubt know that the Citrix GoToMeeting application is not yet available in the Android Market making the Droid 3 one of the first devices to have readily available access to it. You can jump on past the break for the full press release if you're interested in learning more.
Citrix® GoToMeeting® and Citrix Receiver™ Pre-Loaded on DROID 3 by Motorola, Now Available Through Verizon Wireless
Free Apps Provide Mobile Workforce Instant Access to Anywhere, Anytime Collaboration, Applications and Desktops
SANTA BARBARA, Calif. – July 7, 2011 – Citrix Systems today announced that Citrix® GoToMeeting® and Citrix Receiver™ will be pre-loaded on the DROID 3 by Motorola, the latest Android-powered device from Motorola now available through Verizon Wireless. DROID 3 by Motorola smartphone users now have the ease and convenience of mobile collaboration with the ability to attend online meetings anytime, anywhere, and they can access their applications, desktop and data while on the go.
The availability of the pre-loaded apps brings the popular, market-leading web conferencing solution GoToMeeting and the universal software client Citrix Receiver to a Motorola device completely designed for work productivity. In line with its vision of providing new ways to move work to a more optimal place – a concept Citrix calls 'workshifting' – Citrix continues to help businesses increase productivity, reduce costs and attract and retain top talent by enabling more flexible work arrangements.
Citrix plans to make GoToMeeting for Android available in the Android Market™ later this summer.
What Is New:
GoToMeeting Pre-loaded on DROID 3 by Motorola
Pre-loaded for convenience: Android users can access the pre-loaded GoToMeeting app directly from the DROID 3 by Motorola.
Quick session entry: Join meetings in seconds by tapping a link in an email or tapping the GoToMeeting icon and entering the meeting ID.
VoIP and integrated audio: Quickly connect to audio through the Internet using the built-in mic and speakers.
Audio controls: Mute yourself to eliminate background noise while on the go.
Zoom in on meeting content: Zoom meeting content up to 200% by pinching the screen.
Portrait or landscape view: Flip your DROID 3 by Motorola to adjust your view of meeting content.
See who's attending: View a list of meeting attendees.
Why It Matters
The world of work is no longer confined to the office and collaboration solutions like GoToMeeting and mobile devices powered by Android are helping people get work done from anywhere, fueling the workshifting trend.
Citrix 'GoTo' mobile services, including the GoToMeeting and GoToMyPC® apps for iPad® and now GoToMeeting for Android pre-loaded on DROID 3 by Motorola, ensure secure, reliable and high-performing support for the growing mobile workforce.
Citrix is making collaboration possible on the go, transforming the way people work and enabling them to work wherever, whenever and however they choose.
Supporting Quotes and Statistics
"Our mission is to enable today's workforce access to the best and easiest-to-use tools to work from anywhere, anytime. With our market-leading GoToMeeting and Citrix Receiver pre-loaded on DROID 3 by Motorola, the mobile workforce gains a very powerful package: instant access to critical work apps and data, collaboration on demand and a no-compromise killer personal smartphone." Bernardo de Albergaria, VP and GM, Collaboration, Online Services Division, Citrix Systems
"Businesses now have easy one-click access to online meetings, applications, desktops and business services directly from our faster, thinner and more powerful DROID 3 by Motorola. Adding Citrix GoToMeeting and Citrix Receiver to this innovative device extends our commitment to delivering Ready for Business experiences. We share Citrix's vision of empowering today's mobile workforce with the optimal tools for flexible, productive and engaging work." Christy Wyatt, Corporate Vice President, Software and Services Product Management, Motorola Mobility
"We've been using GoToMeeting for the past six years and now we've added GoToMeeting to our mobile devices. It's super easy to use and doesn't take much time to learn. Our sales and technical support teams are constantly on the go working from various locations, and they depend on easy access to meetings. The convenience of joining a meeting from any location ensures that our teams can respond to client needs anytime, anywhere. GoToMeeting continues to be an extremely very valuable solution for us." Peter Sternkopf, PMP, Chief Technology Officer, TERIS
Demand for the GoToMeeting app for Android is expected to grow with the burgeoning market for Android-based smartphones. According to IDC, Android will ascend to the leadership position in 2011 among operating systems and remain there throughout our forecast period. Android has quickly established itself as the cornerstone of many companies' smartphone strategies. Other vendors are expected to follow. IDC believes that by the end of 2010, total Android-powered shipments reached a total of 69.9 million units, representing 23.0% of all smartphone shipments for the year. IDC believes that vendors will ship a total of 178.9 million Android-powered smartphones by the end of 2011 and reach 420.0 million units by 2015.[1]
Pricing and Availability
Citrix GoToMeeting for Android and Citrix Receiver for Android are pre-loaded on the Motorola DROID 3 smartphone device through Verizon and available free of charge. For more information about GoToMeeting, visit www.gotomeeting.com. For more information about Citrix Receiver, visit www.citrix.com/receiver. DROID 3 by Motorola is now available online at www.verizonwireless.com and will be in Verizon Wireless Communication Stores by July 14 for $199.99 with a new two-year customer agreement.
Related Links
The DROID 3: Ready for Business with Citrix Receiver and GoToMeeting: http://blogs.citrix.com/tag/motorola/
Follow Us Online
Citrix GoToMeeting on Facebook: http://www.facebook.com/GoToMeeting
Citrix GoToMeeting on Twitter: http://twitter.com/#!/gotomeeting
Citrix Receiver Cloud Demo Environment: http://citrixcloud.net
Workshifting blog: http://workshifting.com
About Citrix Systems, Inc
Citrix Systems, Inc. (NASDAQ:CTXS) is a leading provider of virtual computing solutions that help companies deliver IT as an on-demand service. Founded in 1989, Citrix combines virtualization, networking, and cloud computing technologies into a full portfolio of products that enable virtual workstyles for users and virtual datacenters for IT. More than 230,000 organizations worldwide rely on Citrix to help them build simpler and more cost-effective IT environments. Citrix partners with over 10,000 companies in more than 100 countries. Annual revenue in 2010 was $1.87 billion.
The Online Services Division of Citrix provides secure, easy-to-use cloud-based solutions that enable people to work from anywhere with anyone. Whether using GoToMeeting® to hold online meetings, GoToWebinar® to conduct larger web events, GoToTraining® to train customers or employees, GoToMyPC® to access and work on a remote Mac® or PC, GoToAssist® to support customers or GoToManage® for IT support and management, businesses and individuals are increasing productivity, decreasing travel costs and improving sales, training and service on a global basis. For more information, visit www.citrixonline.com.
Get the Android Central Newsletter
Instant access to breaking news, the hottest reviews, great deals and helpful tips.