Chromecast Ultra vs. Roku Premiere: Battle of 4K Streamers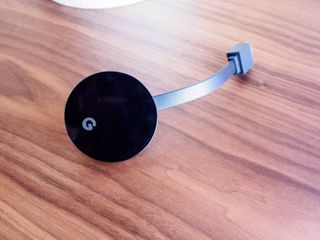 (Image credit: Android Central)
Media streaming has come a long way. The latest hardware is fast, the feature lists are filled with just the right things, and the content available just keeps growing and growing. As more people cut the cord and say goodbye to cable, companies have more incentive to improve your streaming experience. This is great for both the true cord-cutter and the casual streamer.
There are two major players when it comes to streaming media devices, and both Google's Chromecast and Roku's streaming stick have seen recent updates that beef up the hardware and support 4K streaming in HDR. Both are powerful and affordable, but which one is best for you? Let's take a look at the Chromecast Ultra vs. the Roku Premiere (opens in new tab)!
The Chromecast Ultra
The Chromecast Ultra is the high-end of Google's Chromecast family and was designed to be able to stream UHD 4K video in HDR to any TV or monitor in your home.
Chromecast devices have a legacy of being affordable and simple, and the Ultra follows that trend. Once plugged into an available HDMI port on and set up through Google's Cast app for Android (opens in new tab) or iOS (opens in new tab) (and attached to your network with an optional Ethernet port if desired) you'll be able to "cast" video from an app on your smartphone or tablet through the device to your television. Once the initial connection is setup, your phone breaks the primary connection and the Chromecast takes over, streaming audio and video directly from the source. Your phone can still act as a remote to change volume or navigate through your stream.
The content library for Chromecasts is huge. Google uses the term "endless," and while we won't go that far there are hundreds and hundreds of apps with Google Cast support. From favorites like Netflix and Hulu to your own content through Google photos or local streaming, you'll easily find something you and your family or friends want to watch.
What we like about the Chromecast Ultra
It's inexpensive ($69)
It has Google Home integration
It comes with an optional Ethernet port for faster, more stable connections
Finding content via your phone is a better experience
See at Google (opens in new tab)
The Roku Premiere
Roku offers an extensive line of products that cover all price ranges. The Premiere series is an excellent option that can stream 4K UHD video and HDR video (Premiere+).
Roku is a name that's well known amongst cord cutters. One of the first companies to offer an all-in-one streaming solution, you'll find plenty of people who are happy customers. The internals are faster and more powerful that the entry-level offerings and are ready to stream demanding UHD video in HDR at 60fps with compatible video equipment and sources. Roku offers a standalone remote to control everything as well as a dedicated Android (opens in new tab) and iOS app. The Roku can also act as a Google Cast target to stream from compatible apps on your phone or tablet.
Like the Chromecast, Roku offers a vast content library with all the favorites as well as a few up and comers like Crackle. Using the Roku's integrated search feature finding content to stream is simple.
What we like about the Roku Premiere
It has a dedicated remote
You can plug headphones into the remote
It has Amazon Prime Video and Amazon Echo integration
It has a microSD slot for channel storage
See at Amazon (opens in new tab)
Which one should you buy?
Both choices are great, especially if you're an Android or iOS user. Our recommendation is to go with the Chromecast Ultra if you haven't yet fully cut the cord.
The Chromecast Ultra is just dead simple. It features an intelligent one-tap setup, is fast, and streaming content is super easy. You can have a room full of friends connect and binge watch YouTube videos, or entertain the kids with some educational programming all at the tap of an icon. Frequent automatic updates from Google keep things running smoothly and the price means you can put one at every TV in your house. If you're entrenched in the Google ecosystem, Google Home integration means you can command your Chromecast through Google Assistant using only your voice.
The Roku has some features designed for the "power user" like an SD card slot and a dedicated remote with a headphone jack. You can store your own "channels" on the card to create content streams tailored just for you — or your partner or your kids. The headphone jack on the stand-alone remote makes the Roku perfect for the bedroom or anytime you don't want to disturb others. The big addition is Amazon Prime video support through a stand-alone app on the Roku and an open API for Alexa that lets the Roku be controlled through the Echo. You exchange some of the ease-of-use (though using a Roku is by no means hard) for some features you won't find with the Chromecast.
No matter what choice you go with, You'll find a rich content library and will have a great streaming experience.
Android Central Newsletter
Get instant access to breaking news, the hottest reviews, great deals and helpful tips
Senior Editor — Google Ecosystem
Jerry is an amateur woodworker and struggling shade tree mechanic. There's nothing he can't take apart, but many things he can't reassemble. You'll find him writing and speaking his loud opinion on Android Central and occasionally on Twitter.
I am waiting for next nvidia shield before deciding. All are good options.

You mean the NIntendo Switch? ;)

No, I meant Shield TV..:)

I've been so happy with my Shield TV. I'm a little irritated that the Nougat upgrade is taking so long, but the experience of using it is just fantastic.

You do realize that aside from the Nexus-es, not a single Android device has been upgraded to Nougat yet, right?

Ya, Nougat on My Nexus Player for months in Beta, Now full swing, . .

Not sure I get your point.
Are you trying to tell me the Nexus Player is not a Nexus? XD

Yeah, I said that poorly. What I should've said is that I'm a little irritated that Nvidia has been pretty much entirely silent about the upgrade timeline. They were always pretty open about that with the Shield Tablets.

Google and Amazon need to kiss and make up and allow Chrome cast support with Amazon Prime Video. Prime cast support is something I have wanted since I got my Vizio P65 with built in HDR Cast support, back in March.

This isn't a Google problem. This is an Amazon problem. They just have to add their app with Cast support. They choose not to.

Or, you know, you could get a Roku and not have to worry about it. This is the advantage of the Roku: It plays nice with EVERYBODY. The Chromecast is just another ecosystem lock-in device. Now, this does have advantages, but if you are like most folks and have a random smattering of random devices bought over several years and random services you subscribe to with no single cogent ecosystem, then the Roku is going to work better for you. Honestly, the only reason that AC is recommending Chromecast is because this is AC. Google stuff is kind of their "thing". (If this was iPhone Central they would be recommending the iTV and we all know it.) In all honesty though, the Chromecast device simply isn't as powerful or as flexible as the Roku. It is cheaper, but you get what you pay for.

I honestly think the CCU is better for folks who aren't sure or don't quite know enough about it and have to ask. It's easier. Easy is what a lot of people want. If you want to step things up, go with the Roku until you're confident enough to install your own streaming server and NAS.

CC is easier except for the fact that Roku has a dedicated remote. I have no problem using my phone as a remote control, but when I showed my mom how it worked, I may as well have told her that you perform a blood sacrifice and have Satan himself appear in your home to change the channels for you. I ended up getting her a Roku stick instead, and she had no problems adapting at all. I suspect that a lot of people of a certain age group would feel the same.

Roku (or a computer) is the only way to go to have some of the cable providers app to work for HD, Time Warner for example will not let the android app be cast.

Agreed 100℅. I love my Roku. The Chromecast hardly gets used.

Since I got my Vizio P65, I have stopped using the netflix, youtube and Vudu apps in my Tivo and use the built in cast support of my P65. On the Tivo, I still use Amazon Prime but my Tivo Roamio is not 4k, so I cannot stream the 4K A-Prime video content. Having Cast support added to A-Prime Video would be more beneficial to me then getting a Roku :) Plus, I like having less equipment in my Home Theater setup :)

I agree, my Roku is great because my kids and wife can use it at anytime without a smartphone or tablet, actually we become cable cutters 3 years ago and Roku made it so easy.

Just curious why the Amazon Fire 4K box was not included in here? I have Playstation Vue and it is horrible on both chromecast and roku... Looking to buy the firebox almost specifically for PS Vue.

Mi Box wasn't included either, and that looks great for the price.

This is almost the exact decision I made a few years ago when the choices were the original Chromecast and Roku. I went with Roku 3 and have been very happy. The availability of Amazon content was the main factor. Now that I have it I'm really glad there is a remote. i can still cast youtube and netflix from my phone but all of the other people in my house would just rather use a remote. Interesting about the Roku / Echo integration. I'll have to explore that.

I would have liked to see the $69 Mi Box on this list too Jerry.

Just picked my Mi box up over last weekend. It's Android, that settled it for me. 4k at 60fps, Running Android 6.0, lighting fast quad-core, 2g ram. It's got the same specs under the hood as a Shield, but a price tag of $69.00. Nuff said

Without an ethernet connection, not sure how it will work with 3k. I will probably wait.

I've speed tested my Mi box and I'm clocking in average 40mb DL speed. That's more than enough for 4k, but if need be, I believe I can just hook up a USB to ethernet converter. I just don't have a 4k tv yet to test

The Mi Box does not have the same specs as the Shield which is why it's only $69. If you can deal with a slower device, no Ethernet, only one USB 2.0 port as opposed to two USB 3.0 ports and a micro USB 2.0 port on the Shield, and no microSD slot then I guess the Mi Box will work for you. There are other advantages that the Shield has but don't need to get into those here. Just don't try to pretend that the Mi Box has the same specs as the Shield.

Ummmmmmm..how can 70$ be "inexpensive" when the previous one was half that?

Four times the resolution for only 50% more. Sounds like a deal to me. :-)

While a 4K tv does display at four times the quality you would be doubling the price of the other chromecasts so it wouldn't be 50% more it would 100% more.

Least inexpensive for a 4k streaming system, compared to a Nvidia Shield

IMO, 4K + HDR (Dolby Vision) support justifies 2X the price of original. It is still less than other equipment that offers HDR support. Works for me since of I have an HDR TV :)

If you have Prime, there is no choice. It's Roku or bust unless Amazon and Google can start working together at some point.

Problem with Roku playing Google movies (via the channel) is no multi channel audio support.

I like that the Roku has an IR eye on it. I use my logitech harmony remote to control all of my home theater devices. I can just tap "Watch Roku" on my remote and my tv and receiver will switch to the appropriate inputs.... and boom I'm interacting with the roku as if it was built into the TV itself. No extra remotes, no apps that take my eyes away from the screen. It just works better.
It stays tucked away out of site in my media cabinet and I use a $20 amazon ir repeater to keep it hidden(along iwth all of the other devices).
The simplicity and integration are why my wife loves it as well. She could give a damn about bells and whistles. I am glad they finally added an ethernet jack to the chromecast.

It is sad that both Google and Amazon are acting like babies. Through there echo system both of them block each other off...effectively screwing the customers.

For people that are about to buy a new tv around this time of year should really check out what system/apps comes with the tv. I know that sounds simple but u would be surprised how many people don't because of things like this, (Chromecast, Roku, etc) & bad experiences with the built in apps. I just got a tremendous deal on probably the best tv on the market (LG OLED), & I researched it before I bought it & it comes with Amazon/Prime app installed, among other great stuff too. Matter of fact it's one hell of an OS on this tv, some will remember the ole' Web OS from the phones. This one comes with Web OS 3.0 & it's a pleasure to navigate. I think LG has the best smart tv out there with Web OS 3.0, u might not need to spend any $$$ @ all on these peripherals. I still bought the UHD Chromecast anyway :) Happy Holidays Everyone!

I bought one of Sony's Bravia Android TV, and I can't say I'm too impressed. A lot of lag and frequent hiccups in streaming. I'll probably buy a Premier +, because I really liked using the Roku stick on my old TV.
Android Central Newsletter
Get instant access to breaking news, the hottest reviews, great deals and helpful tips
Thank you for signing up to Android Central. You will receive a verification email shortly.
There was a problem. Please refresh the page and try again.