Chromecast snags 35 percent of global streamer market in 2015, says Strategy Analytics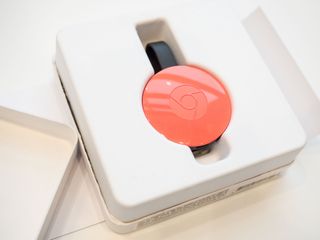 According to some new research from Strategy Analytics, the Chromecast has taken 35 percent of the global streamer market in 2015. Google, Amazon, Roku and Apple account for 8 out of every 10 streaming media players sold, and the demand for these continues to rise. The company claims that the demand has grown 32 percent in 2015.
It's noted that Google has shipped more than 27 million Chromecast's in the two and a half years since its release, and Apple has shipped 37 million Apple TV's since 2007. You can find additional research and information about Chromecast market share and digital streamers below.
Press release:
Chromecast takes 35% of the 42 million unit Global Digital Media Streamer Market in 2015, says Strategy Analytics
Demand for dedicated streaming media boxes and dongles grows 32% to a record level in 2015 but control rests with four major brands
Boston, MA – March 8th, 2016. Amazon, Apple, Google and Roku accounted for more than 8 out of every 10 Digital Media Streamer shipments worldwide in 2015, strengthening their combined grip on the fast growing category. Google's low-cost HDMI dongle continues to lead the standalone streamer market and it has now cemented itself as a top 5 player in the overall Connected TV Device rankings according to the new Strategy Analytics Connected Home Devices (CHD) report "Global Connected TV Device Vendor Market Share: Q4 2015."
David Watkins, Service Director, Connected Home Devices service said, "Google's puck sized Chromecast dongle continues to have broad appeal with consumers who favor its mobile-centric approach to content access and control. The device's portability and low price at just $35 has made it an impulse purchase for many and household ownership of multiple Chromecasts is not uncommon. However, the mobile device is not necessarily the center of the universe for everyone and devices such as Apple TV, Roku and the Amazon Fire TV continue to prove popular with those looking for a more traditional remote-based and UI driven TV experience."
Based on cumulative shipments of digital media streamers, Apple still leads the way having shipped close to 37 million Apple TV units since its launch in 2007. However, Google's Chromecast is catching up fast with 27 million units shipped in just two and a half years followed by Roku's Box and Streaming Stick (20 million) and Amazon Fire TV (less than 10 million).
Global shipments of all Connected TV Devices (including Smart TVs, Blu-ray players, Game Consoles and Digital Media Streamers) totaled 220 million units in 2015 following record shipments of 84 million in Q4.
Smart TVs accounted for 54% of all Connected TV Device shipments in 2015 reaching 120 million units. Samsung, LG and Sony have a combined 50% share of the Smart TV market although Chinese brands TCL and Hisense enjoyed the strongest annual shipment growth as they continue to expand beyond their domestic market.
Get the Android Central Newsletter
Instant access to breaking news, the hottest reviews, great deals and helpful tips.
Jared started off writing about mobile phones back when BlackBerry ruled the market, and Windows Mobile was kinda cool. Now, with a family, mortgage and other responsibilities he has no choice but to look for the best deals, and he's here to share them with you.
With a lot more competition coming from Amazon and Roku's streaming stick exclusives, I'm surprised Chromecast is holding its ground. Posted via the Android Central App

I'm not. It's much more open to developers than the products you mentioned. It makes it much more flexible of a device. The company here that is stupid is Amazon. And I don't say that lightly because I like Amazon a lot. But they should really make their apps available on Google Play to make money on content for the people that don't have one of their devices. Just from this statistic alone in this article, they are missing out on a lot of content dollars. They need to stop being stubborn.

+1 I wonder if illiterate people get the full effect of alphabet soup

Owned him Posted from my Nexus 6/Nexus 7 2013/Surface Pro 3

Exactly. Amazon is too busy trying to sell a product, whereas Google has realised the product is just a gateway into the real revenue stream. For a company that's entirely web and tech based, Amazon can be incredibly old fashioned and backward thinking at times. Look at twitch, they own it, and it makes them money. But I'm convinced they don't really understand it in the slightest. Posted via the Android Central App

Trouble is, the advertising revenue stream from Android users is not as lucrative as you seem to think. iOS users generate a mind-boggling 1,790% greater Advertising profit than Android users according to Nanigans. However, it's even worse than that. It's not just that Android monetizes worse than iOS — it actually offers negative return on investment. In other words, while advertising on iOS brings retailers 162 percent more cash than they spend on the ads, Nanigans reports that advertising on Android returns 10 percent less than the cost of the ads. Basically, Android is a liability and Apple has Google by the crown jewels in mobile. Perhaps Amazon (and Apple) aren't so stupid getting their profits from selling products. (actually, considering Amazon's low to non-existent profit margins, maybe mason at least is still dumb!)

They're probably not. I've been noticing this site is very biased. Very pro Google for example. I wouldn't be surprised if the king Roku and Amazon are actually destroying inferior Chrome cast. If not, then I'm surprised Chrome cast is being successful considering its inferior to the competition. Posted via the Android Central App

In terms of actual usage, it's the Apple TV on 12.8% of all streaming TV Everywhere viewing that is destroying the Roku on 7% and the Amazon Fire on a tiny 1%.
Since the Chromecast is just a wireless dongle for other devices to stream to a TV, it would only be some small fraction of the 9% of streaming TV Everywhere usage that all Android smartphones and Tablets manage.

What about Android TV? is that even still a thing?

Yeah I'm feeling weird about androids TV right now... Posted from my Nexus 6/Nexus 7 2013/Surface Pro 3

most of sony TV sold in 2015 has Android Tv.
"Smart TVs accounted for 54% of all Connected TV Device shipments in 2015 reaching 120 million units. Samsung, LG and Sony have a combined 50% share of the Smart TV market" according to playstore install numbers for Android Tv launcher it has somewhere between 1 and 5 million devices https://www.androidcentral.com/e?link=https2F2F...

I get your point, but still, there hasn't been a new Android TV set-top box since the nVidia Shield, and I have seen a few articles that said you can't even find the Nexus Player for sale anywhere anymore. Also, a few days ago there was news of a partnership between Google and Vizio to have chromecast functionality buitl-in in new TV sets. Sometimes it just seems that Google is betting heavily on Chromecast and Android TV is fallng through the cracks.

I think Celso is on the money. The Adobe Digital Index reports that SmartTVs like those Samsung, LG and Sony sets only make up 0.7% of TV Everywhere revenue compared to the Amazon Fire on 1%, Roku on 7%, all Android tablets & smartphones on 9%, the AppleTV on 12.8% and all Apple iOS devices on 40.5%. SmartTVs (and Android TV) are virtually missing in action.

This is a bit of an unbalanced comparison as the Chromecast is little more than a wireless video dongle that requires other computers or mobile devices connect to it in order to stream content to the TV. The Chromecast isn't a stand-alone device like the AppleTV which has it's own on-screen interface and native apps and App and Content store all on the big screen. The proof is in the pudding - Usage. Apple absolutely dominates, not just the Chromecast, but Android as a whole and even Windows PCs and SmartTVs in terms of actual streaming TV usage. "the Q2 2015 Adobe Digital Index report reveals that Apple's devices captured a huge 61.2% share of the TV Everywhere (paid streaming TV) market. Of this, 22.3% came from the iPad, 18.2% were iPhones and 12.8% were from the AppleTV. The Windows PC only managed 18% and all of the Android platform (tablets and mobile) only managed a tiny 9% market share. Roku captured 7%, gaming consoles 2%, Amazon Fire 1% and SmartTVs 0.7% of paid streaming TV revenue."

Troll much? Posted via the Android Central App

So Jam, do you actually have any logical reasoned counter-arguments to my comment or are you just going to sling mud?