Chromecast set to go on sale in the UK soon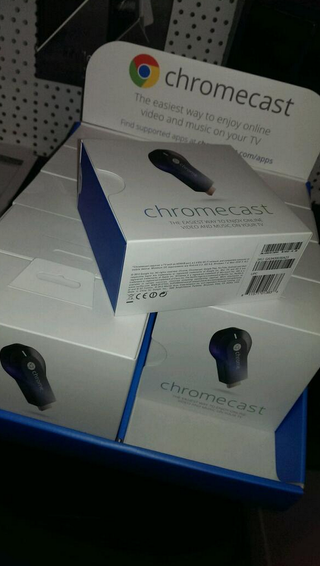 Stockpiles at high street retailer show impending UK launch on the cards
Google's Chromecast is a hotly awaited item outside of the U.S. but according to this picture tweeted to us yesterday, UK buyers might be getting their hands on them pretty soon. The image shows stocks of Google's HDMI dongle that have been received at Currys PCWorld.
Apparently they haven't yet been loaded up onto the store systems, so they're not going on sale just yet, but the fact the stock is in the country only means one thing. It also comes on the back of Google's Sundar Pichai talking an international expansion recently at SXSW in Austin, TX.
No word on pricing, but to expect it in the £30-£40 ballpark wouldn't be unreasonable. And with the recent SDK opening up to developers, Chromecast remains one of the best value-for-money products out there right now.
I picked one up on a trip to the U.S. and I've been really happy with it so far. Any Brits out there waiting (im)patiently for these to go on sale?
Source: @Rage06
Get the Android Central Newsletter
Instant access to breaking news, the hottest reviews, great deals and helpful tips.
I tried it when they came out, imported one. Netflix was really choppy and I have BT Infinity with a 72Mbps line. The rest performed poorly too. I bought a Sony Smart TV in the meantime so it makes this pretty redundant, my Z1 compact "throws" everything without the dongle and all the apps are in the TV.

Netflix hasn't been the best for me either, yet performs perfectly on my PS3 and Apple TV on the same broadband connection (Virgin fibre). Youtube and Google Play Music on the other hand have been outstanding.

I have them both built in, so no pissing about switching inputs, it's cleaner, and frees up a HDMI port. Same experience with Netflix. It just doesn't seem able to handle the HD stream.

Well good for you. I have a Sony Smart TV and with the latest update to Synology's DS Video app the Chromecast just made the Smart part of the TV redundant. Yes it doesn't support casting the screen of the phone but why would you want that? Not being able to use the phone while watching a movie is pretty restrictive and the whole concept of Second-Screen goes away. Also Smart TV support from Sony is dropped after a year with no updates to apps and Chromecast support sees only the sky as the limit. Gabbing my Chromecast with me on trips means I have a Smart TV functionality almost anywhere I can find a TV and a WiFi network. But hey not every shoe fits all feet.

I use it to show photos/videos/simple games/youtube without having to mess about, why would you not want that? It just appears on the screen, and when you're finished it goes back automatically to the original input, no remotes required. Why would I not use my phone during a movie? I don't need to cast from it, it has Netflix/Amazon/DNLA support built in, I just play anything I want via Plex via my Time Capsule. 2TB of content. Also, if I throw a YT video to my TV it opens the YT app, and plays the vid, á la Chromecast, so I can do whatever I want with my phone. Finally, I've had about three updates since I installed the TV. Sorry, each to their lown like you say, but I don't see your argument. Good luck finding an Internet enabled TV and unlimited Wi-fi on your travels, you must stay in better hotels than I do LOL.

Netflix is fine for me in HD with 20mbps ADSL (and it uses only a fraction of that).. It even works well on two TVs simultaneously. Suggest getting BT to look at your line. Posted via Android Central App

I bought a Sony Smart TV for watching Youtube etc and found the Sony wireless dongle for it to be absolutely useless. It was unable to maintain a connection to the router from 3 feet away, with a direct line of sight. In one fell swoop that killed forever the thought of using a Sony Smart TV for anything smart again. I'm buying a Chromecast for the Sony TV and Roku Streaming Stick for my other HD TV. Best of both worlds.

This is good news. I've wanted one since their release stateside. I considered importing one but couldn't warrant it at the time. Now that they're coming out here, I'm excited. Hopefully Google will put them on the UK Play Store too.

I imported three of them. Amazing value for money. Can't wait for decent support for UK services. Would be great if KT worked with iPlayer. The Chromecast beats apple TV big time, I have both. Posted via Android Central App

So been wanting one of these just for watching films on demand. Films of Google are cheaper than via my Virgin rentals.. Posted via Android Central App

Do a search for 'chromecast' on PCWorld's website and it says no results in the main window, but 'GOOGLE (1)' in the manufacturer filter... its not going to be far away now!

Given that these have been going for £29.99 on Groupon recently and a lot of people then got an extra £10 off (Groupon gift or something) I think a £40 price point is way too much personally. I feel £25 is a sweet spot given the various other hardware options that seem to appear daily. Posted via Android Central App

Agreed. You know how it is over here, though :-(

I got one when amazon accidently opened the sale to UK I'm very happy with it. No issues with Netflix (I'm with plusnet) and now with koush's allcast I'm watching local media from my phone as well infact in so impressed I picked another one on eBay for the bedroom for £28 including shipping. Posted via Android Central App

Yep got one here for £29.99 on eBay. Love it. No problems with Netflix or anything else so far. Add allcast and its great. Posted via Android Central App

I love both mine - netflix and plex mainly but it's great to be able to be viewing something and chuck it onto the TV for everyone to see. I paid £35 each via Amazon. I wonder how well it'll do vs. The £10 Sky Now TV box... No iPlayer etc. so it's at a disadvantage. Posted via Android Central App

I got one from Amazon last year. Good value for money and works well. Posted from my galaxy note 3

Can anyone tell me if WWE network works on Chromecast in the us?
Posted From My Awesome Moto G

I got a Chromecast from a friend in the US, and was so impressed I got second from Amazon. Netflix works really well over our 10mbit connection. Google Play movies are amazing quality too. AllCast app works pretty well for casting local media from a mobile device. Casting from Chrome browser is really sweet. Posted via Android Central App

How about release it in Canada where we don't have to pay double the price.... Posted via Samsung GS3 Wishing It Was A N5

You can get the sky now tv box for £10 and the play to app for about £3 which does the same thing. Posted via Android Central App

Sky can do one. Chromecast + Avia + Show Box = Awesome. A few things I've noticed with my Chromecast, to avoid it dropping connection I've done the following. Changed my phones (SAMSUNG S3) IP fro m DHCP to Static. Also in Avia's options select the one that says Lock Wifi on. Just remember to disable this once you've finished casting as it can drain you're battery quite fast.