Chromecast looks set to hit UK shelves on March 19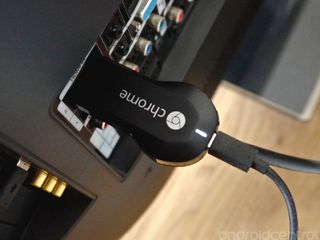 Stocks arriving ahead of imminent launch
The latest in the UK Chromecast release saga finally sees what looks to be an accurate release date. Following yesterdays news that stock was arriving at Currys PCWorld stores, Android Police has obtained an image of an internal Dixons Retail – the owners of Currys PCWorld – communication putting the on sale date as March 19. This coming Wednesday.
There's no indication of price, but it does at least look like the long wait is coming to an end. Chromecast has been a hot product from Google since its launch, and it's pretty exciting news that finally it's breaking free of U.S. exclusivity. Who's buying?
Source: Android Police
Get the Android Central Newsletter
Instant access to breaking news, the hottest reviews, great deals and helpful tips.
Already got 2 since the US release. However, hoping this means a slew of UK app support Posted via Android Central App

Agree if there's no supports for Iplayer, ITV player, 4od and demand 5 then I have no use. Already have YouTube and Netflix on my smart TV which I can cast from the YouTube and Netflix app on my phone and Tablet. Posted via Android Central App on nexus 7 (2nd gen)

might see what fuss is about!!! Posted via Android Central App

who cares.
its another crippled google device and as soon as google either make enough cash or get bored with it and they will stop supporting it.
am bored with purposely crippled google crud.
will totaly not be buying any.

Thank you for that most civilised of contributions Posted via Android Central App

Wow great contribution. I am definitely sure that Google will look at your comment.
Hint: Google doesn't care. Posted via Android Central App

Well it's leaving the US so I doubt they will just leave it now. Usually when they kill something Ie nexus a it either gets killed before release or never makes it outside the US Posted via Android Central App on nexus 7 (2nd gen)

Where's the queue? (oh poop, I need a HD tele too :-( ) Better get saving up.

You good sir ought to look into becoming friends with a computer monitor. Posted via Android Central App

Lol you can get a 32 inch TV for 299 now Sent from my Nexus 7 2013 or iPhone 5

Already got 2 imported. But here is hoping for done UK app support Posted via Android Central App

Got one imported, best thing in the world. Looking forward to more UK support though!

I love this thing I dont use my Apple TV anymore I'm taking mine with me on family vacation Sent from my Nexus 7 2013 or iPhone 5

Who cares about UK(joke), what about Europe?

Fully expecting it too cost more than you can buy an import for on eBay. Posted via Android Central App

Probably! anything more than £30 would be taking the p, if anything, the price should come down since it's been manufactured since July so they must've recouped their RND costs, especially when they probably didn't expect the success. Since I missed out on that Groupon deal (spent it on stuff for the missus) and I've managed to hold of importing one for 7 months, I'll hold off until more UK-centric apps come out (e.g. iPlayer)

I've been wanting to find a reason to buy one here in the states, but cannot. There is still too much of a lack of support for it. And it is very limited as to what it can do. If this device could mirror on my TV what is in my phone, I would buy one. I already get Netflix on my TV, and via DirecTV, have access to You Tube. So for me, it is about useless. Posted via Android Central App

Picked this little gem up yesterday and it works great on both my HTC One ™ however it seems to work much better on my wife's moto X. One question : is it possible to cast from the Android chrome browser at all? I enabled something in the Address that apparently would enable this on chrome beta for Android but I never saw the cast icon appear... I understand there is an extension for desktop chrome but I'm talking about chrome beta for Android. Any help /clarification would be greatly appreciated! Love this little device though! Mike

Nope you cannot cast from browser, however you may be able to stream something similar from Localcast. Not sure if it works since I never opened the app, but give it a try! Posted via Android Central App

You can cast from chrome beta, but it only works with HTML5 videos in full screen in the browser, once opened in full screen the cast icon should pop up top left. Its a bit hit and miss sometimes though.

I'm havin this... Just hope the xbmc guys will do app support on this now that the sdk is out.
Nexus 5 black 32gb

Have you tried Plex? Posted via Android Central App

If it had Sky+ and SkyGo apps then I'd be tempted. But I've got a feeling that Sky won't want to lose out on their price gouging Multi-room packages. Posted via Android Central App

I concur, Sky Go won't support the CHROMECAST but NowTV might. Posted via Android Central App

Sky definitely won't support Chromecast. Sky have invested in Roku, so you will need to buy the Roku Streaming Stick instead. I think that is available middle of April in the UK.

And still no direct sales for the Chromecast in Canada.

Well I do have a birthday coming up... Posted via Android Central App

Dare I say...1080HD support? Or have I missed where that's documented. ... If this is the case for Netflix I *may* be tempted. A friend has Netflix through his PS3 and the picture quality is very good for a streaming feed. Agree with others. Definitely needs UK VOD support such as iPlayer, 4OD etc.. Posted via Android Central App