Chromecast is still the best hardware product Google has ever made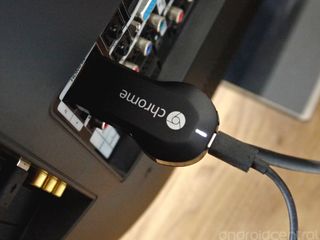 Google has had its hands in a lot of different products over the years. Most of Google's endeavors have been software-based and some have become wildly popular, like Gmail or Android. Others were a bit more low key — does anyone remember Google Lively? It's a story shared by many Silicon Valley businesses both large and small.
But Google has also been behind quite a few hardware projects since the company was founded in the late 1990s. We've seen corporate search appliances, ARM single-board supercomputers, and driverless cars as well as mobile and wearable products we're more familiar with come from the minds in Mountain View, but none has been as successful as the lowly Chromecast.
See at Best Buy (opens in new tab)
We saw our first official look at the Chromecast in 2013. Its roots go back to the ill-fated but beautifully imaginative Nexus Q, which was one of the first ever products to bring the idea of "headless streaming" to the masses. Except it never really went on sale so it didn't actually bring anything to anyone outside of the abstract idea that your phone can not only act as a remote but be the only interface with a streaming appliance.
Since the Chromecast was released commercially, it's evolved quite a bit, with the second-generation model bringing a 4K Chromecast Ultra and an audio-only version dubbed Chromecast Audio.
On the business side of things, which happens to be the side which determines whether a product lives or dies, the Chromecast has been a consistent winner. In the four years since its launch, it's become the best-selling Google product ever, the best selling media streamer ever, and one of those products that almost everyone reading this will have in their homes. No matter how you define a successful product, the Chromecast fits your definition.
I think the Chromecast is the best thing Google has ever produced for the same reasons it's the most popular product the company has ever sold. That's because it meets the simple criteria to be the best: cheap and easy.
It's easy to overdesign and overbuild any gadget. Some products are made better when they've been made to be over the top — the iPod Classic comes to mind here — but most of the time adding too much engineering time and too many features to a simple thing will make it too expensive or too complicated. Or both, à la Nexus Q. Google has resisted any temptation to turn the Chromecast into something with buttons and lights and dials which requires a 40-page user manual. That's important for a device that is only supposed to do one thing and keep it easy to do, and a Chromecast is both easy to setup and use.
Part of that is because Chromecast is a platform where developers are expected to do all the work. A user should only have to worry about choosing which Chromecast to send a movie or song to and it's up to the developers and publishers and everyone else behind the scenes to keep the process simple and consistent. And when a product is in millions and millions of homes, it's worth spending the time to be a part of it. Having Chromecast built into your app means more eyes are on bigger screens to watch it. It's worth adding Google Cast to any app that entertains us because we'll use it.
Another reason why we're using Chromecast is a bit more simple: it's inexpensive, especially for a tech gadget. At $35, it's so cheap that it can even become an impulse buy. If you've ever noticed Chromecasts neatly boxed in the checkout lanes of big-box stores like Target or Best Buy during holiday shopping, this is why. Buying a Chromecast because you need a simple streaming solution makes sense and putting it in front of a captive audience to remind them all that they can have a simple solution is a great way to sell a product. I know I can't help but think of where I could use another Chromecast when I see them on display with a few dollars knocked off the price, and I already have a house filled with them.
Over the years Google has had its share of hits and misses and whether you love 'em or hate 'em you probably use one or more of the company's products daily. If it's a piece of hardware, it's probably a Chromecast because it's still the best hardware product Google has ever made.
Android Central Newsletter
Get instant access to breaking news, the hottest reviews, great deals and helpful tips
Senior Editor — Google Ecosystem
Jerry is an amateur woodworker and struggling shade tree mechanic. There's nothing he can't take apart, but many things he can't reassemble. You'll find him writing and speaking his loud opinion on Android Central and occasionally on Twitter.
Original Chromecast > Fire TV Stick. That thing is garbage.

i love the firestick for hotel rooms.. i can sign on to the hotels network and access my stuff and not rely on the hotels ****** content

What, you don't want to pay $14.95 for a poorly-compressed movie that can only be controlled with a half-broken remote control that's probably never been cleaned?

Chromecast plus travel router. Bypass the network restrictions and login.

Great article. Agree completely. I love Chromecast. It has tons of uses and it's just a tremendous value. Now if hey can just get this and other Google products back on Amazon, they'd sell even more.

I still hate Chromecast. Truth is, it's NOT "easy". It's twice the work of just pulling it up on your phone or computer. It requires the user to interact with the casting device in order to see it on another, instead of just directly controlling it on the television. I have a television that supports casting without having to add the dongle, but I still find it to be a pain in the rear and generally prefer to use my Roku or just watch that crap directly on my laptop.
So no...Roku and FireTV is far superior to Chromecast. And heck, they really aren't that much more expensive anyway.

It works great even years later. I had a Roku, it was good. I use firestick daily, it's also good. But for screen sharing, YouTube, and photo sharing (like vacation pics or whatever) the Chromecast is unmatched. Add in Chromecast Audio (grouped or solo), it's by far Google's best hardware product

There are definitely times where it's more convenient to pick up a remote to control what you are watching... Rather than having to unlock your phone... But to say Chromecast is NOT easy to use is definitely NOT True. I have a Shield (far better than Fire anything) on my main TV which has chromecast built-in and I back and forth between casting and using the remote depending on what I'm doing, because sometimes it's actually more convenient to search on your phone and cast.

Correct. You every once in awhile run into someone who says the Chromecast sucks and then realize that they just don't get it. And if they don't get it, they probably don't use it or even own one (or own one and don't know how to use it which would be amazing since my 70 year old mother can use it). To each their own I guess.

Same here. Shield on living room on LG OLED 4K Dolby Vision and Chromecast Ultra in the bedroom on a LG LED 4K HDR. I also have 4 other first gen Chromecasts for travel, office, and summer home. That plus my Plex collection of 950 movies, and I can stream my Plex anywhere anytime. Pair that with a travel router for hotel WiFi networks, and it's game on in Aruba on vacay

It's way easier to just cast from my phone or even laptop to my smart TV than using the Roku's built-in apps...especially if I'm wanting to search for a title. As for photos and videos, the Chromecast (I have the original, 2nd gen and Ultra) just can't be beat.

Chromecast is faster and easier period. I can get something up and streaming faster from my phone than I can from using my Roku or Android TV box with remote. It's so stupid easy and efficient that I don't generally bother with remotes. I have an Intel NUC PC set up on my main TV as well for cable television watching but would never even consider using it to stream anything of importance with a Chromecast hooked up to the same television. I couldn't disagree with this comment more. That's not to say I don't like my Nexus Player or Roku on my bedroom television, but it's not nearly as fast or efficient as using the Chromecast.

However, Chromecast Ultra is the only streaming device other than the Apple TV that supports HDR10 and Dolby Vision, and it costs $100 less.

The "casting device" is just like a remote control, but you always have it with you since it's your phone.

Hmmm, I'd much rather use Chromecast any day of the week over Roku TV. You have to move the cursor over to each letter to search, and the interface is just way slower than my phone.

I don't see how a Roku or fire stick is any easier. Seriously my 73 year old mother in law has 2 Chromecast and has never had an issue.

I ordered two Chromecasts the first day they were available, and they're both still in regular use: one in my house, and the other at my partner's. I can't think of a lot of first-gen, inexpensive electronics that continue to work really well five years down the line.

Yeah, seriously. I bought one for every TV years ago, new and refurbished. All still work like new

I use my Chromecast when I travel but I use an NVIDIA Shield on my main tv and a FireTV (2nd gen) in my bedroom. Love being able to cast something to the NVIDIA Shield and then come back to whatever I was watching, exactly where I left off. Luckily (for now) my TV isn't HDR so I don't need the 3rd gen FireTV that Amazon screwed the pooch on with a slower processor than the 2nd gen.

My Chromecast has been in the closet for several years after using a few times. The main reason is it puts out more heat than several of the portable electric heaters I have owned over the years. Is that normal since I really don't want to burn down my house just yet?

ANYBODY, I AM SERIOUS HERE!

True.. Just sold my 5 yrs old Chromecast for 30$

I love my Chromecast. Because Amazon Prime doesn't work on Chromecast, I don't watch any of their shows. It's a shame because I would actually watch a few and switching to the fire stick is something I'd never do.

I would have to agree. I bought an original Chromecast back in 2014, and it still works great.

Honestly I used to love chromecast but I became disillusioned with it. It began to have constant issues and glitches. Plus I have to constantly have my phone to use as a remote, and it gets disconnected a bunch of the time so I don't have any way to control it. I prefer the Amazon fire TV stick.

One question about it, because I'm strong considering buying one: Which is responsible for the actual streaming of the content? The Chromecast or the device you're using to control it? Put another way, is it more important for my phone to have a strong wi-fi connection or the Chromecast?

The chromecast is responsible for the streaming, so the wifi connection of your phone is less important (except if you're mirroring your phone screen to the chromecast, then both need a good connection).

Youir phone/computer basically sends the link to the Chromecast which then goes out and gets the content so it's actually doing the streaming. You can continue to use your phone/computer without interrupting the stream. That is unless you are mirroring your screen, then the phone/computer is doing the streaming and whatever is on your screen will show up on the TV.

Firestick, you can put Kodi on it

Feel like I read casting was coming to Kodi... Right now I just open the Kodi app and cast the screen to my tv

Yep it's definitely worth the $35 I have one that I purchased right after they went on sale and it still works great also have a Roku that I purchased about 6 months for the Chromecast when it went on sale and it's too slow to use now I guess just CPU Ram some type of Hardware inside just hasn't kept up I have Apple TV and it's used the most but course it cost lots more I got it through DirecTV Now deal in November of 16 I did pay full price for the original Apple TV and it was similar to the Roku eventually it just got to slow use

I've got 6 of them. One Ultra, One 2nd Gen, and 4 first gen Chromecasts. Between steaming my Plex collection anywhere in the world, projecting PDFs & Excel sheets on a TV in the office, and having one handy in my backpack for anywhere else... It's a dream. I'd buy more if I had more TVs to use them on.

True that. We've used ours non-stop since they came out. Heck, sometimes I forget I even have one I'm just so used to using it. Your article reminded me that I need to stop for a moment and appreciate it.

I got the Chromecast the first day it went on sale, it's working even better than day one (updates i guess). And came with 3 (or 6, don't remember) months of Google Music for free.. so to me it was basically free. My mom and Dad us it all the time. Can't believe its almost 5 years old and i only ever had to manually reset it once a few years ago.

Agreed. Bought a Chromecast launch day (remember the free Netflix deal?), and now have 2 OG ones and 2 2nd gen. They all work flawlessly and are used everyday. It's wonderful to be able to have guests over who have never used one, explain how they work, and they are able to use them without further instructions. In fact, most of them later bought their own... getting rid of their Fire Sticks and Rokus.

PS: one of the best things I love about the Xbox One on one of my TVs? The fact that Chromecast enabled apps that are available on the Xbox One see it as a Chromecast target. I wish the Cast protocol was built into every media device and app!

it's brilliant in its simplicity.
chromecast in the lounge, chromecast audio on the sound brick in the kitchen.
coupled with the Google home, it's like living in the future.
Look up your media on whichever device you have to hand, then 'beam' it to the appropriate chomecast - or ask google home to do it for you.
perhaps we've taken 'the google shilling' in our house, but we love them. they just 'work'.

Love Chromecast! I need one more but it is not a major priority. Has there been any mention of a Chromecast Gen 3 in the works?

I only use chromecast audio which I love the ability to hook it up to a high end speakers I already have rather than shelling out more money for overpriced speakers like Sonos

I refuse to buy a Chromecast, especially when Google disabled Miracast support in Android at the OS level just to push their own hardware.

Oh really? That's really lame

This article is so right on. I got the Chromecast when it came out and it has evolved so much since then. I recently got a Google mini and audio and they work great as well. Google does cheap so we'll. RIP Google Nexus😢
Android Central Newsletter
Get instant access to breaking news, the hottest reviews, great deals and helpful tips
Thank you for signing up to Android Central. You will receive a verification email shortly.
There was a problem. Please refresh the page and try again.