Chromebook sales overtook Macs for the first time in 2020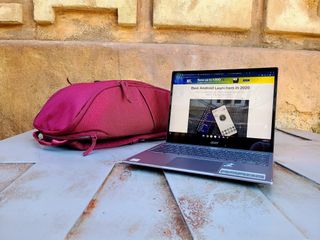 (Image credit: Ara Wagoner / Android Central)
What you need to know
As per latest data from IDC, Chromebooks outsold Macs in worldwide sales for the first time in 2020.
Chrome OS' worldwide market share reached 10.8% in 2020, up from 6.4% in 2019.
While macOS witnessed a marginal 0.8% rise in its market share, Windows' share fell 4.9% YoY.
Chromebooks outsold Macs worldwide for the first time in 2020, according to data released by IDC (via Geekwire).
While Chrome OS was marginally behind macOS in Q1 2020, it received a big boost in Q2 due to the pandemic, allowing it to capture 10% of the worldwide market. Chrome OS' market share increased further to 11.5% in Q3 2020 and reached 14.4% in Q4. macOS, on the other hand, started at 5.8% in Q1 and hit 7.7% in Q4.
The full-year numbers from IDC reveal Chrome OS' market share went up from 6.4% in 2019 to 10.8% in 2020. Apple's macOS, on the other hand, saw its worldwide market share increase from 6.7% in 2019 to 7.5% in 2020. Since both macOS and Chrome OS gained market share in 2020, Windows' market share tumbled 4.9% YoY to 80.5%.
Needless to say, the COVID-19 pandemic played an important role in making Chromebooks a lot more popular in 2020. As work-from-home and study-from-home became the new normal due to the pandemic, demand for affordable laptops grew significantly. However, it remains to be seen if Chrome OS can continue growing at the same pace in the future.
Microsoft is well aware of Chrome OS' growing appeal and is working on a new OS called Windows 10X for devices designed for business and education. The first single-screen devices running Windows 10X are expected to arrive this Spring to take on the best Chromebooks.
Android Central Newsletter
Get instant access to breaking news, the hottest reviews, great deals and helpful tips
Who can afford a Macbook right now?

Well if popularity is any indication it looks like Microsoft kicks butt and Apple and Google are snarling over the scraps.

This makes complete sense in 2020. Take a family of four - mom, dad, and 2 kids. Maybe before mom and dad each had a computer. Now that school was going virtual, they suddenly needed 2 more. Well, what would you buy? The latest Macbook Air at $999 or 2 Chromebook at $299 that can do all the stuff they need to do? Yeah, sure, the parents can search for a refurbed Mac, but why would they? Most schools use ChromeOS anyway, so that's what parents were buying for their kids in virtual school this year.

I got a cheap little asus Chromebook free with my Pixel 4xl last year with my phone upgrade. I almost sold it as I didn't think I'd use it.
Gave it a quick spin on a quiet afternoon and I haven't put it down since. Ended up retiring my old Surface 3, (put PopOS on that because Windows was running like treacle.)

I have both a MacBook Pro 2016 and Galaxy Chromebook for work and once I saw how well the Chromebook performed, I have not touched the MacBook Pro. It performs better for the internet tasks and video conference that I do. The MacBook gets hung up and freezes so much.

Apple, like with their phones is quickly being priced out. Their products don't do anything other devices do and they are dang expensive. The year of Zoom and Microsoft Teams that are cross platform has also relegated walled in Face Time rather meaningless for group meetings.
Android Central Newsletter
Get instant access to breaking news, the hottest reviews, great deals and helpful tips
Thank you for signing up to Android Central. You will receive a verification email shortly.
There was a problem. Please refresh the page and try again.