Chrome update for select Chromebooks brings multi-sign in support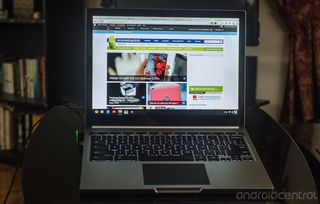 A new stable version of Google's Chrome OS has been released for select Chromebook models that brings with it a number of bug fixes and security fixes and also enables multi-sign in support. There are also some smaller changes as well, and the Chrome update is being rolled out now for all Chrome OS devices except the "Acer C7 Chromebook, Samsung Chromebook Series 5 and HP Pavilion Chromebook."
The multiple login feature referenced is for simultaneous login of multiple accounts you own with no switching of users. This way, you can log in simultaneously with a work and personal Google accounts.
In a blog post detailing the changes, Google says that these features are new:
Multi Sign in support - Easily use multiple accounts with your Chrome Device
New "App info" view in the Chrome launcher
Settings appear in a window, not tab
Save to Google Drive in Incognito mode
Client Certificate Management for organizations using the chrome.enterprise.platformKeys API
Managed Bookmarks - Push and manage bookmarks for your organization
Have you noticed the update on your Chromebook? What do you think of it?
Source: Google
Get the Android Central Newsletter
Instant access to breaking news, the hottest reviews, great deals and helpful tips.
"for all Chrome OS devices except the "Acer C7 Chromebook, Samsung Chromebook Series 5 and HP Pavilion Chromebook." So basically only for the chromebook pixel? Lol

Not trying to be a jerk, but there are many more chrome OS devices. Like the HP Chromebook 14 that I bought my mother, or any of the other Chromebooks and boxes. Posted via Android Central App

Haha no worries I was just ignorant lol. It was kind of meant as a joke, but I assumed this meant all Samsung, Acer, and HP chromebooks. You know what they say about those who assume...

Oh yeah and chrome boxes too! Man did I not think that through lol

Don't forget about the Cr-48 ;)

The C710 and C720 aren't the same as the C7. My C720 got this feature in a beta update a while ago. Posted from my Nexus 5, behind seven proxies

Okay that's good to know. I had assumed they were the same. We have a C720.

Also what does multiple sign in support mean? Our Acer C720 can already have multiple Google accounts sign you, you just have to completely sign out of one to get into another. That's kind of annoying because all of our photos are backed up under my Google account, so if my wife is logged in under her account she can't see them. If that fixed that then I will be excited

Hot swapping between accounts while logged in. No logging out and back into another account. Works like desktop chrome manages multiple accounts. Posted via the Android Central App

That's so awesome thanks for yh clarification Andrew!

You could share the photos with your wife's account, then she could see them.

I think I did share some of them with her, but don't you have to do it by album or something? I have to admit that I'm a bit of a novice at this, but you could probably guess that based on my comments lol.

I've using a Chromebook for over two years and they have had always had multi user support.

+1. I've only had one 3 weeks, and it's operated like the desktop version.

Multi-User and Multiple Account are not the same thing. Click your photo, then click your email address. It will then ask you if you want to add another account (albeit without password in the future) so you don't have to log out and log back in.

so does this work on the original Samsung ARM based chromebook?

Wonder if this means they have ended all support updates for those models listed? I have a Acer C710 (same as C7?) and the newer C720. I just updated the 720 right away, but sure enough the 710 showed no available update. Hope this doesn't mean the slightly older model is already dead to updates! Posted via Android Central App with my white Nexus 4 on Cricket

Well to answer my own question, and to those interested, I found Google's EoL policy for Chrome devices. It states the C710 EoL is Nov 2017 and Nov 2018 for C720. But, the caveat is in the ambiguous fine print. They state...."Advances in hardware & technology eventually make devices out-of-date and as time goes by, we can no longer provide updates to leverage new OS features." Bummer. Posted via Android Central App with my white Nexus 4 on Cricket

Why the limited support? Seems to go against the whole concept. Now there are features on some Chromebooks but not others? Posted via Android Central App

Bring proper OpenVPN support. Please. Please.

Did this update break HDMI audio for anyone? On my C720, sound is only coming out of the device itself when I have it plugged into my TV/monitor.