Chrome OS to soon offer 'integration' with Android Messages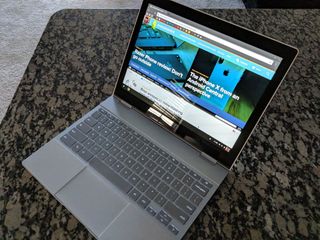 Chrome OS is rapidly becoming a more practical replacement for Windows and macOS machines with every passing day, but one area that's still lacking is proper tie-ins with Android. According to new commits in the Chromium Gerrit, however, this is going to start changing with proper integration with Android Messages.
Spotted by XDA Developers, the commit reads as follows:
Later on, there's another snippet that says kAndroidMessagesIntegrationDescription[] = "Enables Chrome OS integration with Android messages."
It's unclear what this "integration" will actually look like, but seeing as how Chrome OS is being called out specifically, it sounds like it'll go deeper than the web-based client Android Messages is getting later this year.
If you remember, this actually isn't the first time we've heard about Android Messages and Chrome OS talking to one another. Back in late October when Android 8.1 first started rolling out, an app called "SMS Connect" was discovered that allowed you to "read and reply to text messages on your Chromebook" and "get notifications for new text messages."
Giving Android users a reason to buy Chrome OS machines over competing ones from Apple and Microsoft is something Google needs to get better at, and providing people with a built-in way to manage their text messages is a big step in that direction.
Android Messages is Google's best chance to compete with iMessage
Android Central Newsletter
Get the best of Android Central in in your inbox, every day!
Joe Maring was a Senior Editor for Android Central between 2017 and 2021. You can reach him on Twitter at @JoeMaring1.
This is a great integration. I really hope they combine Chrome and Android to make it one unified product. Even if they want to keep AOSP, I still would be on board for this...

No end-to-end encryption, not interested. I'm certainly not going to be allowing Google to sync all of my text messages without a reasonable level of security. Far better to use Signal for this.

The problem is convincing everyone you communicate with to also use signal.

Been waiting. I spend more time at home on my computer than on my phone. Looking forward to texting through Chrome. Bring it on, Google.

i wonder if this can come to chrome browser as well as i cannot use chrome OS but would love this in my browser.

Nice, until them Pulse SMS can be used for this same type of service.

Is this just for Chrome OS or Chrome browser, too? It will be interesting how this will be implemented. I use this type of feature through Cortana on my windows 10 PC and it works pretty good for me. I can read and respond to texts. If Google allows you to be able to view multimedia texts through this, they will have a leg up.

I hope Google release a cheaper version of the Pixelbook.

I was waiting for that too, but with the $250 price drop, through June 17th, I finally bit and got one for work as we're on G Suite. I would love it if Google would permanently drop the prices on these to get them into the hands of more people, they're so nice.

Hey, people, are we talking about the same product? I had been waiting for "Messages for web" for months, I have Republic Wireless Anywhere app on my phone and Windows 10 and it is the BEST going, but it won't install on Chrome OS yet. Then along comes "Messages for web" and I went ape as I am almost all Google. Set it up on my computers and my phone, linked them all, and it was GREAT. Then, the link between the computer and the phone began crashing after a period of time, sure I could bring it back up but had to disconnect the TV link, then start over again. Google has had this problem in the past with Whatsapp, the new "Messages for web" is no better. I'm back to my RW Anywhere again, let me know when and IF you ever get this worked out!
Android Central Newsletter
Thank you for signing up to Android Central. You will receive a verification email shortly.
There was a problem. Please refresh the page and try again.