Choosing when to use Google Cast on Android TV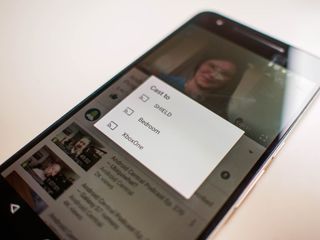 There are few modern streaming technologies as well-executed as Google Cast when it comes to getting a knowledgeable user from wanting to watch something to actually watching it. If you've got a Chromecast or Android TV box on the same wireless network, it doesn't get much simpler for those of us with our phones always in our hands. For users who went the Android TV route for their entertainment center, there are two options for streaming just about everything. You can use the Google Cast mode from your phone, or you can open the native app on Android TV and use your controller to select the video you want to watch.
It turns out these experiences, even on high-end Android TV hardware, are not identical. Here's what you need to know about choosing the best way to stream.
Do you want it fast? Or do you want it good?
Using Google Cast is easily the fastest way to get the video you want onto the television, but it's not always the best if your goal is quality. For example, Netflix and YouTube over Google Cast frequently will initially opt for a lower video quality and then ramp up gradually over a couple of minutes until an optimal stream has been reached. Even on a strong network with a great connection, this process can start at a miserably low quality and take time to fix. It's not a big deal when watching the opening music for a TV show, but on a quick YouTube video it can make a big difference in your ability to enjoy the experience.
On an Android TV box, where you have a choice between streaming through a native app and streaming through Google Cast, it's easy to see the quality difference in the initial stream sequence in many apps. Assuming you have an adequate network connection, a native app on Android TV will start streaming faster and at a noticeably higher quality when compared to Google Cast on the same piece of hardware. The video almost always normalizes after about 30 seconds, unless of course you're using a Shield TV and the option to stream in 4K is both available and useful to you. Right now that's not the case for everyone, there are still some noticeable differences in initial performance.
Another issue to keep in mind when using both streaming mechanisms on Android TV is dealing with a Google Cast app that has disconnected on the control phone. It's a frequent issue that affects many Google Cast-ready apps, but a minor issue overall. The cast controls disappear from your notification tray, and you have to reconnect through the cast icon in the app to regain those controls. It's the sort of thing that occasionally makes quickly pausing a video somewhat complicated, and for parents of small children that could be the thing that sends you back to using a controller and native apps when you know you're going to need instant control over whatever it is you are watching.
There's obviously no right or wrong way to stream your videos, but it helps to know which mechanism is going to give you the experience you want. Native apps are great for instant playback and the highest quality streams, as well as a guaranteed set of immediate controls over the interface. Google Cast is without a doubt the most convenient way to put all of your content in one place and make putting that content on your TV an effortless exercise. Now that you know, choosing between the two isn't as strange as it sounds.
Android Central Newsletter
Get instant access to breaking news, the hottest reviews, great deals and helpful tips
I have a 2015 Chromecast and a Nexus Player, and I don't get the "ramping up" described above when I cast from apps on my phone; I get HD streams from the start. I have noticed the loss of controls a few times, though, which is pretty irritating.

I have the original Chromecast and I do get the "ramping up" occasionally, but it never takes more than a few seconds to hit HD. I suspect I'd see that less frequently if I had a 2015 version with its 5GHz antenna. I don't really consider it to be an issue regardless. I used to get the lost controls issue a LOT, but I haven't had that issue at all since uninstalling/reinstalling the Chromecast app.

I guess I should say I have a Nighthawk wireless router with 5GHz, so that might explain it. Not sure if the Nexus Player is 5GHz, but it seems every bit as fast and stable as my Chromecast.

Yes, the Nexus Player has 802.11ac, so it supports 5GHz wifi. Posted via the Android Central App

The frustrating thing for me are the differences between Google Cast and a standalone Chromecast. It's silly that you cant use features like backdrop on the Android TV devices, but you can on the cheaper stick

I have a Chromcast and a Roku player. My Chromecast actually streams pretty quickly with maybe 10-15 seconds of blur when watching Netflix. When I start Hulu or something it's immediately awesome quality. The only time I've had a issue with Chromecast vs my Roku is when I'm streaming SlingTv. It definitely streams better on the Roku player than it does on the CC. Probably because it's live TV and the Roku can process the background buffering much more efficiently. The tip is not included! So tip your Uber driver.

Sling TV on Roku is also superior than on Nexus Player. The quality of the stream is way more consistent whereas with the Nexus Player the quality goes up and down and tends to freeze up alot. I'm glad I went with the free Roku 2 deal with Sling. Posted via the Android Central App

i only use my Chromecast to watch movies from Google Play. My normal streamer is the Fire TV box. Chromecast is nice to have, but I will probably eventually just put a Roku in there and use that for Google Play Movies.

The Fire stick is pretty nice, I like the look of it on the TV and using the remote app is fairly simple. Although I pretty much only use it for Prime shows. Getting video to the TV is definitely quicker on the Chromecast, (for me anyways) as the stick seems to have a few extra steps to get to where I need to go. The tip is not included! So tip your Uber driver.

If you like watching movies try Showbox and HDMovies apps, you'll have to sideload, tons of free movies and a lot of new stuff and you use it with alcast or Free Localcast.

This is a great article in the fact that it lets me know I'm not alone in some of my experiences and struggles. Particularly when using the Chromecast app to cast music in my home. Sometimes it just randomly drops out (temporarily ruining the personal party). I've also encountered the timeout. All in all, it's just great to be able to cast so easily.

I only have the older Chromcast, but should probably pick up the new one anyway.
My first choice for streaming is Google Play, followed by plugging the phone into the TV HDMI port (best quality). If I don't have the direct cable option, then I'll cast the phone screen to the TV. Unfortunately, Amazon Video does not support Chromecast, so you have to cast the screen or use the HDMI. I never see the quality change except once in a blue moon, and it usually ramps up in a few seconds. That may be because of our 150 MB circuit at home. Never had a disconnect issue, even when leaving a series playing and falling aslep for a couple hours. Posted via the Android Central App

I have the old chromecast, the chromecast 2015 and the nexus player. I do recognize the older does take a few seconds, but the new one has yet to loose the buttons me. I pretty much use the chromecast for visitors who want stream music or whatever. My go to is the nexus player

I have a gen 2 Chromecast but rarely use it since getting a Samsung blu ray player with streaming apps. The reason? The Samsung player supports 1080p @24fps which matches the native frame rate of the content on Netflix etc. Chromecast only outputs 60Hz, so there are very noticeable 3:2 pull-down artefacts. The advent of blu ray all but eliminated this problem but it appears we've gone back 10-15 years. Why Chromecast and the other streaming sticks can't output native frame rate in 2016 is ridiculous The only time the Chromecast is useful to me is for music and when watching UK TV shows on netflix, as it can output 50Hz video to match the frame rate of 1080p/25. I live in the UK so 3:2 pull-down is far more noticeable Posted via the Android Central App

On my shield tv, even if I cast something I can still pick up the remote to pause and unpause the playing video. Posted via the Android Central App

Would prefer native apps for a physical controller but arbitrary licensing deals prohibit some apps from working: HBO Go and Comcast don't play nice natively, but casting is OK. Stupid. Posted via the Android Central App

Just get a Roku for HBO Go. Sling TV will send u a free one if u prepay for 3 months. You'll get it in the mail in a couple days. Posted via the Android Central App

Use android tv app when available, otherwise cast from phone/tablet.. App is always a better experience. The disconnection on mobile can horrible when it reconnects and resets the stream back to the start. I find I watch less Stan than Netflix when watching my AndroidTV enabled Sony - when I need to use my mobile to cast in another room it's more of a 50/50 chance depending on mood.

I have slow time warner cable internet and YouTube is fast and high quality when I stream from Chromecast. Posted with my Idol 3 via the Android Central App

It's always a pain to cast anything to my Android TV. The Chromecast app and Chrome browser can hardly ever "see" my Nexus Player and when it does it tends to disconnect randomly. It worked a little better when I deleted all the updates on the Google Cast app on Android TV. I really wish casting was a more polished feature. Roku does screen mirroring but it's still in beta and the quality is horrendous. Posted via the Android Central App

I've never had issues with the chromecast app or chrome finding my nexus player to use for casting. It's listed in the devices every single time. I've never had it disconnect either, but my chromecasts do occasionally.

The chrome browser when sending videos to my Chromecast is still buggy on my Nexus 5. Alot of times videos won't play, same with YouTube get alot of disconnects with the video still playing on Chromecast. Posted via the Android Central App

Why would you use Google cast for Netflix? It already has native chromecast support

This is the wrong question. The correct question: does Android TV have a future? Because as it is now impossible to buy a Nexus Player http://www.androidheadlines.com/2016/02/android-tv-best-buy-now-no-longe... (which Google did not refresh last year) and the only other Android TV boxes are the Razer Forge (which Razer has basically abandoned ... still no Netflix and no update to Marshmallow) and the "too expensive for everyone but hardcore Android fans" Nvidia Shield and Google has now given control of the TV division to a guy from a ChromeOS background, which is why we got a ChromeOS stick instead of an Android TV stick in 2015, and why they are now pushing TVs with Chromecast built in instead of smart TVs using Android TV (not that very many manufacturers were signing up anyway, as most were choosing the Roku platform and the rest had their own proprietary platforms like Samsung and LG, leaving Sony as the only major player with the platform, and their TVs are too expensive when Android TV really needs to be on much cheaper models to gain market share) are we even going to have devices in this space in the future? If Google doesn't mention Android TV in Google I/O, it is safe to presume that the platform is dead. If that happens, I hope that Google will at least give the people who bought the things the ability to convert their devices to a platform that they are still supporting.

The one that drives me nuts is Netflix on my Shield TV. When using multiple profiles, if I attempt to cast to the Shield using anything except the last profile used, I receive an error message about how the profiles have to match. The only way I've found to get it to cast again from a different profile is to switch the profile with the controller, which defeats the purpose of casting in the first place. So far, I've been really disappointed with how Google Cast doesn't function as well as even a gen 1 Chromecast. Anyone know any good solutions? Posted via the Android Central App

Using the Android TV app may be more fully featured than casting, but I will never open the Play Music app on my SHIELD TV. Because the app takes a device authorization slot, and casting does not. Posted via the Android Central App

I didn't know we still have that device authorisation problem... I have never had a problem with it. But I have the Shield TV too and I'd rather use the native Play Music app on it because it gives a much better sound quality than casting through Chromecast. Posted via the Android Central App
Android Central Newsletter
Get instant access to breaking news, the hottest reviews, great deals and helpful tips
Thank you for signing up to Android Central. You will receive a verification email shortly.
There was a problem. Please refresh the page and try again.