Chevrolet offers more data for the money with its OnStar 4G LTE plans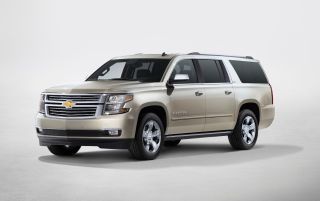 If you happen to have an OnStar 4G LTE data plan in your Chevrolet vehicle, your bill is about to get much cheaper. Chevrolet has announced that it has cut the price of the OnStar LTE data plans offered for its vehicles, while the company is also offering a new 4GB plan for greater variety.
The new prices are as follows (including the new 4GB plan):
1GB per month - $10
4GB per month - $20
10GB per month - $40
20GB per 12 months - $150
Chevrolet started offering LTE connections in 2014, with the hotspot coming standard on new retail models with an OnStar Basic Plan. As families gear up to travel over the Independence Day weekend, this price cut has come at a pretty good time.
The yearly plan is a great deal. Posted via the Android Central App on my LG G4

That really 20 gigs a month for 150 a year? Posted via the Android Central App

No, it 20gb over a year. Posted via the Android Central App

i will never pay for wifi in my car. ever. not only will the price always be over the top for any useful applications but It will be minimally useful to the driver (most likely the one paying for it), kids can run through a GB in a couple hrs and i wont be able to offset this cost in the cost of my phone plan so its just added expense not to mention often cheaper or free/included tethering. Id rather my car connect to wifi.

Yeah, a 2 hour trip with 2+ people browsing or watching videos is going to chew through data...

what cell network does OnStar use? or is it satellite based?

Onstar uses AT&T network and all the hotspots I've seen are LG that are in GM Vehicles. Posted via the Android Central App

Is the hotspot removable? If so, that at least kind of makes sense. If not, I see no advantage to in-car wifi compared to a separate hotspot. Posted via the Android Central App

Not removable. It plugs in to the vehicles power. Not sure where it is exactly but probably in the roof somewhere. As far as benefits go the cellular antenna in the hotspot is more powerful than a phone, etc so I keep my phone connected so when I'm rural areas where my phone may drop service, the hotspots keeps my streaming going. (Both AT&T) Didn't think I'd use it a lot but with it attached to my AT&T phone plan instead of the Onstar plans I get a lot more data to work with.
Posted via the Android Central App

Ok. You mentioned LG and I assumed that it was a removable device. I think I would still rather have a separate hotspot device. Some allow for external antennas. And the separate hotspot isn't attached to 3500+ lbs of sheet metal. Posted via the Android Central App

I just turn on the hotspot on my t-mobile phone and I'm good. Posted via the Android Central App

4 gigs a Month ? You can kill that in less than 4 hours Posted via the Android Central App

I'll use binge on tmobile Hotspot! In my ford! Posted via the Android Central App

I guess Chevrolet drivers will appreciate this.

Still way more expensive than using my T-Mo hotspot on my phone . . .
Android Central Newsletter
Get the best of Android Central in in your inbox, every day!
Thank you for signing up to Android Central. You will receive a verification email shortly.
There was a problem. Please refresh the page and try again.