CES 2020: Alpine's new Halo is an 11-inch Android Auto screen for your car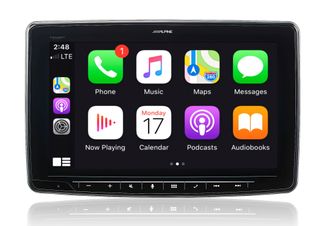 (Image credit: Alpine)
What you need to know
Alpine is introducing a new head unit in its Halo line at CES this week.
The iLX-F411 boasts an 11-inch screen — the company's largest yet.
It also works with both the Apple and the Android ecosystems.
If you don't have the fanciest car but are in the market for giving it some smarts, you might have heard of Alpine. The company makes a range of in-car infotainment and driving assistance products. And at the Consumer Electronics Show in Las Vegas this week, the company unveiled its latest head unit.
Its largest yet, the new iLX-F411 is an 11-inch head unit that Alpine says has all the features of the Halo9 line from before and more. It retains the same 'hovering' design as the company's previous head units, meaning the device is stationed above a flexible stand that can be used to adjust its height, rotation, and tilt. The design also allows for the whole thing to be mounted using just one DIN slot, despite its larger size.
You can have three customizable home screens and up to 22 widgets on the head unit. And it works with both Apple's and Google's ecosystems via CarPlay and Android Auto, respectively. On the Android side, the iFX-F411 also supports Google Assistant for hands-free navigation.
While the larger screen should be a boon for controlling music or checking your texts on the go, the screen's resolution is decidedly archaic at 800 x 480 pixels (WVGA). You do, however, get your choice of media inputs via a USB port, AUX input, or HDMI. There's also support for Bluetooth, and you can use the head unit to display any front or rear cameras mounted on the car.
Alpine will start selling the iLX-F411 in June of this year for a price of $1,200.
Android Central Newsletter
Get instant access to breaking news, the hottest reviews, great deals and helpful tips
And now my early model cars can be mistaken for a 2020 model by passersby. 🙂

Ugh.
Pre-1. Have car with decent stereo and bluetooth for your phone to connect to for phone calls.
Pre-2. Android phone
1. Get a whatever inch tablet that runs Android 7+. They are pretty cheap now. Make sure it has a decent screen and resolution.
2. Get HeadUnit Reloaded. Install it on the tablet.
3. Connect the two, and now you have a whatever inch screen running Android Auto. In high resolution so you can get all the goodness of the nicer layout. If you have IOS, you can do the same but buy the adapter on Amazon that allows Carplay to be mirrored on an android tablet. Search for "carplay adapter for android" and you will find it. Hardware Installation: Attach to dash as needed. Allows you to remove it. Allows you to keep that custom dash system that is an, "all in one radio/CD/DVD/tape/AC controls, if you replace it your AC or something else doesn't work correctly anymore" type setup.
Remember, MANY Nav dashes now effectively look like someone glued a tablet to the dash. You might as well get some use outside of the car with that tablet.
Two cars? Cool, just swap as needed. I travel, and the econo-cars my work pays for don't have Nav. This allows me to have a larger screen and something to watch movies on while flying to my destination. I put the tablet in a case, added 2 metal plates internally and use two magnetic phone holders that you push into the AC vents.
Android Central Newsletter
Get instant access to breaking news, the hottest reviews, great deals and helpful tips
Thank you for signing up to Android Central. You will receive a verification email shortly.
There was a problem. Please refresh the page and try again.