Canceling Sling TV? These are some great alternatives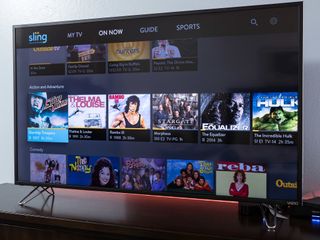 (Image credit: Android Central)
Sling TV remains (for now, anyway) the most popular streaming TV service, with somewhere in the neighborhood of 1.5 million subscribers, at last count. But the thing about streaming services is that it's super easy to cancel and try a new one. But you'll need a replacement streaming service, right? If you're getting rid of Sling — and here's how to do that, by the way — you'll want to try something else.
Here are some excellent live streaming options if you're going to cancel Sling TV:
Hulu with Live TV
Hulu already has made quite the name for itself over the years with its extensive catalog of on-demand content, and award-winning original series like The Handmaid's Tale, which is gearing up for its third season.
But Hulu also has a great live TV offering, with dozens of channels – including locals.
The live service runs $44.99 a month and also includes the full on-demand catalog. For $50.99 you can get rid of most commercials in the on-demand shows.
Hulu with Live TV also has optional add-ons for things like HBO, Cinemax, Showtime and STARZ, enhanced DVR, and additional live channels.
FuboTV
Fubo TV is a newcomer that has one thing going for it that no other streaming service can compete with — it's a sports-lovers dream.
The two available plans — Fubo and Fubo Extra — run $44.99 and $49.99 a month, respectively. And you get plenty of live channels (and sports) with either one. But it's the optional add-ons where things get really interesting.
Sure, there's Showtime and FX+ and AMC Premiere, but there's also an add-on for cycling. And international sports. And regional sports. And outdoor sports. Plus a latino plan, and a Portuguese plan, too.
Get a free Fubo TV trial (opens in new tab)
Philo
You'll look at the cost of Philo — just $16 for 44 channels, or $20 for 57 channels — and wonder what's up. But the simple fact is you get a great mix of live channels for less money than you'll pay for dinner out.
That's it. There's no mucking about with add-ons — just a lot of great live TV for very little money.
And it's available on pretty much everything you'd want to watch TV on.
YouTube TV
Google's YouTube TV is available just about everywhere these days, and that's good because it's an excellent option for live TV. Plus it's simple. It's got a single plan for $40 a month, with loads of channels.
Plus it's got a bunch of optional add-ons for things like NBA League Pass, Showtime, STARZ, Curiosity, Fox Soccer Plus, and more.
And the kicker? You can share your YouTube TV subscription with up to five other family members — each has their own account, and each gets unlimited cloud DVR.
PlayStation Vue
Sony's live streaming service — PlayStation Vue — remains an excellent option if you want a lot of channels. It has four packages, each building on the one that comes before it. They start at $44.99 a month and go all the way up to $79.99 a month. So it's not exactly an inexpensive option.
But it is pretty diverse, and you can tack on add-ons such as HBO and Cinemax, Showtime and EPIX Hits, Fox Soccer Plus, and more.
Plus it's got a cloud DVR option.
Get a free PlayStation Vue trial
DirecTV Now
AT&T's live streaming service has taken a lot of hits in recent months, having lost more than a quarter-million subscribers toward the end of 2018. And that number almost certainly increased since then.
But that doesn't mean it's a bad streaming service. DirecTV Now has more options than just about any other service. More channels. More add-ons. Plans start at $40 a month and top out at $70 a month, and you've got options for premium add-ons.
And if you're an AT&T Wireless subscriber, there's a good chance you're eligible for a discount.
Get a free DirecTV Now trial (opens in new tab)
Isn't Netflix the most popular streamer????? By far!!!!

Sure, but it's also not a cable-replacing live TV service, which puts it outside the scope of this article.

I'm just waiting on Philo to release their android app.... Hopefully with the ability to cast.

Philo released an app for Android TV. I've got it on my NVidia Shield, and it's great!

I have had great experiences as a cord cutter with PS Vue, YouTube TV, DirecTV Now, Sling. But nothing beats Philo for $16/month at my house. Coupled with OTA local channels I watch the stuff I want.
Also with your Philo acct you now have access to the mobile apps for each tv channel in your pkg.. But be warned Philo has zero sports.

YouTube TV possibly has the highest bitrate of them all.

Is it it me or does Digital TV not have the range of analog TV? I live about 37 miles from the farthest station and using and antenna is still a massive pain. But I can pick up damn near every Christian channel with ease.

Actually Digital TV signal is far stronger then Analog.... Back in the day pre 2009 ( man I make this sound kike it was Decades ago) analog TV....video was broadcast on AM and the sound was on FM Trying to get over the air TV all boils down to the antenna....your location, trees, mountains...and where the source is coming from.... and where your antenna is pointing

Is it me, or was this article here earlier in the week except targeted at leaving DirecTV Now and listed Sling as a great alternative? Are they just looking for filler articles at this point?

It's all about those affiliate links. That's basically what this site exists for these days.

Maybe because they are all basically the same. Yes, most of AC's 'articles' are fluffers.

I had Hulu with Live TV until I got my NVidia Shield Android TV, and we all know Hulu's feeling about updating their Android TV app. Went and switched to YouTubeTV and Philo, and I haven't regretted it. They're a perfect one-two for me and my needs.

My one-two has always been Sling and OTA. The only channels I miss on Sling are ESPNU and BTN. They also block all Big-Ten games on FS1 due to a dispute between Fox and Dish for BT games. Hulu has both those channels, but like you said, no Android TV app (for live TV). I use a Sony TV and a Nvidia Shield that both use Android TV OS.

Exactly what I want to do. YouTubeTv & Philo! Get all of my local programming & sports. My wife gets her Viacom channels for those damn reality shows. We both get hgtv again!
Android Central Newsletter
Get the best of Android Central in in your inbox, every day!
Thank you for signing up to Android Central. You will receive a verification email shortly.
There was a problem. Please refresh the page and try again.