Camera maker RED just announced a $1200 phone — the Hydrogen One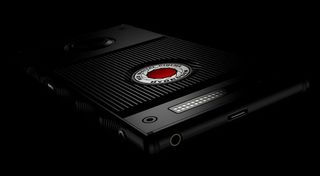 RED, best known for its massively powerful cinema-quality cameras, has announced it's making a smartphone called the "Hydrogen One." Pre-orders have opened up at $1195 each, but that's a starting price for just the aluminum one — you can spend $1595 for a titanium model as well.
Reading through its spartan pre-order page and informational PDF, it takes you a minute to figure out that it's actually a smartphone and not some camera accessory. RED bills the Hydrogen One as "the world's first holographic media machine. in your pocket. no glasses needed," going on to say that this is "the future of personal communication, information gathering, holographic multi-view, 2D, 3D, AR/VR/MR, and image capture just changed forever."
Wow. Okay.
So we know it's a smartphone. Based on the photo above, it looks pretty radical at that — just as you'd expect if you've ever seen one of REDs cameras. It's unlocked, runs Android and apparently "shatters the mold of conventional thinking." (Whatever that means.) The display comes in at 5.7-inches but of course offers this "holographic" glasses-free 3D capability, which has yet to be explained. The immersive experience continues to its sound, which apparently can use an "H3O algorithm" to transform sound into multi-dimensional audio. We see a headphone jack, a USB-C port, and some (likely non-functional) heat sink fins.
The Hydrogen One is also apparently modular — the "foundation of a future multi-dimensional media system." We can see very Moto Z-like pins on the back of the Hydrogen One, which RED says is a high-speed data bus for comprehensive and ever-expanding modular components, including future attachments for higher quality photos and videos. Just as you'd expect, the Hydrogen One is expected to integrate tightly into the RED camera systems as well.
So much marketing, so many buzzwords, such an assault on our senses. The Hydrogen One seems ... interesting. In the same way the Saygus V2 kind of seems interesting. RED says pre-orders will ship from a "personal first production batch," which is supposed to be in Q1 2018.
Andrew was an Executive Editor, U.S. at Android Central between 2012 and 2020.
Well unlike the Saygus, RED can and does actually make things. Obviously we're not looking at a RED sensor for the camera, but I'll certainly read the review.

Why not building the best camera phone? RED?

Can't say the Note 8 will be expensive now :p

You most certainly still can. This just cost more.

Without more details on specs and what it really can do, no way am I plunking down $1200+ for a phone. Even if it is RED making it.

Wow - they could sell an optional head case to protect people with conventional thinking. /s

If this does what I think it does, I'm buying!

Holographic Tinder/Grindr profiles?

Holographic porn baby---- err--- Holographic video communication. Yes... That's what I meant.

Let just say that in this day and age, it's going to be a lot easier to find 3D compatible pron files to download to this device.
Wonder if this device will be able to shoot in 3D too?

Hehe..."a special small token" for ordering early.
Maybe it's a sticker. https://www.youtube.com/watch?v=3t1PQJmM8P4&t=6s

How can they just drop this phone on us like that? I saw this earlier via MKBHD's Twitter account and immediately hit the order now button on the website just to say I did. But....I cancelled in the end.😩 But the design is so fresh and different at least on the back which proves my point that OEMs cam still push the rectangular form factor in terms of design. Samsung IMO currently makes the most beautiful devices right now.

The phone looks interesting. Cannot wait for the $40k 8k DV addon!

$1195 SOUNDS outrageous...or would have before Samsung announced their $900 Note 8.

Welp, just purchased the titanium... Let's see!

That sound you just heard from the general direction of the East Coast was MKBHD's spontaneous orgasm.

Hahaha the hype train is real!

My Pixel XL is dirt CHEAP!

This could be a phone of legend if RED truly brings their already amazing A game to the table for this. I never fathomed they'd do this. Damn.

So it can play vinyl? Count me in.

I won't buy unless it's IP68 and has wireless charging. ;)

Everyone seems to forget the Evo3D did glasses free-3D years ago, as did the LG Optimus 3D P920. That's just in the US, Wikipedia has a list of phones back to 2002 that did glasses free 3D.

They also failed badly at it go wiki failures and how the screen tech couldn't produce high resolution, and lets not forget how awesome Amazon's attempt at 3D Holo screens went fail! so lets not act like oh this has been done. Those companies are not like Red go WIKI them and take a look at their products, this could be a bust or it could be great but I know one thing people originally said the same thing about the original iPhone oh go wiki this other companies have done this already touch screens this and that. and boom apple changed the entire game and many fell off the map giving rise to what we know today.

The Fire phone was not 3D at all. It just repositioned things to vaguely appear 3D. I'd know, I have one. The Evo3D had decent resolution at the time, I'd know, I have one. The issue with it was, it didn't get great battery, and sending photos you took was tricky since they had a different file type. If it had 3D like the new3DS with eye tracking, it may have been better. The Red will work, since people will "omfg it's $1200 it must be good", and it has the $30k camera company behind it.

Definitely not the first for 3D display: https://en.wikipedia.org/wiki/List_of_3D-enabled_mobile_phones Maybe it's different than a normal parallax display, like the 3DS, but we'll see.
Android Central Newsletter
Get the best of Android Central in in your inbox, every day!
Thank you for signing up to Android Central. You will receive a verification email shortly.
There was a problem. Please refresh the page and try again.