BoomSound settings on the HTC One M9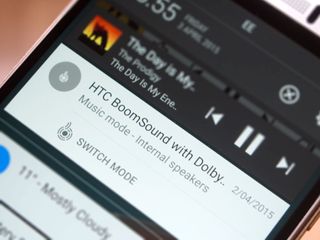 BoomSound, HTC's audio enhancement setup, is no longer the straight on-off toggle. On the HTC One M9, BoomSound comes enhanced with Dolby Audio processing tricks, and with it a handful of different sound modes to get to grips with, whether you're listening using headphones or the device's thunderous front-facing speakers.
BoomSound modes using the front speakers
When you're using the HTC One M9's built-in front-facing speakers, BoomSound is enabled at all times — but you do get the choice of two playback modes suited to different types of content. Theater mode is designed for video or movie playback, and is louder overall, though with a tendency to be a little tinny when playing music. Music mode is a little quieter — though still crazy loud oveall — and emphasises the low-end a bit more for richer bass.
To switch between the two modes, find the BoomSound notification in the notification shade while playing music or video. Alternatively, find it in the Settings app about halfway down the list, under the "Phone" subcategory.
BoomSound modes using headphones or earphones
When you plug in a set of wired headphones, you'll get a different set of BoomSound options. The BoomSound panel in the notification shade becomes a shortcut to the Settings app, where you can switch between presets designed for various HTC earphones:
HTC earbuds: The basic (and rather uncomfortable) HTC earphones bundled with older HTC models.
HTC in-ear: The sleeker in-ear earphones bundled with premium HTC phones like the M8 and M9.
HTC Pro Studio: HTC's aftermarket earphones, sold separately.
Other: A general setting which, frankly, sounds better than all of the above.
We'd recommend keeping this setting on "Other" and leaving it at that. The "in-ear" and "Pro Studio" presets way over-emphasize the low-end, even when used with HTC's own audio hardware, while the "earbuds" setting just sounds flat.
With headphones, it's also possible to turn off BoomSound entirely — just toggle it off using the switch in the Settings app.
It's worth noting that these modes only work with wired headphones or earphones — Bluetooth heatsets or speakers can't be used with BoomSound, and it'll be automatically disabled when listening through these devices.
M9 owners, be sure to hit the comments and let us know how you're enjoying BoomSound on your device!
Alex was with Android Central for over a decade, producing written and video content for the site, and served as global Executive Editor from 2016 to 2022.
I just wish you could turn off the persistent BoomSound notification. It's starting to really annoy me!

Agreed. Its like the front facing speakers weren't big enough. Wasn't their motto at one time Quietly Brilliant?

In due time my friend. Will you need root or not, that I can't answer for you at this time. Posted via Android Central App

Same problem mine....if u solve it...plzzz help me

I don't have the M9 and have no current plans on getting one soon but that consistent Boomsound notification would bother me. Hope there's a way to hide the notification without losing the ability to change Boomsound profiles on the fly. Also, a bit irrelevant but since the Dolby Audio processing seems to be software only, would that mean that the audio enhancements on the M9 will be available to the M8? Just wondering as Verizon M8's with Lollipop seem to have Boomsound with Dolby Audio but no audio profiles U WOT M8

I've heard something that it could also be tied to the processor's audio codec settings so, maybe/maybe not.

Um I did not get any HTC in-ear headphones when I purchased my phone from TMobile. Guess I will be getting on the horn about this one. Backups are nice to have when you have kids. Root to get rid of the Boomsound notif......nice I was planning to root the phone on Saturday.

I also did not get any HTC in-ear headphones when I purchased my phone from AT&T. Maybe this was only a UK offer.

Americans pay so much less for phones than the rest of the world, so it's only fair Posted via the Android Central App

I was disappointed to find no ear buds either. I wonder if enough bellyaching could wrangle a pair of free ones.

Me neither! I'm bugging my rep about it. Every review mentions the fancy earbuds that should come with the M9. :-(

Any noticeable difference (better or worse) than the m8s boomsound? Posted via the Android Central App

It is great to find such article about these information that i do need a lot..
i just wished it was compared to the m8 for the headphones section. Thanks for caring about us (or me i guess)!

"HTC Earbuds"? Except for the logo, these appear to be the exact same in-ear ones i got with my M7. Posted via the Android Central App

It definately pays to change the setting to other with headphones connected. I also set to music mode (as opposed to theatre mode) for the internal speakers. It sounds less harsh in the top end to me.

While using headphones the M9 makes music sound flat. The best setting is OTHER... The M8 has much better sound quality.

Boom sound was just fine for the first month or so, about as loud as you'd expect from a pair of front facing speakers... But now neither mode (music nor theater) has any appreciable volume, making it mandatory to use earbuds or external Bluetooth speakers if I want to actually listen to music. I asked an employee at the local sprint corporate store if it was a known issue and he said the phone's speakers just weren't very loud and it's not something they can repair!
I sure wasted my money, having upgraded from the M8 for the "better" sound quality...

The sound quality is awful when listening to YouTube video but fine with music and headphones. Is this a streaming issue? M9

It sounds great if you wire into your phone but now a days people are using Bluetooth headsets so the sound is NOT as good. I feel we should have the choice to turn it off or on.

The reason why you can't turn off the BoomSound notification is because Dolby gave HTC money to poke you every time audio starts playing; there's no other explanation.

Dolby Boomsound SUCKS!!!! How do I turn it off on the M9?
Android Central Newsletter
Get the best of Android Central in in your inbox, every day!
Thank you for signing up to Android Central. You will receive a verification email shortly.
There was a problem. Please refresh the page and try again.