Blocks modular smartwatch is finally available to purchase, but will anyone bite?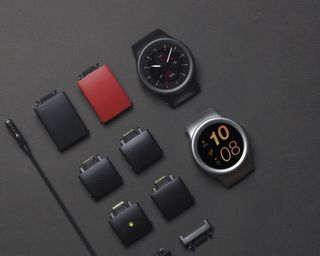 Back in 2015, smartwatches were in their golden age. The Apple Watch had just launched, Android Wear was still appealing and Pebble still existed. At the same time, a little company called Blocks launched a Kickstarter campaign for its modular smartwatch, with a promised ship date of May 2016.
May 2016 came and went, and the shipping date kept being pushed back. But now, the company is finally ready to ship its smartwatch ecosystem. The Core smartwatch features notification support, fitness tracking, Alexa integration and even the ability to display the time. Users can then add on one of the following modules to expand functionality:
An environmental sensor for detecting temperature, air pressure and humidity.
A heart rate monitor.
An LED light that can be used as a flashlight or more obnoxious notifications.
A smart button that can be programmed to perform certain tasks in certain connected apps.
A GPS.
An extra battery for 25% longer charge.
If all goes well, Blocks will develop new modules including a fingerprint sensor, air quality monitor, flash memory module and a bone conduction speaker. The Core of the Blocks ecosystem comes in either a black or silver casing, with either a black or red strap. Each module costs $35. The Blocks smartwatch runs a proprietary OS and is compatible with Android and iOS devices.
Are you interested in the Blocks smartwatch? Let us know down below!
See at Blocks
I love Android central and their widget, but a lot of times (on any of our high end Android devices) when I click a story I have to either hit the back button and click the story again or completely close the app and hit it. If this were from a janky device I would except it, but an S8+, pixel XL, Nvidia tablet and pixel 2 XL. Doesn't bother me, but sometimes a few clicks, back ups or closes to read story. :)

If you're having problems with the app maybe email the developer, not comment on an article about a watch. I have this strange feeling the email will get you more results.

I like the idea. All boils down to price, performance, OS/software experience and battery performance.

I missed this back in 2015 otherwise I think I would have backed the Kickstarter. It sounds like a lot of fun! I love the idea of modular gadgets, I even got the G5 and the few accessories that got released for that. The proposed modules for BLOCKS look really great but I want to see phase one on a wrist before I buy in.

The g5 was a good idea but I do think moto with the z2 I think they have it right my other half got one and loves it.

But if you can add on only ONE of those, it leaves the watch lacking a considerable amount of functionality. I just don't think I would want to be swapping between functions.

Exactly. If I wanted to use it for running I'd have to choose GPS OR Heart Rate Monitor when in reality I'd need both.

i ordered mine dec2015 and you can attach 4 at once (i think 3 if one is the battery) I got 4 modules with my order

Seems very interesting, I like the looks and watch faces presented in the image.
Not all the modules makes sense to me, but certainly will make some customers happy.

Website says the watch uses Android 8.0 not Android Wear. Curious.

"The Blocks smartwatch runs a proprietary OS and is compatible with Android and iOS devices." They built their own thing. Android is pretty useful that way :)

Checked their website and video. Interesting concept. Looks great. Should have come out before Christmas, though! Now I'm a happy S3 Frontier user and unlikely to buy another watch for a while.

This is an interesting take on the smartwatch. I like the idea and the individual sensor blocks at $35 each don't seem too bad of a price point. However, that being said the base watch with no sensors or extra functionality costs as much as many smartwatches on the market that have many of the sensors built in that you'd have to buy here. I suppose that is the price of modularity but it seems too steep to me. For the base price of $259 the watch itself should have a heart rate sensor and GPS at least. Some basic sensors should just be built into the watch and the fancier sensors should be part of the extension blocks such as NFC, LTE, environment sensor, etc... There is also a potential problem with the fact that you can only attach X number of sensors based on your wrist size. It's cool but I don't necessarily want to have to stop and think what sensors I want to attach to the watch for the day. I'm also curious as to how comfortable the band will be will all the blocks as well as durability. I'll have to watch this one because I do like the concept despite my complaints. Most importantly is the initial offering and blocks need to sell well or some of the more interesting blocks will never hit the market and Blocks pretty much leaves the early adopters with an expensive experiment.

The watch is running a proprietary OS instead of Android Wear? So I guess that means no app development for it. At this point if a watch isn't running Android I'm not considering it.

The watch is running Android, just not Android wear.
Android Central Newsletter
Get the best of Android Central in in your inbox, every day!
Thank you for signing up to Android Central. You will receive a verification email shortly.
There was a problem. Please refresh the page and try again.