BlackBerry Priv versus Samsung's Note 5 keyboard case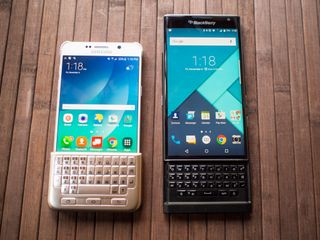 BlackBerry users, both legacy and those waiting patiently for the new Priv to arrive, know what a nice smartphone keyboard is like. The rest of the world may have forgotten, due largely to the meager offerings from other companies over the last few years. The only company to come close to releasing a worthy smartphone keyboard in the last year is Samsung, and rather than baking the keyboard into the phone you clip an accessory on to your screen when you want to use a keyboard.
Here's what these two experiences look like side by side.
Image 1 of 3
Samsung's keyboard case is a $75 accessory you can get for the Galaxy S6, Galaxy S6 edge, Note 5, and Galaxy S6 edge+. It's a plastic case that hugs the corners of your phone like almost all of the other Samsung-made cases in this generation, but this case has some extra plastic that wraps around the bottom of the body to support the keyboard.
This separate piece of plastic can be clipped to the back of the case when not in use, but when in use you just slide it around front and snap it into place. The plastic case and keyboard don't feel particularly high quality, especially when you're used to the smooth glass and polished aluminum of Samsung's lineup from this year.
What you get when this case in in place is a modified version of the interface, as everything squishes so you can see the things that would typically be under this piece of plastic. What you gain is a physical keyboard you can use whenever you want, with keys that are reasonably tactile and responsive for a smartphone keyboard.
The plastic keys have a BlackBerry-esque corner raise that makes typing on the small keyboard comfortable enough, and in most cases you get software suggestions for corrections an input as long as you are using the Samsung keyboard.
The keyboard included with the BlackBerry Priv is a wildly different experience. It's noticeably smaller than Samsung's keyboard, which means the learning curve for fast typing is a little higher, but the soft-touch plastic and rigid keys make this keyboard feel like a significantly higher quality experience. On top of this, the BlackBerry keyboard is deeply integrated with Android on the Priv, enabling things like trackpad functions for swiping around the interface and gestures for accessing more keyboard functions and editing text. Shortcut launching is another significant part of this experience, making it possible to launch applications by holding down any of the keys on the keyboard.
While the Samsung keyboard case is a functional way to have a keyboard on your phone, it's not an enjoyable one. It feels like something Samsung thought of at the last second and tossed out to the world in the cheapest way possible, a notion made all the more frustrating by its $75 price tag. It's something you can consider if you already own a current generation Samsung phone and want something to make long-form typing more comfortable, but if you're looking at this as an actual alternative to buying a BlackBerry Priv, you are mistaken.
Sign up for Black Friday email alerts!
Get the hottest deals available in your inbox plus news, reviews, opinion, analysis and more from the Android Central team.