BlackBerry Priv pre-orders go live in the US, UK and Canada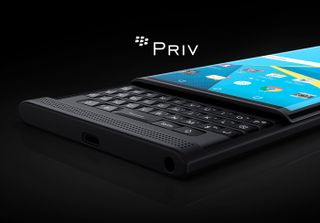 BlackBerry has officially opened pre-orders for the BlackBerry Priv, just as expected. The Priv is the company's first Android-based smartphone that features slightly rounded edges on both sides of the display, and a slide out QWERTY keyboard. Pricing the Priv sits a little lower than previously shown, coming in at $699 and $899 for the US and Canada respectively. It will run £559.00 in the UK.
For those not familiar with the specs of the Priv, it features a 5.4-inch display, 18MP camera on the rear, 32GB of internal storage with the ability to expand it with a microSD card. Powering it through the day is a 3410mAh battery, which BlackBerry says will provide up to 22.5 hours of life per charge.
One interesting thing about the US pre-order listing is that the Priv is not compatible with Verizon, Sprint or US Cellular but that has always been the case through ShopBlackBerry so we'll have to wait and see if CDMA carriers announce on their own. You can place your order now, with anticipated shipping showing as mid-November currently.
Waaaay to expensive for a flagship phone in this day in age where you can get just about the same specs from Motorola, HTC, or OnePlus for the same. Seems like only Samsung and Apple can get away with a price like that for now Posted via the Android Central App

Couldnt agree more. Given its a Blackberry, it'll decrease in price after a short period. Hold on tight! Posted via the Android Central App

$499 by Christmas. Lol Posted via the Android Central App

Please for the sake of humanity never group OnePlus with REAL OEM companies. Posted via the Android Central App

For real Posted from my Nexus 6/Nexus 7 2013/Surface Pro 3

yEah..like faPple aijphoney and foxconn... ... ( 0ppo F5) ...

Did you have a stroke in the middle of typing that? +++ Insert witty signature, watch as others not get it, profit +++

This device offers way more than all you mentioned. If you just want an Android phone then don't buy this but if you want a "getting shit done" Android phone which offers unique features like slide out QWERTY, BlackBerry HUB, BlackBerry productivity suite, and better security then pay the damn $699 and get the Priv. It's not expensive but even if it was it offers much more than the competition. I'm buying one and I like the fact that I can carry and Android phone and still be different than everyone else. Posted via the Android Central App

People have been getting shit done on Android and iPhone for years. Priv is going to flop. Posted via the Android Central App

Likely.. But not because of pricing. Because it's called Priv

Which crystal ball are you using? Posted via the Android Central App

Eric Schmidt of Google carried and used an older BlackBerry Bold 9900 until more recently. Those that need the most secure devices, despite market share, to get shit done use a..........BlackBerry Posted via the Android Central App

No offense but bb hasn't gotten shit done since 2006. Unless you count the blackout a few years ago. I know that's when the last holdouts that I new finally threw in the towel and got iPhones. But I'm not sure failing your customers counts as "getting shit done" Posted via the Android Central App

They didn't fail their customers their mission all along was based on business not gaming. The dev community stopped supporting BlackBerry but that's old news now. Now they are heading in a new direction with Android so none of your comments are relevant. It's not about what they did since 2006 it's about what they are doing in 2015. Do you always hold grudges bro? Posted via the Android Central App

$699, now that's a cheap! Blackberry quality with Android. Real Keyboard, solid slider, superb fit and finish, and curved edge screen..??? $699 is what it should cost!

Lol Posted via the Android Central App

So what should it be? First you said they nailed it at $750 now its $699 is where it should be. Lol. There's a reason why they haven't seen over 1.5 million of there devices sold/shipped. If a company is resorting to leaving their famed OS for Android they're desperate. Quality means nothing when sales keep you in the red. Posted via the Android Central App

700-750? Is there really a difference? It should cost what a premium phone should cost. In that range or more. Their sales sucked because they were Blackberries and nobody wanted them anymore. This is not a blackberry. It's an Android device, manufactured by blackberry. Totally different this time around. This thing is awesome. Blackberry may actually make a comeback.

Of course there's a difference. Just like there's a difference at $649 and $699. It's called marketing.
Pricing Strategy To a consumers eye they see $699 instead of $700. $649 is even more appealing. $750 all they see is that big 7. Do I think $699 fair. Yes at a stretch. $649 is much better. You may not understand what $50 can do in pricing. Most common sense people do. BlackBerry can be premium all it want. So is Sony... They'll add another 200K at best. I'll be shocked if that goes more. I hope to be wrong. Posted via the Android Central App

Please - Mr marketing genius, tell me more about the consumer and how they think? So they still have not figured out the old 99 trick? Riveting stuff you're spewing.. And Sony didn't dominate the smartphone market within the last decade - Blackberry did. And they had some nice, premium quality devices.

I don't have to tell you how consumer think. All you need to understand is how things are marketed and clearly you can't grasp the difference between marketing a $50 price tag to consumer. Thank goodness you don't run a business. Workers would be out a job quicker than your wits. And you need to check your history. BN hasn't dominated anything since 2009. You need to check your stats. But you're just grasping for anything. I understand. Posted via the Android Central App

Yes, a decade is 10 years (in case you didn't know). I'll stop using complex numerical references..

Ah I see you have a hard time differentiating between a decade ago and within. Cause they haven't dominated anything in the last 5 years. I know that concept is hard. Try. Posted via the Android Central App

"Within the last decade" - not sure what you don't understand.. It's hard for me to grasp how slow your mind works. I'm trying, but you're going to have you try to speed it up and meet me half way at least. But with that rim selection.. I fear there's no hope for you.

They want. If they were interested in making a comeback this would be 499. This is android around the time eclair was released. +++ Insert witty signature, watch as others not get it, profit +++

I'm with you on that. Definitely getting the Priv. For me, it's ALL about getting shit done and getting it done with the minimum of fuss and in a secure and private manner. BlackBerry all the way! Nice build quality, great virtual keyboard that blows the competition away. (most android users have never tried the BlackBerry vkb) killer capacitive physical keyboard and a beautiful screen with the BlackBerry productivity suite and above all the HUB. Posted via the Android Central App

Remember this is straight from blackberry as well. Carrier versions I'm guessing will be financed and the full price will be lower. Posted via the Android Central App

Hopefully. It still goes back to who really wants a BB buried in a sea of great Android devices. As much as I love Nokia, they wouldn't have survived either. Posted via the Android Central App

As an old BB user I thought about it but not at that price

$699 is fair compared to the initial reported $750-800 range. I still think $649 , would had been a better target range. I buying the 950xl for $649. Posted via the Android Central App

$649 would have been more attractive for sure. But when you compare this to a 64 gig iPhone 6s its way cheaper. And AndroidBerry usually has a quality feel to their phones. Two years too late in my opinion. If it worked on Fi I might have picked up a used one in a few months, but not as of now. Posted via the Android Central App

Yeah their sales were pretty shameful this year. Had they gone this route instead of the Z10 and atrocious Passport they probably could have had a better leg to wobble on. The competition is too fierce at this moment with Samsung, Apple, and now Nexus for the holiday. This "may" interest enterprises and business but don't see a big hit on regular consumers. Posted via the Android Central App

Passport is actually pretty awesome Posted via Android Central App

Meh. I have yet to see one in the wild. Posted via the Android Central App

If you had ever used one your opinion and thought would differ. BlackBerry Passport is an excellent mobile device. Posted via Android Central App

It is too. Watch this YouTube video. https://youtu.be/YlihH9WCjLw Posted via the Android Central App

With how they're struggling $600-650 would have been the sweet spot. BB needs to take a little hit on the product to gain some traction. They priced this like they're in great shape Posted via the Android Central App

I agree the price on the Priv at $899 is ridiculous!!! Even if they priced it at $799 would still be high!!! Even though it's unique with their BlackBerry software especially the BB Hub, security, sliding keyboard and etc it should be priced $699 to be more competitive. Besides their marketing and other f ups their pricing is what screwed them up the most from the lunch with the z10 and q10!!! Apple can get away with those prices because they are the market leader, the trend, popular and importantly they retain their value much longer. Posted via Android Central App

Oh so now it's fair?? Lol

You're kind of slow aren't you. Posted via the Android Central App

Kind of broke aren't you? Sell your 90s rims.. You may get enough to buy the phone.

Buddy I'm waiting to drop $649 for a 950XL. I just spent 349 on my Huawei watch. Spent $349 on my ZenFone 2and bought a M8, Z2, and Note 4 all last year including the Gear S and original Moto 360. That's not even including the Surface 3 LTE... Aw you get the point. Lol But it's not about what I spend that matters. It's what people not going to spend on this phone that does. And thanks for thinking about my rims. Lol. Posted via the Android Central App

Lol - I see now why you're broke. You're very wasteful with your money... Spending all your allowance so fast

That's it. That's you all you got left? Stick to talking about my rims. Lol Posted via the Android Central App

Yeah.. that is all I got left is not much more to say to you . No sense in arguing with a fool. Lol.

I give you an e for effort buddy. Posted via the Android Central App

The expression is A for effort.. Not E.. You dense mofo. If you're going to attempt to insult me , at least do it correctly. I guess you got all Es in school...

What his personal wealth got to do with anything you butt hurt dithering mongoloid? Posted via the Android Central App

If it was $500 I would pre-order, not at $700. Posted via the Android Central App

You would if you didn't have 4 kids! Lol

I have two that I am putting through college. I buy a new phone every year. I wouldn't buy this if it were free +++ Insert witty signature, watch as others not get it, profit +++

It was a joke.. His name.. Kids are expensive.. Ba dum tssss.. No? Rough crowd..

$699 is pretty steep. But I'm interested. Perhaps I may give it a shot when the price dips to the $500 mark.

Waiting on VZW to offer this... Luckily I have my new 5x to tide me over :) Posted via the Android Central App

Too much. Im leaning toward z5 compact or 5x. Posted via the Android Central App

I'll be buying it if it goes to Verizon.. Posted via the Android Central App

If this things performs well, which I hope it does, I'm sure it'll be a solid phone at a fair price. Looks like BlackBerry put a lot into this phone. I hope it succeeds. Brings more competition and puts BB back on the map. Posted via the Android Central App

Too intriguing, pre-ordered

that's right! ... ( 0ppo F5) ...

I'm priced out of it, but I do hope they sell well enough to keep going. Posted via Android Central App

They still make money off the software side. Just not on the hardware Posted via the Android Central App

Too expensive. And 2mp front facing camera is a downer with selfies being the hot thing going (not me) and no wireless charging. We need more specifics. Posted via the Android Central App

It has wireless charging, PMA and Qi... Specifics can be found on the specifications page :)
Not sure how this link thing works hah but go to the PRIV page on BlackBerry's site and go to specifications

I would think the last thing a BB user is worried about its selfies. Posted via the Android Central App

I'm not super concerned with selfies, but a low-res front-facing camera is lousy for video chat, and a phone that's being sold as a productivity workhorse should have decent video chat capabilities.

Depends on the quality of the lens. I seen 5MP look crap in low light situations with FFC. The MP is not going to really matter if the lens itself is not good. Which most FFC are. Posted via the Android Central App

Well 2 mega pixel is 720p, that will be plenty fine for video chatting. Posted via the Android Central App

You're right. Selfies are for narcissistic little girls and boys, but.. each to their own.
I've pre ordered it and I'm bloody excited. Long live BlackBerry. Long live Android. Posted via the AC App on my BlackBerry® Passport

TBH if this had dual SIM it would be the perfect business phone for me. Posted via the Android Central App

Front facing is 5 MP camera Posted via Android Central App

If they'd released this 3 months ago, it might have been more worth it. But as I've said with every successive leak and tease, the clock was ticking. It's too late to release that phone at that price. Posted via the Android Central App

No, people would have illogically bitched even more. What's the price of an unlocked Note 5 or iPhone 6plus? It's priced accordingly. The carrier versions will of course be cheaper amortized over 24 months as it is for any in the US right now. Personally I'll never buy a carrier branded device ever again but most people do to afford the "monthly" payment. Posted via Android Central App

At that price, not even Android will save that sinking ship of a company! ouch!

$699 is a little too high for me personally but for a Blackberry and their known quality it's probably okay. Besides, for last year's nexus 6 people coughed up $650 for this monstrously huge thing with NO special attributes to it!
And the CDMA folks must wait until their carriers filled this phone up with their usual crap of bloatware before we can enjoy the BB. And then we can't probably even root it because all the neat safety features from blackberry will be useless!
But I still might go for one, hahaha!

This may work out (short term) Whatever they sell initially should be nice profit and then in a few months at discounted price start selling some more. I highly doubt that people would be all over if it was cheaper. Since already late to the party, they figured to at least give it a try with "loyal" group. via AC App on
VZW Moto X DE/N7

Should have been $500 to $550 max to even have a chance in this crowded market and no there aren't enough blackberry fans to buy at this price unless they are targeting niche market or enterprises may be. But consumer market no chance at this price!!!

I think the price is reasonable given I get a choice of two keyboards. Massive battery. 18mpx camera. BlackBerry quality. BlackBerry security. BlackBerry features all coupled with the goodness of Android and Google Play etc. It's a fair price given the cost of iphones that I consider mediocre. Pulled the trigger and pre ordered it £559 here in the UK. I'll put my Passport up for sale once dispatch is confirmed and recoup some of the cash. No biggie. My first Android phone on the way Yay. Posted via the AC App on my BlackBerry® Passport

No thanks BlackBerry, nice phone but it's a big I'll "PASS"!

Not a bad price, all things considered it seems to have a lot more to offer over the Galaxy s6 edge which was similarly priced in preorder sales. I guess the issue seems to be manufacture support and the rumor that Blackberry is going under doesn't help consumer confidence. Posted via the Android Central App on the Sony Xperia Z3 Compact

Rogers is selling it outright at $799 CAD and not $899 that ShopBlackBerry is selling it at... weird pricing... Posted via Android Central App

I'm not certain but the Rogers ( and other carriers) will be locked device and the other is factory unlocked. $100 for unlocked seems a bit high but it's bound to be reduced soon enough. Posted via the Android Central App

What device do all those saying it's too expensive use? The BlackBerry experience, security, capacitive BlackBerry keyboard and form factor make this different than any current Android device. Posted via Android Central App

They're all cheap ass, broke ass, complain about everything nerds and geeks. It's priced accordingly to what you're getting..

If a gadget is over priced for geeks it stands no chance with normals.

Really? How would you explain iPhone and Note sales? The prices noted are for an unlocked version. Carriers will have deals on this like all others. Compare accordingly. This Android device has features and security no other manufacturer can currently offer. Posted via the Android Central App

It looks like a cool phone, and I don't think the Blackberry's problem is in the price, I think it's in marketing. Those are the people I would fired first. Doesn't matter what's the phone cost, what matter is they didn't make any deals with att or Tmobile. 80% of people lease their phones this days anyway. It is a great way to upgrade to a new device every year. And not supporting the Verizon and Sprint right now is not a bad thing, it can be good thing to. Remember how Apple held all world drooling over the iphone when it was att only special, and then boom here you all you sheep's can have it. It is all in marketing. It is sad to see great company's like Nokia, Blackberry, Sony is fading away, all because they EGO... Everything is replaceable, you have to understand that in retail business. Apple, Samsung, Xiomi, LG are proof to that. Companies that made crap for years made it out on pure marketing. And no matter what phone you buy it is just another Black, White or Gold SLAB. So I hope BB makes it. Posted via the Android Central App

It's hard to market when you have no money. Samsung spent millions marketing the Galaxy 6 alone. Posted via the Android Central App

And that guarantees nothing in today's ever changing mobile landscape. The S6 was NOT the success Samsung hoped for thus the expeditiously quick release of the Note 5 and large Edge version. True story......All the same slab devices are so similar that they engulf each other and lead to petty bickering of which one has the fastest benchmarks (which mean little in real world day in day out usage) and which could be used as a mobile toaster. Posted via the Android Central App

People who want the phone will pay for the phone one way or anothet just like they do with everything else in life. It's not the price it's the price per month. I'm intreged but I'll wait for the carrier to get them in and also check reviews and get hands on to see if it's for me. If it's what I want then I'll do what I need too to get it ... if your hung up on other options or just bs then you won't . simple. Can't wait to check it out though! Posted via the Android Central App

Preordered and I'll take the Hub and Google Now all day long! Posted via the Android Central App

Maybe a better strategy would to have been to wait out the hype of all the new flagships from Samsung, apple and nexus. Compete against the strugglers like htc and LG or even windows phone next offering(which oddly seems to have high expectations). That way they might have gotten a double whammy by being the NEW android hottness, and looked a cut above the rest. Not to mention the people waiting for these other releases might have a change of heart or their phone of choice might not live up to expectations... we already know Samsung, apple, and (probably) nexus hit it out of the park this year with some fantastic gear. Personally I have my doubts about bb (although I'm biased because I absolutely hate miniature keyboards) they're only embracing android out of desperation, not some quirky fondness of the OS. Which probably means they're trying to shoehorn their own OS on top/underneath android, and these little devices just aren't ready to power 2 OS's at the same time. Posted via the Android Central App

The ignorance of some is simply baffling. BlackBerry has essentially ran two adjacent OS's for two years. QNX has and does run Android apps securely in a "sandbox" Android apps and even Google Play Store run on my BlackBerry Passport as well as they do on my Tab Pro Samsung tablets. BlackBerry created this mobile device to kill the perceived app gap that was the only thing negatively brought up by pundits and those unfamiliar with the brilliance of the ever improving BlackBerry 10. If you have experience using the two OS's then you would better understand. I will immediately purchase the Android BlackBerry experience apps for my tablets when available. And hold judgements on the Priv until I see it in action. Posted via the Android Central App

Who wants my LG G4 it's for sale?? I want the Priv!! Posted via the Android Central App on my LG G4

I wouldn't pay more than a $99 for any CrapBerry device with or without Android. BlackBerry name is mud in the tech industry and can't command those types of prices. So, it looks like I will never own one...not that I ever wanted to.

Their software securely manages ANY and all mobile OS platforms. Perhaps you should read up on their more recent acquisitions and market strategy. Handsets are merely a piece of the overall picture. The Priv negates and addresses any and all app gap perceptions and offers something different for Android users. Posted via the Android Central App

This is the real competition, take a look at price/specs
@BlackBerry knows what it's doing #Priv https://t.co/nMZiRKtmmY https://twitter.com/Ibelieveandlove/status/657874215945838592 Posted via the AC App on my BlackBerry® Passport

AN ACE LOOK. POWERFUL MEGA PIXELFRONT CAMERA.. RICH FEATURES. ABOVE ALL ON ANDROID PLATFORM . AN FANTASTIC DISPLAY . IT WILL SURELY MESMERISE THE BUYERS . CONGRATS.

Ok. I had to post this. First, I am glad BlackBerry is making a top notch, high end phone. Slide-out physical keyboard, 18MP camera, 5.4 in screen, the works. Here is my gripe; this is the most important phone this company has released in years, as they are fighting to stay relevant. Comes with as close to stock Android as you can get. And yet it has 2 strikes against it. 1) AT&T carrier exclusivity.
If you are trying to make sure you can make as much profit you can and spread the word about this product, why limit it to one carrier? While it remains to be seen if and when it's releasing to other carriers, you have just hamstrung your business model to one carrier. That's silly and spreading yourself too thin. 2) The price. Initially this was going to be $749, now it's listed at $699. To borrow the phrase from a New York politician, That price is too damn high!
You have already outpriced the device for the majority of people in a newer world of no contracts. That is steep for a company trying to reintroduce itself as relevant. My mom was the target audience for this phone. On Verizon, has a BlackBerry Storm (I know, it still works, but she needs a new phone and wants a BlackBerry) and willing to get a phone with a bigger screen. That purchase just went out the window now. And that's the dilemma facing the company now. Is the name relevant enough to warrant a purchase of something so initially limited by expense and carrier? We will see. Posted From my Verizon Galaxy Note Edge via the Android Central App... And Don't Eat The Yellow Snow!
Android Central Newsletter
Get the best of Android Central in in your inbox, every day!
Thank you for signing up to Android Central. You will receive a verification email shortly.
There was a problem. Please refresh the page and try again.