BlackBerry Priv isn't being upgraded to Android Nougat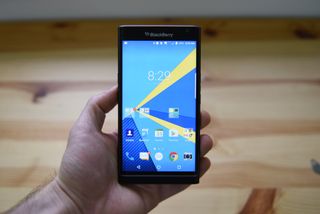 Plenty of praise was lavished on BlackBerry's first Android phone, the Priv, when it debuted in late 2015. In fact, in his review, Russell Holly called it one of the best phones of that year:
That other part about how BlackBerry still has to prove it can follow through with software updates? Yeah, that's why we're here today.
In a podcast with UTB Blogs lat week, BlackBerry GM Alex Thurber mentioned that the Priv wouldn't be upgraded from Marshmallow to Nougat.
The phone debuted with Android 5.1.1 Lollipop in November 2015, and was upgraded to Marshmallow the following April, but that is where it will stay. Many people, given BlackBerry's exceptional record in keeping the Priv and its other Android-based phones updated with security patches, thought Nougat was an inevitability for the Priv, but that's not the case.
According to Thurber, it's very difficult getting all the vendors on board for such a big update; Qualcomm has famously made it difficult for the Snapdragon 808 and 810 series to receive updates past Marshmallow (the Priv runs on a Snapdragon 808).
Thurber also cast doubt on whether the DTEK50 and DTEK60 would receive updates past Marshmallow, too, saying they were reference products by TCL to test the waters for what would inevitably be the KEYone, which will be upgraded to Oreo after launching with Nougat earlier this year.
Priv owners will obviously be disappointed with this news, but it's not surprising; it likely doesn't have the install base needed to really incentivize such a huge engineering effort, and BlackBerry has since moved on from its hardware ambitions. At the same time, given that the Priv is such a security-focused handset, and there were plenty of improvements to the OS with Nougat, it's going to be difficult to recommend the phone, despite the continuation of security updates for the foreseeable future.
What are your thoughts on the Priv's final stand? Anyone still happily using the device, or have you since upgraded to the KEYone?
Android Central Newsletter
Get instant access to breaking news, the hottest reviews, great deals and helpful tips
Daniel Bader was a former Android Central Editor-in-Chief and Executive Editor for iMore and Windows Central.
The priv came out the same time as the Note 5. I was a long time BB customer up to the Z10. I'm glad I chose the note since at least I got Android N.

Seriously - why would anyone buy Blackberry Trash...even if they do produce one good device - it's not like they're going to support it...because Blackberry

Extremely disappointed...the processor can run android Oreo..and we're stuck with marshmallow. When you think about it Nokia 3 will get android Oreo and we're not even asking or wishing for android 8...its the previous old version that we want..instead of spending my hard earned money on a Blackberry I could've bought an iphone 6s or 6s plus and enjoyed updates for the next 5 years..utter disappointment am selling my mint Priv by the way today..that is how much i am disappointed and buying an iPhone..ios is boring but at least you get ure money's worth in updates!!!

That's true man. Almost switched to iPhone for the updates alone. But I like updates for the security patches, I couldn't care less about new features. So I thought I'd give the Keyone a shot and it's truly a badass phone. I've gotten more security patches to this phone in the past month than my HTC 10 got in a year (That's more or less an exaggeration.)

I think that's a bummer, but will it get security patches?

It should, but we'll see.

Support for patches will last 3 years after launch according to CrackBerry. It was something BlackBerry promised.

Well **** my LG V20 is still stuck on Dec 2016 security patch and Android N is not all that great, your better off keeping MM and to keep getting the BB security patch updates. I have been a BB fan for many years and just got bored after my Priv I had the Note 5 got bored and now the LG V20 is a very nice phone but NO security updates and maybe it will get the BIG O dumb ass LG and Google

"Qualcomm has famously made it difficult for the Snapdragon 808 and 810 series to receive updates past Marshmallow" Specially if the OEM doesn't give a f*ck. That's why it's "difficult". LG is delivering Nougat to the G4 running on the 808 as well and if someone had a reason to forget a phone existed, it's LG with the G4 (and V10). This speaks more about BlackBerry's commitment to their users rather than anything else. I am not amongst those remotely interested in the new TCL devices and I couldn't care less for BlackBerry's "secure software", but were I amongst those people, this alone would be enough to drive me away from any BlackBerry branded device.

Not only LG's G4... SD808 is also the heart of Nexus 5X and it's getting Oreo right now.

I bought the Priv when it came out and kept it for almost a year before I got the Galaxy S7 edge. I really liked the Priv but it got too slow for me over the course of the year that I had to give it up. Sad to see that it won't get anymore software upgrades. But like the article said Blackberry's given up on hardware so can't be super suprised that it's abandoned the Priv

You know this is just plain sad. I loved Blackberry back in the day. I had just about every different one they came out w. But this is just trash. Way to bail on your users. Just give up already.

One could say they already did. They don't make hardware anymore.

Learned my lesson!! I have the Priv and then got the DTEK 60, love the phone but it's definitely a deal breaker. Would not recommend purchasing a blackberry due to lack of support!! Very disappointed!!! 😣

Exactly. As a former BBOS and BB10 user, I could never recommended an Android blackberry to anyone because of this. They are simply not trustworthy and care way more for the new customers they hope to get than the people in their current customer base who were willing to give them a chance or stick with them.

Just another device that BB had EOL'd way before it needed to be. If I was going to purchase another BB after the priv I won't now. Why would anyone trust them to provide updates to a phone. The priv isn't even 2 years old yet (although close) and the Dtek like is just a year. The priv should have been launched with marshmallow not lollipop to begin with.

After my BlackBerry Z10 was orphaned by BB, I went to a Nexus 6P to ensure I would continue to get Android updates. I won't ever buy any of the Android BB's now because of their lack of OS patch support. They are so short sighted now w.r.t. their customers. I had even considered a Priv, but now I am glad I didn't and got the Nexus instead.

I have been a blackberry user for a long time, still using a bb10 passport for work and my priv at home. The priv is a good phone for me but blackberry has shafted the priv and the dtek customers (still can't believe they said that the dteks were a test phone!!! Especially how much they cost!) As for the priv it should have been launched on marshmallow and then go onto the nougart and maybe orio. Most people do not want to change there phone every 18 months, why should we have too, I'd rather keep my phone for three years then upgrade. But hey its blackberry!

BlackBerry has a been a huge disappointment with how they shafted their users /customers like from the PlayBook and on. I bought their DTEK60 cause I like an all screen phone and to see how they included their BlackBerry software on Android since I loved the Hub and the BB10 gestures. Not so impressed with Android. Now with iOS11 which is so much better with new features and new gestures definitely upgrading to the iPhone 10 and an iPad.

I actually think I am doing the same as the previous reply. I have been a longtime BlackBerry user and love BlackBerry 10 gestures and devices. Reality is that app development for the best mobile OS is nonexistent. I purchased a DTEK50 to see what BlackBerry was about with Android. The battery life on Marshmallow was subpar for the first few months and the calendar app was useless compared to BlackBerry 10. In February I picked up a S7 Edge and threw on the BlackBerry Hub and BlackBerry virtual keyboard. At least this Samsung will get Oreo.

Looking forward to their upcoming all touch device the Krypton, supposed to have a 4000mah battery, water resistant, SD 630 or 660, 4gb ram 64gb rom 👌

And this is going to encourage people to buy newer Blackberries? "Let's try keep our customers happy. Nah, never mind!" No wonder the company has virtually failed.

I can't believe how Samsung became one of the best manufacturers in terms of keeping their devices up-to-date. The S6, also released march 2015, still keeps getting monthly updates and is on Nougat. It won't get oreo though.. but oh well, it properly got its 2 major version updates.

I'm very happy that it doesn't. I buy it because it wasn't because my other phone an Asus Zenfone 3 , get upgraded and now it doesn't work with USB Camera.

This is the type of things that made me switch from my many years with BlackBerry (my last was the Z30) to a Samsung S8!

DTEK60 owners should be more upset if they don't get nougat.

No surprise there! I was a big blackberry fan! Even nowadays people still ask me about blackberry. My last one was the Z10. I gave up on blackberry because they gave up on us long time ago! I got the Google pixel. So far I'm not complaining!

This certainly isn't a surprise, the vast majority of phones that are two years old won't be getting an OS update ever nor do they get the monthly security updates that BlackBerry does provide quite reliably. Even google doesn't support it's devices after two years.

The issue here is that the Priv is not even getting last year's Android version. And companies like Samsung provide monthly updates by the way, even the 2014 Galaxy Note4 is still getting monthly updates.

I went from a Z30 to a Keyone seems it was a wise decision to skip the Priv and all the Dtek's. I will continue to be a TCL customer because of the customer service, I damaged my keyone dropped it before I could put a case on it everything was working just physical damage on the point of impact. And they sent me a brand new device :) Feel for the Dtek users but tis life in the Technology Game.

I don't really get the obsession with having the latest version of everything! What's wrong with Marshmallow anyway? The main attraction for me in buying a BlackBerry phone is the physical keyboard, and having access to the full library of Android apps makes it a best-of-both-worlds situation. Myself, I own both the Priv and the KEYone and use them every day. I think it's fine that one is on Marshmallow and the other on Nougat. The main thing where the Priv compares badly to the newer phone is the battery life, as it discharges nearly twice as quickly. It would be great to see a new version of the Priv with more up-to-date specs. I have a couple of Samsung phones that seem to be stuck with Marshmallow as well having upgraded from Lollipop, so I think it's a normal thing for Android devices to only get one major OS update in their life cycle.

Typical BlackBerry crap just another reason I won't buy another blackberry product! Oh and my first two Keyones were defective go figure get your act together Chen.

Priv was an amazing phone at release. There have been plenty of phones by plenty of manufacturers that haven't updated two os releases out. My dad's priv still gets security updates faster than anyone but pure Google phones, on att no less. I'd say they have held up to whay they promised and can stop security updates at 3 years.

I bought the PRIV for nostalgia as the last true made blackberry device it's a shame what they've done to this device. It has so much potential
Android Central Newsletter
Get instant access to breaking news, the hottest reviews, great deals and helpful tips
Thank you for signing up to Android Central. You will receive a verification email shortly.
There was a problem. Please refresh the page and try again.