Marshmallow is here for the BlackBerry Priv: Here's everything you need to know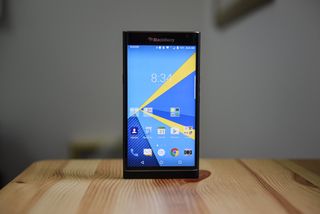 After an interminably long wait for most — and a relatively short beta period for some — some Privs will be updated to Android 6.0.1 Marshmallow today. Curious about what's in the update? Here's everything you need to know, with the help of Michael Clewley, BlackBerry's Director of Software Product Management.
When is it available?
The Android 6.0.1 update will be available starting April 26 to BlackBerry models purchased directly from ShopBlackBerry. Those models include:
STV100-1 in the U.S. and Canada
STV100-4 in the UK, France
The update will roll out to STV100-2 and STV100-3 models (sold through carrier channels) beginning May 3.
What's the big deal?
Aside from the fact that it brings the Priv up to Android 6.0.1 Marshmallow and all it entails, there are some pretty nice features added to this build.
On a high level, BlackBerry has added improvements to security, to the Hub, to the keyboard, and to the camera. We'll get to specifics in a moment.
But more than that, after using the Priv on Marshmallow for about a week, it's clear that the phone's software has matured; already a fast device on Lollipop, the Priv now screams. Moreover, the UI's rough bits have been smoothed over, and the whole experience, from the Hub to the camera, feels just a little bit more cohesive.
About that security
"We are the world's most secure smartphone," says Clewley during an interview with CrackBerry. "We have all the native Marshmallow underpinnings from a security perspective on Priv, and we have only enhanced that now."
Clewley notes that BlackBerry spent a long time ensuring that its hardware-based security advantages — kernel hardening, including the application of Linux patches ignored by other OEMs and even Google itself; and on-device encryption — were equalled by improvements to Marshmallow.
Of particular note is the integration of DTEK, BlackBerry's app for overseeing the Priv's security status, with Marshmallow's new app permissions model. As in Lollipop, it's possible to see which apps requested access to specific parts of the hardware, but now, thanks to Google, users can actually disable those permissions.
Clewley points out that BlackBerry is practically the only OEM to keep up with Google's pace of monthly security updates. "I just don't think other OEMs care as much about security as much as we do," he says, pointing out that carriers more often than not make things too difficult for manufacturers to roll out regular updates, so they just don't bother.
"We've done a lot of work with carriers to make sure users get these security patches monthly, and many carriers welcomed that hands-on approach," he says. He also tacitly acknowledges that many of the bigger U.S. carriers have less incentive to push out regular updates, and that while the Priv is still the most frequent, getting a phone direct from the manufacturer is the best way to ensure regular updates.
On one hand, it's great to see BlackBerry so committed to regular software patches. On the other, though, given that Android N is only a few months away, its advantage over, say, a Nexus 6P with the latest version of Google's software may disappear overnight.
To that end, I ask Clewley whether, with Google releasing an N Developer Preview so early, we'll see the next version of Android more quickly on the Priv. He hedges, saying, "Updates are very complex for OEMs. They don't just have to wait for Google; they have to wait for chip manufacturers to certify their parts, generally after Google declares their latest software as gold."
In other words, "it would require bigger changes to how Android is effected."
More Hub to love
On the software side, BlackBerry has made the Hub even more impressive. Not only does it now support S/MIME email signing and encryption (you'll know if that's important to you), but for regular consumers there is now Instagram, Slack, Skype and Pinterest integration, along with the existing hooks for Facebook, Twitter and LinkedIn.
According to Clewley, many of these integrations came from direct user feedback (I begged for Slack integration on more than one occasion), but most were the logical continuation of the Hub as a platform.
Of course, unlike BlackBerry 10, the Hub is still a separate app that must be opened, and it still conflicts with Google's own Gmail app, but with Marshmallow is has become an indispensable part of my Priv life, and I wish it were usable on other Android devices.
Keyboard swiping
BlackBerry has added, for better or worse, swiping support on not only the virtual keyboard but the physical one.
What this means in practice is that if the Priv's width doesn't strain your thumb's reach while using it in one hand (I have stubby digits, so it doesn't quite work for me), it's now possible to enter text without lifting your finger. In practice, the swipe isn't nearly as accurate or reliable as Swype or SwiftKey, but BlackBerry has done an admirable job in its limited time.
More impressive, and equally strange, is the feeling of swiping on the Priv's physical keyboard, the act of which was previously reserved for moving the cursor around the screen while selecting text. It's likely not an everyday use case, but I can see it being used to impress friends — and occasionally enter a line or two of text.
But hardware and software keyboard lovers alike will appreciate the 200-odd new emoji, along with improved word prediction.
Can't fix a camera through software
Even when the Priv was released late last year, its 18MP camera, while good, didn't match up to the industry's leaders. Today that is even more pronounced as a new lineup of Android flagships, led by the Galaxy S7, show what is possible with a smartphone camera.
But BlackBerry has not stopped improving the software experience, adding two new video modes — 24fps capture at 4K, 1080p and 720p; and 120fps slow motion — to the phone's repertoire. The latter feature is found on nearly every device on the market, but the former, a so-called "cinematic" mode, according to Clewley, is relatively uncommon.
With Marshmallow, the Priv's shutter is slightly faster, but still below what you'd want from a flagship, while image quality seems to be about the same. As we've learned with many devices over the years, you can't fix a poor sensor through software.
A launcher to remember
BlackBerry's Priv launcher, with its support for custom icon packs, pop-up widgets and an array of app shortcuts, separated itself from the largely derivative feature sets found on most competitors' devices, when it launched last year.
With Marshmallow, that launcher has received a host of improvements, including better ways to organize apps into categories. They're small changes, but I still haven't reached Action Launcher, my go-to on most other devices — and that's saying something.
A longer-lasting conversation
As with all Marshmallow-based devices, the Priv benefits from Google's implementation of Doze and App Standby, which extends the uptime by around an hour in my findings. The 3,410mAh battery already lasted all day (and then some, most of the time) so it's a well-appreciated bonus that it gets better with Android 6.0.1.
While Clewley says that BlackBerry had to find the right balance between performance and battery optimization, he thinks that Google will continue to improve on Doze — as it has promised — and that there were some issues OEMs didn't take into account. Specifically, apps like BBM that rely on push notifications rely now more than ever on persistent notifications to ensure thats service doesn't get killed in the background.
Practice makes perfect
With BlackBerry poised to release at least two more Android-powered handsets in 2016, it's good to see the company iterating on its software in meaningful ways. Android 6.0.1 Marshmallow for the Priv is an example of a company taking its time to make sure everything is in its right place before pressing the big red button.
And while we're on the verge of yet another Android version, with its own set of user-facing security and privacy improvements, there's no question that on the face of things BlackBerry has a commitment few others OEMs have shown.
That said, questions still remain about just what changes BlackBerry has made to the Android kernel, with Clewley mentioning proprietary "special sauce" that, for competitive reasons, will remain private. And with most new Android 6.0-based shipping with encryption on by default, and companies like HTC and Samsung stepping up their monthly security update game, it's unclear just how much of an advantage, if at all, the Priv has over, say, the Galaxy S7 or HTC 10 when it comes to security.
BlackBerry would have you believe that the Priv's combination of hardware and software-level security improvements separate it from the pack, but many of these advantages are subjective rather than quantifiable.
In the end, the BlackBerry Priv is a great smartphone, made better by its latest software update.
More on the Priv's Marshmallow update at Inside BlackBerry
Sign up for Black Friday email alerts!
Get the hottest deals available in your inbox plus news, reviews, opinion, analysis and more from the Android Central team.
Daniel Bader was a former Android Central Editor-in-Chief and Executive Editor for iMore and Windows Central.