BlackBerry officially announces the DTEK50, pre-orders now open for $299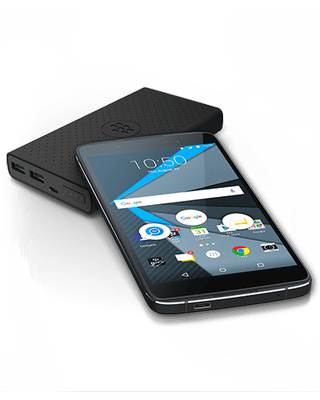 BlackBerry has officially announced the keyboardless DTEK50, the second Android offering from the company. Being touted as the world's most secure Android smartphone, it features a 5.2-inch scratch resistant display, Android 6.0 Marshmallow, a convenience key which you can map to your favorite app and much more. As you'd imagine, BlackBerry has hardened the OS on the DTEK50, added a secure boot process and much more to ensure that it is the most secure it can be.
More: BlackBerry DTEK50 specs
You'll be able to place a pre-order for the DTEK50 on ShopBlackBerry.com in the U.S., Canada, UK, France, Germany, Spain, Italy and the Netherlands. It will be priced at $299 and will make its way to other retail partners in the coming weeks.
Press release:
BLACKBERRY ANNOUNCES THE WORLD'S MOST SECURE ANDROID SMARTPHONE– DTEK50
DTEK50 delivers BlackBerry's unmatched security, privacy and productivity to price-conscious consumers and businesses
Waterloo, ON – July 26, 2016 – BlackBerry Limited (NASDAQ: BBRY; TSX: BB), a global leader in mobile communications, announced today that DTEK50TM, the world's most secure Android smartphone, is now available for pre-orders at ShopBlackBerry.com. DTEK50 is BlackBerry's second smartphone powered by Android, following the PRIV. Fully equipped with Android Marshmallow 6.0, DTEK50 combines BlackBerry's unique security, privacy and productivity with the full Android experience in an all-touch design, at a price point that's accessible for consumers and ideal for enterprise fleet deployment.
"We take our customers' privacy seriously. That's why we're proud to have all the security and privacy functionality that's built in our newest Android smartphone. DTEK50 merges the unique security and connectivity features BlackBerry is known for with the rich Android ecosystem," said Ralph Pini, Chief Operating Officer and General Manager, Devices, BlackBerry. "DTEK50 adds to BlackBerry's lineup of secure smartphones, providing choices to our customers with different price points on both BlackBerry 10 and Android platforms."
Android Security at the Forefront
In a recent survey1 of Android smartphone users, BlackBerry found that 50 percent believe their smartphone is only somewhat secure, and what's more, despite data security fears, one in six Android users don't know about Android security patches.
"With an increase in cybercrime on smartphones, people need to recognize that the private details of their lives – where they live, their bank info, pictures of their kids – are at risk on their personal device. You wouldn't leave the doors of your house unlocked at night. Having a smartphone that doesn't take your privacy seriously is the equivalent," said David Kleidermacher, Chief Security Officer, BlackBerry. "It's equally important for businesses to protect their sensitive data from cyberattacks at all points of their mobile environment – from the device to the network and servers."
DTEK50 was designed to address the security and privacy needs of today's uncompromising Android users. Smartphones are increasingly being targeted for cyberattacks through tactics like malicious apps, scareware notifications and insecure Wi-Fi connections. BlackBerry's Android smartphones, including DTEK50 and PRIV, have unique built-in hardware security.
DTEK50 encrypts all users' information, including business critical data and personal data such as pictures, videos and contacts. Malware protection is also built-in along with back-up, wipe and restore capabilities. Additional software provides users with visibility and control over which apps get access to personal info or device features such as the microphone or camera. BlackBerry also delivers security patches on the same day that Google publicly releases information about them, while many popular Android smartphones put the users' private information at risk of being hacked due to slow security updates.
Features that make DTEK50 the most secure Android smartphone, include:
Rapid Security Patching: BlackBerry has a record of being the quickest to deliver security patches, setting the bar in incident response and patch management to protect your device from malicious threats.
DTEK™ by BlackBerry App: Enables users to automatically monitor their OS and apps to know when their privacy could be at risk and to take action to improve it. The DTEK app also tracks applications and notifies you when someone is: taking pictures or videos without your knowledge, turning your microphone on, sending a text message, or accessing your contacts or location.
Hardware Root of Trust: BlackBerry's manufacturing process uses a proprietary technique that adds security from the start, allowing for the tracking, verification and provisioning of DTEK50.
Secure Boot Process: Starting with the root of trust, each stage of DTEK50's secure boot chain must first verify that the next component is fully intact before proceeding, ensuring your device has not been tampered with since the last restart.
Android OS hardening: BlackBerry provides additional security patches, improved random number, address space generation and certificate pinning to make it more difficult for attackers to target a device by scrambling application/system memory.
FIPS 140-2 Compliant Full Disk Encryption: Protects your private information, like pictures or bank information, from being stolen if you were to lose your phone.
Ready to Work
DTEK50 combines the world's most secure smartphone with BlackBerry's enterprise management solutions to produce a powerful device capable of powering any work day. Key features include:
Android™ for Work and Google Play™ for Work: Allows for fast, simple and secure integration with an enterprise environment as well as easy access to numerous rich business and IT-managed apps.
Full Enterprise Mobility Management Support: DTEK50 supports BlackBerry's powerful suite of EMM applications and secure productivity solutions, including: WatchDox by BlackBerry for secure file-sharing, Good Work for business-class email and collaboration tools, Strong Authentication by BlackBerry as a VPN solution, SecuSUITE for Enterprise for secure voice and instant messaging communication, BBM Protected for encrypted messaging and - BES12 for secure cross-platform management.
Design Meets Function
DTEK50, BlackBerry's thinnest device ever, represents the best of BlackBerry with Android to make users more productive and responsive, pairing security with intelligent design. Key features include:
BlackBerry Intelligent Keyboard: DTEK50 has a smart keyboard designed to learn from users and increase typing accuracy and speed. It provides word suggestions as you type and includes up to three languages, letting you flick them into place for faster conversations.
BlackBerry Hub: This unified inbox is an irreplaceable tool for consolidating all of your messages in one place – whether it's email, calendar, social or phone calls.
Customizable BlackBerry Convenience Key: With the press of a button, the Convenience Key provides quick access to your most used applications and more.
Stunning Screen: DTEK50 has a 5.2" full HD display, capable of displaying 16 million colors. The screen is made of scratch-resistant glass and features a specialized oleophobic coating to protect against smudges and fingerprints.
Expandable Memory: With support for micro SD cards up to two TB, DTEK50 provides the flexibility to add affordable and hot-swappable memory to download, install, capture and share as your needs evolve.
Dazzling Camera: DTEK50 is engineered to deliver professional-looking photos with an 8MP front facing camera and a 13MP auto-focus rear camera. Plus, features like Phase Detection Auto Focus and a dual-tone LED flash are designed to help the camera focus instantly and accurately for a blur-free, realistic looking photos, even in low light.
Availability and Pricing
Starting today, DTEK50 is available to pre-order from ShopBlackBerry.com in the US, Canada, UK, France, Germany, Spain, Italy and The Netherlands for $299 USD. DTEK50 will be available in a number of channels around the world, including more than 40 partners from electronics stores, carriers, VARs and distributors. This includes Rogers, Bell, TELUS, WIND, Videotron and SaskTel among others in Canada. In the U.S., DTEK50 will initially be available in Best Buy, B&H and Amazon. Availability of DTEK50 in additional global channels and countries will be announced in the coming weeks.
For a limited time, customers who pre-order a DTEK50 on ShopBlackBerry.com only will receive a complimentary BlackBerry Mobile Power Pack, a high-capacity portable charger worth $59.99 USD ($69.99 CDN, €59.99 and £54.99) that powers all your compatible mobile devices to maximize your productivity and play time. This offer expires on August 8th at 11:59 pm PST.
Jared started off writing about mobile phones back when BlackBerry ruled the market, and Windows Mobile was kinda cool. Now, with a family, mortgage and other responsibilities he has no choice but to look for the best deals, and he's here to share them with you.
That's a decent price for a smartphone. Posted via the Android Central App on Moto G3 16/2 on $35 Cricket wireless plan.

Yes... it is a budget phone :p

I meant to say a decent price for a blackberry phone. They always try to be so greedy and end up pricing their phones too high. It seems like a decent phone for a decent price coming from Blackberry. Posted via the Android Central App on Moto G3 16/2 on $35 Cricket wireless plan.

Who is really greedy is Apple overpricing their products like there's no tomorrow.

Companies charge what the market will bear, and the market sure as hell bears the iphone.

You're right. The Classic was $450 when released. It was a terrible phone. It felt like a $250 phone. And that's being generous. Google Nexus 6P

Super happy it's GSM only. I love that phone makers hate to include CDMA. Seriously, include CDMA and LTE band 7 and Verizon must let it on because of an FCC agreement, takes no certification, no extra trouble, and raises the number of people that may buy a Blackberry. Would love get the Priv successor but I know Blackberry won't let the unlocked one work on Verizon for some stupid reason and I will never buy a carrier phone again. Posted via the Android Central App

That's the price consumers pay when they go with a carrier that prefers control over their mobile devices than standardizing with competing carriers.

That's just not true and your hype-beasting a myth. It's like if YOU think it, it must be a fact. When, with all the actual data, it is in fact the opposite. In saying all of that, this phone is a POS. Posted via the Android Central App

hrm it seems like you're trying to make a point but with your incessant rambling and ill formed thought you went with the red herring defense and accomplished nothing. So let me help you out a bit. This isn't an argument on the frequencies or wavelengths that are used but how the phone itself is associated to the network. GSM and LTE use sim chips where the user information resides and how the phones authenticate to the network where as a CDMA maintains a whitelist of which phones are able to access the network. I know that new Verizon phones have sim chips but that generally is for the LTE spectrum only. So in theory (I don't know in practice) you can use a GSM phone with a sim chip on verizon that has the same LTE spectrum supported but would only get LTE as they still use CDMA for 3G. So next time you feel the urge to make a rebuttal, I'd recommend removing your cranium from the methane producing orifice it's currently seeking warmth in and spend a few minutes on google researching. Oh here's a link for to back up my claims of CDMA:
http://www.pcmag.com/article2/0,2817,2407896,00.asp
it's on the 8th paragraph in case it's too long for you to read. Lastly the phone isn't a POS, it's an inexpensively built phone for business users who use it for email, phone calls (these things still do that?) and business applications. This was never built not intended to be a flagship but a way to keep BlackBerry as a company still a viable option for businesses.

And we have a phone! Ok, so what is supposed to make me want this more than the other phones in its price range? Moto G4 Plus 64/4, Axon 7, OnePlus 3, Nexus 5X, etc? The one thing I can think of is that BB has NAILED monthly security updates so far.

I don't think it's supposed to make you or I want it, it's supposed to make corporate IT departments want it for their employees.

Oh. Hrrm, fine then! Be that way BB! Didn't want your stupid phone anyways! hurrumpth :( :p

Ooh so that is really the name. Not bad of a price at all.

Right? Super interesting name. Reminds me of C3P0

Seems reasonable. I could see a lot of companies buying this for their employees.

I'm ordering these for my fleet

Maybe I missed it but no fingerprint sensor? I just find it so hard to believe that a company committed to security doesn't have that feature on their phones. Posted via the Android Central App

Why is that? Fingerprint isn't the most secure. Simply one of the most convenient. luvin my s7 edge

Someone hasn't heard one of Jerry's rants about fingerprint scanners on older podcast episodes. Once your fingerprint is compromised, you can't change it unlike other forms of security.

The Zmax Pro has a fingerprint reader and 3450mah battery and otherwise identical specs for $99. Posted via the Android Central App

It's great but bigger and you can only use it on MetroPCS. Great for Metro, sucks for the rest of us.

I was just reading an article about someone 3D printing someones fingerprint just to hack thier phone

I saw it on YouTube yday. No **** Posted via the Android Central App

Fingerprint is not as secure as you might think

As everyone is pointing out, the second the fact that they are so obsessed with security is exactly why there's no fingerprint sensor. I think they even said that about the priv.

Maybe I have missed the Jerry rant, I'll look for it. But I just can't see myself encountering a situation where my sensor would get compromised to begin with. I'm not a dum dum and don't leave my phone out in places that could happen. Is it that easy to compromise? I'm genuinely asking, not trolling. Posted via the Android Central App

Wait for the full specs, but you can also find a Priv for 300 which is likely better

And also it is bigger with the physical keyboard and okayish camera. I'll pass on the Priv. This could be fun to try, hopefully we will have some reviews.

Full specs. http://shop.blackberry.com/store/bbrryus/en_US/pd/productID.4104430300/c...

Right also: http://www.androidauthority.com/blackberry-dtek50-specs-price-release-da...
The DTEK50, or 'the world's most secure Android smartphone', sports a 5.2-inch 1920 x 1080 scratch-resistant display, a 64-bit octa-core Snapdragon 617 processor, 3GB of RAM, 16GB of on-board storage, and microSD expansion up to 2TB. It also comes with a 13MP rear camera with phase detection auto focus, an f/2.0 aperture and support for 1080p video recording at 30fps, as well as an 8MP front camera with an f/2.2 aperture. While BlackBerry decided against USB Type-C connectivity, the DTEK50 does come with a non-removable 2610mAh battery with support for Quick Charge 2.0. Running Android 6.0.1 Marshmallow

http://forums.androidcentral.com/dtek50/704428-dtek50-specs.html 5.2" 1080p
Android 6.0 Marshmallow
3GB RAM
Snapdragon 617
16 GB Storage + MicroSD
13 MP Rear Camera
8 MP Front Camera
NFC
LTD bands 1, 2, 3, 4, 5, 7, 12, 17, 20, 29, 30
2610 mAh battery with QC 2.0 Micro USB; estimated to last 17 hours.
Integrated dual speakers and dual microphones
No fingerprint scanner
3.5 mm audio jack
Dimensions 147 x 72.5 x 7.4 mm

Think I would have dropped money on that instantly if it only had more than 16GB internal storage, Looks great value otherwise, i just don't want to be forever having to manage apps when internal storage becomes full.

it does have expandable storage via micro sd

It's targeted for corporate employees, so it doesn't require much storage since business phones aren't designed for media. It's a solid price too, and for the first time in a long time, BB got it right. I'm hoping to see a higher end, touch screen only, Android phone designed more for media consumption/everyday use. Android has a gaping whole in two markets: high end specs on smaller displays, and larger battery capacity. If it's aggressively marketed, aesthetically pleasing to mainstream, has the security they're known for and priced accordingly, Blackberry can gain market share on Android. Give me a kevlar/matte finish with the expected 2016 features/specs on a higher end device, combined with a much larger battery (3800+) and I'd pay attention to Blackberry again.

Also, I went to B&H and they are also offering the same powerpack for preordering so the choices are yours. Edit: Okay, this is a super interesting phone that really has my curiosity on it. Apparently both of the cameras have OIS and the front camera has flash. It might be 5.2" but very interesting. I'm going to need a review before I consider trying this but ooh.

If you are worried about the size of the display, I've used Sony Z5 compact with even smaller display and I LOVED how it fit in my hand! Screw phablets that fall down all the time. And it looks ridiculous like you are talking into a tablet for God's sake

@jared can we get the specs info published again please?

Looks like the idol 4 (which isnt a bad thing) Nice looking device. Specs don't seem bad either. 3gb ram, Qualcomm 8952 with 64 bit Quad-core 1.5 GHz Cortex-A53 and Quad-core 1.2 GHz Cortex-A53 (Snapdragon 617 Octa-Core, 64 bit)
Adreno 405, 550mhz GPU http://shop.blackberry.com/store/bbrryus/en_US/pd/productID.4104430300/c...

It is an Idol 4, lol Posted via the Pokémon Central App

Snapdragon 617 with only A53 cores... Bummer. Posted via the Android Central App

Moto G4 Plus runs smoothly on the 617.

It's Blackberry. Your not getting any fantastic deals on top end hardware, ever. Posted via the Android Central App

It's a midrange phone. They got no choice but to go with something like this or it'll be another flop. Me personally I don't trust BB. I don't think they can optimize their OS to run smoothly. Posted via the Android Central App

Wrong. They are among the first to push security patches on Android

Nice looking phone overall, bezels a little big, a little under spec'd. But I like the direction they're going in. Keep the line up small and updated, you'll do great BB. Posted via Techmology

Nope,would have been much better with an SD652. Posted via the Android Central App

Clearly not aimed for the regular customer with those specs Personally i not want anything lower than Snapdragon 820, rocking the 810 for too long now :/ Posted via the Android Central App

Please define regular customer. If regular customer = flagships only, i agree. I don't know how many people you know who aren't tech/phone nerds are out here saying that they want a Snapdragon 800+ series in their phones or else it's DOA. Most of the people I know just want a phone that works and has at least okayish cameras.

Agree. Most people are perfectly content with the "mid range" processors, they don't need the 8xx line to function.

True that. My boss has bad eyes so he got himself a Galaxy Note 4 some time ago. Hated it. Hangs all the time, shuts down, glitches... so I told him to get a BlackBerry Priv and it works perfectly ever since. Said he needs a phone to be reliable to make calls, text and get basic Internet functions. What makes BlackBerry unique is their reliability. Of course Priv can do all the other fancy smartphone things but he says he does it on the computer. So BlackBerry has the base and will continue to.

+1 Posted via the Pokémon Central App

Maybe trying to recapture lost enterprise users? I wouldn't be surprised if a CDMA variant is released if this does well. Posted via Techmology

Seriously? The 810 I'm what device?
If it's cooled properly, which the 808/810s have issues with, it's a good chipper. It's Category 9 LTE-A & a good GPU for offloading. Posted via the Android Central App

So basically it's mix between an Alcatel Idol 3 and 4s with Blackberry's software in it (design, front & rear facing speakers, Boom Key). Posted via the Android Central App on my Nexus 6P

No it's based off of the Alcatel 4.

It's literally an Idol 4. Posted via the Pokémon Central App

They have hit the right price point and the specs are solid. Not sure about the name tho.. but lam looking forward to seeing how it does!

Not a mix of idol 3 and 4. It IS the Idol 4, Sad state of affairs at BB.

Yeah, why sad? Posted via Techmology

So $100 more than the alcatel idol 4 for blackberry brand and added security? Posted via Android Central App on Galaxy s7 Edge

I thought the Idol 4 is $399, which would make this phone $100 LESS -- which is a pretty great deal for that phone. ...At least it would be, if it had a fingerprint sensor. Think fingerprints are not secure? Then don't use the sensor! But at least give us the option.

I think the 4s is $399, and the 4 is $199

That's exactly my point, the option would be nice. +1 Posted via the Android Central App

Does this device will work on T-Mobile USA band? Posted via the Android Central App

Any word on VZW compatibility? I'm guess that won't happen since neither the Passport or Priv ever made it to VZW.

BlackBerry phones have to deal with added full disk encryption and their background processes. The 808 had trouble keeping up with multi tasking. Try Google Maps, a podcast and get a phone call the Priv had trouble handling that. I wonder how much a corporate road warrior is going to like a phone that struggles with that.

All of my android phones struggled with difficult tasks like that, it's because Google put their recordkeeping too high on the priority list when they created android.
I don't have a Priv but all my other Google phones(all android phones) had/have those very heavy background processes..well, at least we get some pretty good and relevant advertisements since Google(an advertising company) created a phone that can access all our info to determine which type of advertisements suit each one of us best.

It's the best bang for your buck not only in Android world but in all the smartphone world. BlackBerry is the best at skipping all unnecessary gimmicks and includes the best essential tools that both satisfy a regular consumer as well as a serious business person.

Since initial announcement, have there been any updates regarding possible US carriers stocking in their online store or physical stores? Posted via the Android Central App

Doesn't it look a little like the Alcatel Idol 4 with the Idol 3's back? The speaker location/appearance is very similar. Posted via the Android Central App

We are purchasing these for our organisation in australia, through an enterprise agreement with BlackBerry. Public consumers will always have complains, but for companies, this phone is what we need, and in our opinion BlackBerry has hit the perfect spot. People don't realise, it's a secured phone for employees... it's not meant for everyone. Posted via the Android Central App
Android Central Newsletter
Thank you for signing up to Android Central. You will receive a verification email shortly.
There was a problem. Please refresh the page and try again.