BlackBerry Motion announced with 4000mAh battery, IP67 rating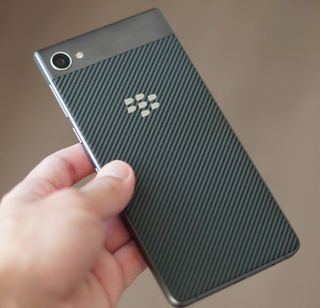 It's been an open secret that TCL, the company behind the newly-revived BlackBerry handset brand, has been working on another device for a fall launch. Dubbed 'Krypton', the phone was expected to eschew a hardware keyboard for a traditional 16:9 touchscreen, emphasizing BlackBerry's security prowess, stable software, and excellent battery life.
That phone is now official. The phone will come to market as the BlackBerry Motion, and it resembles the popular KEYone in many ways. The 5.5-inch Full HD LCD display is pretty standard for this price range — the phone will debut for the equivalent of around $450 — while inside the Snapdragon 625 SoC is paired with 4GB of RAM, 32GB of storage, a 4000mAh battery, and IP67 water resistance. There's also a 12MP rear camera with an f/2.0 aperture, an 8MP front-facing camera, and a front fingerprint sensor. It launches with the same version of Android 7.1 that came with the KEYone.
The phone will only be available in select markets at first, and North America isn't one of them. BB Mobile says that Middle Eastern markets like the UAE and Saudi Arabia will sell the phone shortly for the equivalent of $460 USD.
Interested? Check out CrackBerry for more coverage of the new device.
Daniel Bader was a former Android Central Editor-in-Chief and Executive Editor for iMore and Windows Central.
Seems high priced. I just purchased the Moto G5S Plus for $299.99. Same processor, same RAM, and twice the storage at 64GB. Moto's updates are slow, and it doesn't have the Motion's security suite, but a $150 premium seems a little ambitious.

It's mainly going to be sold as a corporate issue for security from what I read. Other than a few blackberry loyalists seems unlikely to sell big numbers to retail customers.

G5 plus is on sale for $230 right now. The G5 S Plus is really a steal, IMO with 625/3GB/3Ahr. I've got the ZPlay, and it's a wonderful phone (Ok, the camera is thoroughly meh)

Let's not forget the Motion is IP67, probably has a way better camera (based on KEYone), and USB-C for future proofing. I think it's worth it.

Agreed. Looks like a tempting BlackBerry.

And the VKB is a joy to type on. Uniquely BlackBerry.

The price seems kinda..... high. At this price point, it competes with The Essential Phone, The Moto G5+, 1+5T, HTC U11 Life, and the Honor 7X (which should be coming around Dec 5th). Don't get me wrong the Snapdragon 625 is legendary in terms of battery life and efficiency and that 4000 MAH battery will do wonders but other competing phones are superior in many aspects.

Hope this does well for them. There are many days when I miss my good old reliable Z10 and all of the other blackberries I've owned before that. Maybe the next flagship will win me back!

You'll be able to get one from Gearbest, anyway

$450 for a SD625? Theyre not trying to sell this phone at all huh

Yeah internal specs are similar to the Keyone (did offer a 64GB version). Suppose they feel 6-7 months since it's release is too early to up the ante in the specs department for the Motion, sad if they don't. Still could be my next device if the elite keep getting elite-er with their ever increasing costs to purchase.

You can also check this portuguese website! https://echoboomer.pt/blackberry-motion-e-oficial/

Add a slide out keyboard like the priv and sign me up!!!!

I remember when I thought that was a good idea a decade ago

Man, that battery has to last a week. Verrry interested if it comes to Verizon

I have a Moto Z play, which is pretty much the same hardware with a 3500mAhr battery. I tend to have around 60% battery left on a typical 18hr day, +/-10% for light/heavy days. Another 500mA would add @15% to those. So 3 day phone after you add in the night time it is normally on the charger, maybe 4 days if you baby it. Keep in mind, my typical day would leave an S7 at 20% or less, so I returned it for a ZPlay.

this is the only phone to replace my Z Play :)

If Verizon gets it I'd be up for checking one out. I do miss my BlackBerrys. Just couldn't wait for them to get things working right anymore. I left after the Priv.

It's sad that BlackBerry knows that consumers want bigger batteries, but the "big boys" (ahem, GOOGLE) feel like sacrificing battery longevity for the squeezable frame gimmick is acceptable. And before anyone says it, blah, blah, "a battery is only as good as its software", blah, blah. Well Android isn't Apple, where they have chips designed to work with their software, and unnecessary processes don't run in the background BY DEFAULT. My first "smartphone" was a BlackBerry Torch 9800, which would easily last me two days on a single charge. That being said, would I buy this phone? No, but that seemingly elusive to "big boy" Android devices 4,000 mAh + battery is what caught my eye.

Nice option for nostalgic people who want a BlackBerry.

Sadly yes though the software adds are very BB10 which is pretty nice.

Ask Dteks owners about the support they get. They seem determined to drive away even the most loyal customers.
Shame because I think they have hit on a great formula ,battery V specs.

That would be my concern as far as trying another BlackBerry. I found support on the Priv to be non-existent. Too bad.

I hope it's a hit for BlackBerry. More choices are always better for consumers. It's a shame the BB OS is in its last days. Relying on Android and Apple as the only the mobile OS's is not a good thing for anyone. We need more wolves not more sheep.

I stopped reading when I saw the price.

Still making stupid decisions i see. The USP of a BB is the physical keyboard, why oh why have they released this! - Make a KeyOne thats IP67, Shoots Raw with image stabalisation, and update the specs where possible. I have a KeyOne, Tech companies are soo annoying atm, Microsoft with thier F*** You to its customers, Apple with a F*** You on pricing, Google with a F*** You on ads and Hardware issues....Think i need a long string and 2 paper cups :P
Android Central Newsletter
Get the best of Android Central in in your inbox, every day!
Thank you for signing up to Android Central. You will receive a verification email shortly.
There was a problem. Please refresh the page and try again.