BlackBerry KEYone vs. BlackBerry Priv: Lock, stock and mobile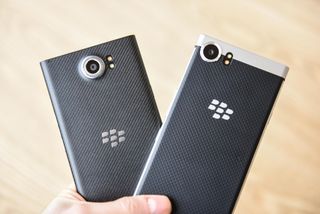 There are only two Android-based BlackBerrys with keyboards, and while they share a few key features, at their cores they couldn't be more different.
The BlackBerry Priv has been available since November of 2015, so it's certainly not the newest cat around, but for all its quirks it did a lot of things right — and for being the first BlackBerry running Android, it was ambitious as hell.
The KEYone has a quirky name — as do most BlackBerrys cough DTEK50 cough — but it's got some real reasons to get excited. Let's run through some of them.
But first, a spec rundown between the two phones:
Swipe to scroll horizontally
Category
BlackBerry KEYone
BlackBerry Priv
Operating System
Android 7.1.1 Nougat
Android 6.0.1 Marshmallow
Display
4.5-inch
1620x1080 IPS LCD
434ppi
5.43-inch curved
2560x1440 AMOLED
540ppi
Processor
Qualcomm Snapdragon 625
Quad-core 2.00GHz
Adreno 506 GPU
Qualcomm Snapdragon 808
Hexa-core 1.8GHz
Adreno 418 GPU
RAM
3GB
3GB
Storage
32GB
32GB
Expandable
microSD up to 2TB
microSD up to 2TB
Rear Camera
12MP f/2.0, PDAF
dual-tone LED flash
HDR, 4K, 30fps
18MP f/2.2,
OIS, PDAF
HDR, 4K, 30fps
Front Camera
8MP f/2.2
1.12um pixels
2MP f/2.8
1.75um pixels
Battery
3505 mAh
non-removable
3410 mAh
non-removable
Charging
Quick Charge 3.0
USB-C
Quick Charge 2.0
Micro-USB
Water resistance
No
No
Wireless charging
No
In some models
Dimensions
149.1 x 72.39 x 9.4 mm
147 x 77.2 x 9.4 mm
Weight
180 grams
192 grams
Now, the Priv, when it was announced, was a high-end phone; it cost $699 when it debuted which, without carrier support, made it pretty hard to swallow. It had a big, high-resolution display with curved glass, a fast-at-the-time processor in the Snapdragon 808, and an 18MP camera that produced some great shots. Its 3410mAh battery was no slouch either.
And while BlackBerry's Android build debuted with some crushing bugs and some slow-as-molasses software, it improved with the Marshmallow update (though our friend, MrMobile, somewhat disagrees).
Of course, many people bought the Priv not for the specs but the thing that lay underneath, the better-than-it-deserved-to-be slider keyboard. While shallow, sure, it was an incredible feat of engineering, and a viable input alternative to the also-excellent virtual option bundled with the phone.
The KEYone is a different class of phone altogether. At $549, it's not as expensive (though not as cheap as we hoped), and the keyboard is prominent. It replaces the Priv's high-resolution AMOLED display for a more reasonable and less battery-sucking IPS panel, and the camera has stepped down to a better-in-the-dark 12MP Sony IMX378 sensor.
Finally, the 3,505mAh battery should last considerable longer than the Priv's, given its Snapdragon 625 chip, an octa-core multitasker that, while not as fast as the Snapdragon 808 in single-threaded tasks, shouldn't pose a problem to any of its users' average daily tasks. Indeed, the 625 holds its own in other devices like the Moto Z Play and Huawei Nova Plus, and leads them to best-in-class battery life, so I have no doubt the results will be similar in the KEYone.
Of course, the KEYone, running Android 7.1 out of the box, has a distinct advantage over the current Priv — better notifications, true multi-window, and improved efficiency — but the same update is expected on the Priv at some point. The Priv, however, has a 16:9 screen, with no obstructions like a keyboard when held in landscape, so it's better for watching movies or playing games.
The Priv is currently sold for a more reasonable $499 directly from BlackBerry, and can be found for less around the internet.
The BlackBerry KEYone will be released in April for $549, and you can find out more information over at BlackBerry Mobile.
Android Central Newsletter
Get instant access to breaking news, the hottest reviews, great deals and helpful tips
Daniel Bader was a former Android Central Editor-in-Chief and Executive Editor for iMore and Windows Central.
Nice comparison, the KEYone is so fascinating.

I'd still prefer the Priv with its sliding keyboard and larger screen. Plus it is cheaper now too.

And available now! April is too long away.

I like my priv a lot and I would buy another one if the need arises. Been using it for a year now and see no reason to replace it

The performance is pretty terrible on that. SD808, QHD display and encryption are not a good combination.

In the comparison, You have the KEYone as 7.1.1 Marshmallow

This thing is DOA. Overpriced and crap specs.

Literally no one cares about specs nowadays outside of this site.

You've obviously not been to crackberry lately. You guys are nicer about this phone lol

It's a combination of:
1.) Frustration of BlackBerry itself (killing OS10, fooling loyal fans etc.
and
2.). This device is a real disappointment!

That processor coupled with the battery give tremendous battery life. Same processor was used in the Z play and most people said it was zippy and battery was amazing. The 625 has already been proven to be great.

Haha, DOA. For your it is.

It is not both overpriced and crap specs, the specs would be fine if they had priced it more appropriately in the midrange rather than at the lower end of flagship pricing.

Z Play is also positioned as a low-end flagship just like the KeyOne, but it's still $100 cheaper. Exact same specs as well together with a distinct hardware feature.

The BlackBerry pkb phones are the only smartphones on the market with an innovative physical keyboard. The moto is just another glass slab in the sea of glass slabs. You will obviously have to pay more for a rare feature.

You'd think BB would learn. Price counts!!

specs mean nothing now. If you pick up the device, and it runs smooth...WTF cares if it has a "slower" processor installed. Wait to see how it performs before saying the specs suck.

With the Priv I just hated how slow it was to open apps and general navigation. Will this new phone be properly snappy, chosen processor aside?

I have the exact same question. I love my Priv but it is definitely slow at opening things and not as zippy as other phones I've used.

As much as I want to like this new blackberry I can't get passed that fact that to me a real blackberry it is not for that my trusted q20 will be my bb fix when I'm not on my s7 edge are note 5

Biggest downside is the lack of wireless charging.

Ya.. Could have added that

Subpar on the screen, on the processor, no wireless charging. Hope its not over $400.

SD625 is octa-core 2GHz, not quad. Also, it seems silly to mention the pixel size on the front camera but not rear.

I would trade my Priv's 808 for the KEYone's 625 any day. I am a huge gamer, just not on my cell phone. I need the battery life and performance akin to the Moto Z Play. I think if more people would drop the need to have the highest chip number, they would have a better experience as a whole.

Priv > KeyOne. What a disappointment!

Thanks for the comparison. I've been using the PRIV for a year now. While I love it, the slide out keyboard has not been used in months. It's just not on par with a typical BlackBerry. Definitely getting the KEYone in April.

Same, I found the slider mechanism satisfactory (like a Torch), but the keyboard is mushy. The KEYone looks promising.

Appreciate the comparison - I know two Priv owners (kind of amazingly, and by chance) who are excited about this new phone.

The Priv ran very hot and had a huge battery drain. That's why I didn't keep it.

I currently have the Pixel xl which is best phone I have ever owned ( although the classic was great if it was a pre 2010 world and I did own it till I needed apps ) If I did not already pay 895 for the Pixel I would look into this as I miss the construction and look of the classic. The one thing I am concerned about is the 4.5 inch screen, with older eyes that would be the only deal killer I think for me. So a think slider like the Priv with a 5.5 inch screen and maybe that slides horizontally like the old sidekicks etc may be the ideal way to go for Blackberry. I think this new one will sell and I will check it out when I can physically see the screen.. Only phones I would buy are Pixel ( I own) Galaxy Active S7/8 or this new Blackberry so kudos!

Can we get an upgrade in the Priv specs?
Android Central Newsletter
Get instant access to breaking news, the hottest reviews, great deals and helpful tips
Thank you for signing up to Android Central. You will receive a verification email shortly.
There was a problem. Please refresh the page and try again.