BlackBerry brings whole productivity app suite to more Android phones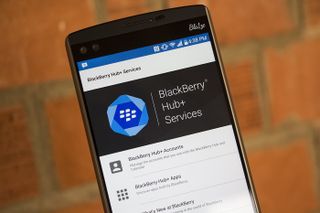 Last month, BlackBerry announced they would be bringing their Android apps such as the BlackBerry Hub, Calendar, and Password Keeper to even more Android users through a new subscription offering called Hub+.
Now, they have announced an expansion of that access adding even more of the productivity apps to the mix.
To understand how software is an integral part of BlackBerry's DNA, look no further than the BlackBerry Hub and its associated productivity apps, which have consistently rated as one of the most popular features of both BlackBerry 10 and Priv. Software like the Hub is at the core of the quintessential BlackBerry experience, and is consistently rated as THE way to get more things done by enterprise users in every industry. Last month, we decided to bring that productivity to other platforms, extending Hub, Calendar, and Password Keeper to one billion people on Android through Hub+, a new subscription service.
We initially launched Hub+ as a free trial on Android Marshmallow, with only the Hub, Calendar, and Password Keeper available. Today, we are happy to announce the remainder of our productivity suite (Contacts, Tasks, Device Search, Notes, and Launcher) is now available to Android users for a free 30-day trial period and for just 99 cents a month.*
The BlackBerry Hub, Calendar, Password Keeper, and Launcher will continue to be available as part of a free, ad-supported offering.
Even better, we've officially expanded Hub+ access to smartphones running Android 5.0 Lollipop and lower-resolution smartphones running Android 6.0 Marshmallow! To ensure no technical issues for users, our initial list of Hub+-capable smartphones was limited by screen resolution, but that's changed. As of today, more than 3,000 smartphone versions can run Hub+, and that number keeps growing. Note: Hub+ requires 2GB of RAM or more, and does not currently support tablets.
As BlackBerry rightfully notes, this opens the doors to a lot more Android users being able to access the fantastic apps that BlackBerry has to offer. To try out BlackBerry Hub+, go to the Google Play Store on your smartphone and search for BlackBerry Hub, then download the BlackBerry Hub+ Services app onto your phone. Once installed, you can click the Hub+ Services icon on your home screen, and tap "Apps by BlackBerry" to install the apps you wish to use.
More: BlackBerry DTEK50 review
Get the Android Central Newsletter
Instant access to breaking news, the hottest reviews, great deals and helpful tips.
A dollar a month gtfo. How about a one time fee. not sure how I would need any of this anyway. Is the blackberry software that good?

Don't be so cheap $1 per month is nothing at all

So, like, a one-time fee of $12? lol

If you're only going to use it for a year, then yes.

$1 a month? How cheap are you? If you can afford a flagship phone then you can afford $1 a month. It's these comments that's are frustrating and unneeded.

Without compare. That's why the free 30 days. I was/am a die hard Crack berry and I really missed the hub and calendar when I moved. I needed certain apps for work. BB10, is the best OS I've ever used. It really sucks that ******** like snap chat were able to screw these guys over. There software portfolio and a guy who made one creepy app for high school kids gets to bring em down. The whole app thing in general. Try it out. It's the most intuitive available. BB Calendar beats them all hands down. All the services for $0.99 a month isn't bad. Of course the Nitche market is business users who will still pay for stuff.

Why is the one thing most people want not available? The keyboard!

the keyboard is available. I'm using it on the Note 7 (unrooted)

I'm talking about an official download from the playstore....

When an update is released I don't have to search for a new apk?

I use blackberry manager app on my note 5. This app is made by cobalt and it automatically updates like play store

Why are they bundling it together?
I don't want the Hub+ just to try one app.
Split it up ffs

You don't actually need everything installed, just the hub plus services app so you can install the apps selectively outside of the services application.

Plus, the hub drains the battery...not sure if BB truly knows how to cross platforms. Would have been a good idea 5 years ago, like everything else BB does, dollar late...

I run hub all day long on my priv....I get two days out of my battery and if I am careful I can actually make it three. Blackberry knows how to make apps that don't suck the battery. Plus if you don't believe me you can download it and try it for 30 days for free.

Um, I did use it for a couple of days...that's how I know that it killed my battery in half the time as without it. Thanks, and yes, the rest of my statement is correct as well. Congrats on having a phone "made" by BB that runs BB software well, I would expect nothing less.

Everything on Android drains battery

True. Every app on every OS drains the battery.

Have not experienced any excess battery drain. Have been using the Hub since it came out.

I'd give it another chance but tablets aren't supported

This is awesome. Their app suite has come a long way. The Hub is top notch for communication. Nice work BlackBerry.

I agree with what Kevin said, charge me $10 or $20 once and be done with it, I had/have a Passport and many of the hub features are useful. But don't like being nickle and dime'd with recurring fees.

Having worked with apps, and continue to, the reason most developers have gone to micro-transactions or fees..is that the one-time pricing model is VERY hard to sustain over time. You can only get additional revenue by adding ad, which people hate even more, or adding users...which no one want's to pay. The one-time payment may be fine for something like a game with a beginning and an end, but for apps that will require perpetual maintenance, it's tough. No, I am not a paid shill for anyone, but I have/have had both paid and free apps, and when 7.0 drops...if you don't burn those hours and fix those incompatibilities, you better believe people will scream bloody murder. I personally think 0.99 is reasonable for the entire suite if it allows them to actually ACTIVELY invest in the product, and make it better.

If you want to do that, you buy a Priv or Dtek 50, you pay only once and get a great phone. There are some advantages to buying the android phone from Blackberry. However I do think they should consider charging $10 per year to give you an incentive to pay upfront and after a year either you love it or hate it.

I'd prefer a one-time fee. Even if it was $20 or similar. I hate endless subscriptions.

By the time you reach $20 Blackberry may not be around.

Still no Productivity Edge, not even on the BB Launcher.

Isn't all that great, as a priv owner Ive opened it a handful of times in the time I've had this device. It's a novelty.

I'm actually quite impressed with the launcher on the note 7. Very quick and responsive.

Does anyone know if they have the peek feature?

The Peak feature is next to impossible to implement on Android. The closest they've got to it is by allowing BlackBerry users to hold down on the home button, similar to how you get to Google Now, and swipe right instead of up (like with Now). This mimics the motion of Peaking but doesn't actually allow you to Peak into the Hub. By swiping up you launch the Hub which is a standalone app in Android rather than part of the operating system.

I have been using the BB Hub in Android through trial for a long time now and I can't imagine my phone without it.

Great article BLA1ZE! It's awesome to see this as available for most Android users.

Any Nexus users running this suite with Nougat? Is it available in the play store during search? I'm waiting for the Nougat OTA on my Nexus 6 and will be heartbroken if this suite won't work on Nougat. The article seems to mention only Lollipop and Marshmallow but I'm hoping they mean "Lollipop and above"

I have been using it on Nexus 6P running Nougat since developer preview 3. Initially I used the cobalt version and for thr last one month official BB apps. It works flawlessly.

Can anyone tell me if the blackberry multitasking system is available with the launcher. The multitasking system and the Hub are two of the best features from Blackberry.

The more successful this is, the more likely it will be hacked. It's been widely assumed, and is pretty much confirmed more so everyday, that everything entered, transmitted, broadcast, downloaded, uploaded to a cloud, etc. is subject to being compromised sooner or later. Including IOS and OS X! Hey, I could see paying if it were GUARANTEED to be secure....

I had a Z10 using BB10, now I have A V10.... Hummmm, never thought of that before. Would love to see a Play Store release of the BB keyboard. As to the rest... If it was a one time fee, sure. I avoid any kind of subscription. When I see that I do my research and fine something else that does the job just as well.

Everytime I try to download the Hub Services from Google store to my S7 I get 505 error. Any clues to solve this?

Why does it want to know my location? If I refuse or take away the location permission, it refuses to run. Seems unnecessary. Should I take off my tin foil hat?

It drains battery real quick. Because it's like you are running Google Services and Blackberry Hub+ Services at the same time.