BlackBerry Evolve & Evolve X now official: Here's specs, news, and everything you need to know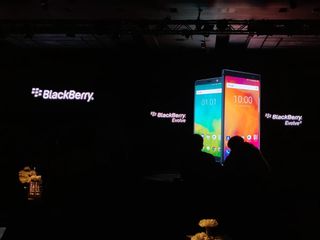 BlackBerry's Indian licensee Optiemus Infracom has launched the Evolve and Evolve X in the country. Both phones represent several firsts for the brand, including an 18:9 display, 4000mAh battery with Quick Charge 3.0, wireless charging, and face unlock.
Unlike the KEY2, the Evolve and Evolve X eschew the physical keyboard for an all-screen front fascia, with both devices sporting a 5.99-inch FHD+ (2160x1080) 18:9 panel. The screen is backed by a layer of Gorilla Glass 5, and the LTPS display has a maximum brightness of 500nits and oleophobic coating.
The Evolve and Evolve X feature fingerprint sensors at the back, and BlackBerry says you'll be able to unlock either device in just 0.3 seconds. More interestingly, both devices offer a face unlock feature as well that takes just 0.4 seconds to unlock the phone.
Both phones have a textured back that's similar to what we've seen on the KEY2, and dual cameras make a comeback as well. There's a new camera UI, and the Evolve gets an RGB + monochrome sensor whereas the Evolve X is picking up a telephoto shooter for the secondary lens. The DTEK by BlackBerry suite is installed out of the box on both phones, along with BlackBerry Hub and a battery-saver mode that lets you select custom power profiles. Both phones run Android 8.1 Oreo out of the box.
Another new addition is wireless charging, with both the Evolve and Evolve X sporting massive 4000mAh batteries. BlackBerry will start selling its own wireless charging accessory, and there's Quick Charge 3.0 on offer as well if you prefer plugging in.
BlackBerry Evolve/Evolve X: Specs
Swipe to scroll horizontally
Category
BlackBerry Evolve
BlackBerry Evolve X
Operating System
Android 8.1 Oreo
DTEK by BlackBerry
Android 8.1 Oreo
DTEK by BlackBerry
Display
5.99-inch 18:9 FHD+
(2160x1080) LTPS display
Gorilla Glass 5
5.99-inch 18:9 FHD+
(2160x1080) LTPS display
Gorilla Glass 5
SoC
Octa-core Qualcomm Snapdragon 450
Eight Cortex A53 cores up to 1.8GHz
Octa-core Qualcomm Snapdragon 660
4x2.2GHz Kryo 260 + 4x1.8GHz Kryo 260
GPU
Adreno 506
Adreno 512
RAM
4GB
6GB
Storage
64GB
64GB
Rear camera
13MP + 13MP
RGB + monochrome
12MP (f/1.8, 1.4um) + 13MP (f/2.6, 1.0um)
PDAF, LED flash, 4K video recording
Front camera
16MP (f/2.0)
16MP (f/2.0)
Connectivity
LTE with VoLTE
Wi-Fi 802.11 a/b/g/n, Bluetooth 4.2
GPS, GLONASS
LTE with VoLTE
Wi-Fi 802.11 ac, Bluetooth 5.0
GPS, GLONASS
Battery
4000mAh battery
Quick Charge 3.0 (USB-C)
Wireless charging
4000mAh battery
Quick Charge 3.0 (USB-C)
Wireless charging
Fingerprint
Rear fingerprint sensor
Rear fingerprint sensor
BlackBerry Evolve/Evolve X: What's the difference?
The main difference between both devices is the chipset. The Evolve is powered by a Snapdragon 450, while the Evolve X features the much more powerful Snapdragon 660. The Snapdragon 660 is one of the best mid-range chipsets in the market today, and the performance is on par with the likes of the Snapdragon 820.
Therefore, the Evolve X should have plenty of power on tap when it comes to day-to-day usage. However, the Evolve may not fare as well considering the Snapdragon 450 isn't particularly powerful, as we've seen on the Galaxy A6+. However, BlackBerry's user interface is more in line with Google's vision for Android, and the lack of added bloat should make things faster.
Another key difference is the dual cameras. The Evolve X features a telephoto lens for the secondary camera, and the 12MP f/1.8 primary lens should hold its own in this category. Optiemus hasn't shared a lot of details regarding the camera setup on the Evolve aside from the fact that the secondary 13MP camera is a monochrome sensor.
BlackBerry Evolve/Evolve X: Pricing and availability
The BlackBerry Evolve will be available with 4GB of RAM and 64GB of storage, and will retail in India for ₹24,990 ($365). Meanwhile, the Evolve X with 6GB of RAM and 64GB of storage will make its debut in the country for ₹34,990 ($510). The Evolve will go up for sale sometime later in August, with the Evolve X set to be available from next month.
Although both phones have plenty to offer, they're not particularly great when it comes to value. The Evolve is going up against the Nokia 7 Plus, which has a Snapdragon 660, headphone jack, and proven cameras.
The Evolve X, meanwhile, costs the same as the OnePlus 6 in the country. Several companies have tried and failed to dethrone OnePlus in this category, and it doesn't look like the Evolve X will be the device to do so.
What are your thoughts on BlackBerry's latest phones?
Harish Jonnalagadda is a Senior Editor overseeing Asia at Android Central. He leads the site's coverage of Chinese phone brands, contributing to reviews, features, and buying guides. He also writes about storage servers, audio products, and the semiconductor industry. Contact him on Twitter at @chunkynerd.
When they make one that's genuinely powerful and with a good autonomy and camera I might get one.

I don't mind mid-tier soc but at least get the latest one. SD 710

More of the same from Blackberry, over priced and under specced. I don't believe they will do too well with these.

Usually, people buy a BlackBerry for its physical keyboard. Not sure who will buy this besides maybe enterprise who is interested in the security.

People buy a KeyOne/Key2 for its keyboard, and that is an absolutely tiny market niche. Aside from that people haven't bought a Blackberry for its keyboard in about a decade. Or can you remind me how much a success the Priv was? Or the Passport? Blackberry cannot sell meaningful amount of products on keyboards alone. They need to sell the type of products that people will actually buy (a full-touch phone), and these seem like a great start. I seriously wish these were available worldwide.

No. If they're gonna type on glass, they'll just go for the "safe" options like Samsung, Google or OnePlus at the same pricepoint.

Use a top tier soc then we'll talk.

Top tier SOC's don't give you all day battery life with intensive use... If you want that there are plenty of other brands... Most Blackberry users want all day (and more) battery life and security... Performance of my KeyOne Black Edition is more than adequate and the battery life is amazing... No more portable battery packs for me... Coupled with my Surface Pro 4 I travel light...

Not really. I have great battery on my Essential, OnePlus 6 and Sony Xperia XZ Premium and they all have a top tier SOC.

That would take the Evolve X from a fantastic sub-flaghip to a mediocre flagship. Why would blackberry do that to themselves? They could just (and quite possibly will) release a proper flagship later down the line, but this is not that product.

Not sure why anyone would buy these over a OP6. Better specs for around the same price.

1 - From a western world perspective, no one has ever heard of OnePlus unless they're a tech enthusiast. Plain and simple. Almost no one will drop over $500 on a brand they've never heard of. Blackberry is still a brand that people mostly remember fondly, even if they haven't thought about them in years. 2 - A lot of people, especially Americans, are getting increasingly wary of wholly-Chinese brands. 3 - Charging sucks. OnePlus requires their expensive and proprietary chargers and USB cables to get more than an anemic 2A. Want to fast charge off a battery brick, or use a 6 foot cable? How about using your laptop's USB C charger to quickly top off your phone? At your friend-who-has-an-iPhone's place and want to youe his charging pad? No? None of that? Dealbreaker for many people. Whereas the EvolveX has QC3.0, USB-PD, and Qi. 4 - Notch. If that matters to you, that's reason enough. 5 - Glass back. If that matters to you, that's reason enough. 6 - 4000mAh battery. That can practically sell the thing itself. Actually, at the end of the day, all the OP6 has going for it is a better CPU and (probably - we don't actually know) camera. If this thing was released in the US it would actually sell. Pity it never will.

Pretty dang good...for India... Need something better for North America... Hurry up TCL.

Blackberry blew it with the Key2. So close, but...ugh...not quite. I haven't spent so much time researching a Blackberry since 2010. But ultimately the mediocre camera and lack of Verizon support did me in. Guess I'll stick with Samsung for now. Looking forward to seeing the Note 9's big battery as I'm tired of charging my phone each late afternoon.

Please watch the language and be civil in the comments.. Thank you.

The Evolve X actually a pretty good deal, a lot for your money, as compared to literally anything on the market that isn't the OnePlus6 or Nokia 7+. And considering that there are so many regions in which the Nokia 7+ just isn't available, I really wish the Evolve X was offered in more parts of the world. If it was sold here in the US, even unlocked-only, I know several people who would be interested.
Android Central Newsletter
Thank you for signing up to Android Central. You will receive a verification email shortly.
There was a problem. Please refresh the page and try again.