Bixby Voice is rolling out to the Galaxy S8 for those who signed up for early access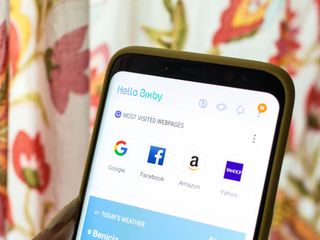 I can't tell you how excited I was to see that the Bixby Voice preview had hit my unlocked Galaxy S8. There was a bit of a language barrier between the two of us in the beginning, but after a bit of fumbling with Google Translate and a bit of digging into the settings, Bixby is now ready to use on my device.
Droid-Life posted earlier today about the Bixby Voice preview going live to those who had signed up for the Early Access Program last week. Coupled with the strange little update I received this week on the Galaxy S8, I was curious about whether that meant Bixby was on its way to my device.
Lo and behold, it appeared in the settings right after I'd updated my apps through the Galaxy Apps store, as Droid-life had originally suggested. I went through the setup process in Korean and then switched it to English from the settings.
Once you have access, you'll see an entirely new subset of options populate the Bixby settings panel. They include the ability to have Bixby "wake up" to the sound of your voice, as well as whether you want messages read aloud in high-quality audio. There is also a dictation option, and you can choose how terse or explanatory Bixby is once it fulfills a command.
At present, you can choose from three voices for Bixby through the preview. Two of them speak exclusively in Korean and will require that you understand the language for it to be effective. The other is Bixby's female voice for the English-speaking audience. There are also video tutorials you can watch in case you're totally lost on what it is that Bixby is supposed to do.
To make Bixby work, press and hold the dedicated button on the left side of the Galaxy S8 until you see the Bixby prompt pop up on the screen, then speak your command. I haven't been able to get this particular feature to work in the interim, however, and I'm not entirely sure why, since Bixby has had no trouble recognizing my voice after I registered it.
There are definitely a couple of kinks that need to be worked out, not to mention a whole host of new options to parse through. For now, if you signed up for last week's preview access, keep checking your phone until the update hits.
Get the Android Central Newsletter
Instant access to breaking news, the hottest reviews, great deals and helpful tips.
Florence Ion was formerly an editor and columnist at Android Central. She writes about Android-powered devices of all types and explores their usefulness in her everyday life. You can follow her on Twitter or watch her Tuesday nights on All About Android.