Bixby Voice is rolling out to the Galaxy S8 for those who signed up for early access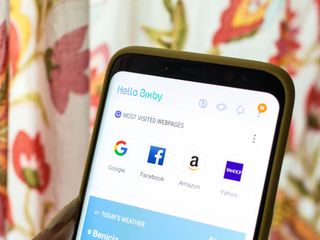 I can't tell you how excited I was to see that the Bixby Voice preview had hit my unlocked Galaxy S8. There was a bit of a language barrier between the two of us in the beginning, but after a bit of fumbling with Google Translate and a bit of digging into the settings, Bixby is now ready to use on my device.
Droid-Life posted earlier today about the Bixby Voice preview going live to those who had signed up for the Early Access Program last week. Coupled with the strange little update I received this week on the Galaxy S8, I was curious about whether that meant Bixby was on its way to my device.
Lo and behold, it appeared in the settings right after I'd updated my apps through the Galaxy Apps store, as Droid-life had originally suggested. I went through the setup process in Korean and then switched it to English from the settings.
Once you have access, you'll see an entirely new subset of options populate the Bixby settings panel. They include the ability to have Bixby "wake up" to the sound of your voice, as well as whether you want messages read aloud in high-quality audio. There is also a dictation option, and you can choose how terse or explanatory Bixby is once it fulfills a command.
At present, you can choose from three voices for Bixby through the preview. Two of them speak exclusively in Korean and will require that you understand the language for it to be effective. The other is Bixby's female voice for the English-speaking audience. There are also video tutorials you can watch in case you're totally lost on what it is that Bixby is supposed to do.
To make Bixby work, press and hold the dedicated button on the left side of the Galaxy S8 until you see the Bixby prompt pop up on the screen, then speak your command. I haven't been able to get this particular feature to work in the interim, however, and I'm not entirely sure why, since Bixby has had no trouble recognizing my voice after I registered it.
There are definitely a couple of kinks that need to be worked out, not to mention a whole host of new options to parse through. For now, if you signed up for last week's preview access, keep checking your phone until the update hits.
Get the Android Central Newsletter
Instant access to breaking news, the hottest reviews, great deals and helpful tips.
Florence Ion was formerly an editor and columnist at Android Central. She writes about Android-powered devices of all types and explores their usefulness in her everyday life. You can follow her on Twitter or watch her Tuesday nights on All About Android.
I've got it now too. My setup was all in English though. Went off without a hitch. We'll see how useful it is.

Bixby Voice should be rolling out to whoever has a phone with a da** Bixby Button on the side. You don't put a dedicated button on a device for something that is half baked and un-tested. Or at least, has had very little testing. I normally am a huge Samsung fan, but they were total idiots with this whole Bixby nonsense. Such a stupid decision.

I don't mind, as long as they intend to roll it out and make it awesome.

When we will get early access to the ability to officially customize the damn button to whatever we want?

There are a few apps in the Play store that will do this. I don't have firsthand knowledge, tho.

You can already. Try Bxaction

Wait, you needed Google Translate to set it up? Wtf?

She said she did it in Korean first.

Mine's working pretty nicely. Set up was a breeze as well. Holding the button to call up Bixby voice works for me.

I will probably get this by the time Android peanut butter rolls out...

Works pretty well. So far just messing around with it and can open any app by saying to. Going to give this a good run and hope it works out.

Works great for me so far. It has did everything I've asked it to do so far without issue.

From my understanding, you hold the Bixby button down, ask or tell her what to do, then let the button go and she does it. *Hold the button down*
"Tell me a joke"
*Let go of the button*
"Something at a kangaroo walking into a bar. I forget the rest."

Not bad. It is rather new to me since you can do so much more than with your usual assistants.

What feature in the interim are you talking about? Anyone have a clue what won't work? That sentence is mind boggling...

Mine says it's only available in Korean? Then when I tap next it starts doing everything in Korean. How do you change it to English?

If it's all in Korean, just follow the voice prompts. I had dug into the Bixby settings last week before the beta program and turned it on and had to translate everything to get it to work. You say Bixby, Bixby, Bixby open my messages, and Bixby turn on Bluetooth. Once I was in there last week, I switched the language to English and when I got the official rollout today, it was in English for me.

I received the email for early access. Although this is an early phase there is and almost endless list of commands which Samsung claims Bixby can do. My attention span got the best of me and I carried on to update what needed to be updated.
There is a point system in place as the more you use it and confirm if the command was a hit or miss. "Hi Bixby open Facebook" you can choose great or let's improve.
So far the only glitch is when I say open camera and take a picture. It goes into selfie camera. Then once the camera is open "Hi Bixby" no longer works.
For now happy to have a button that has more function than the occasional..."gaddamit I wanna turn the volume down!!" Moment.

Got mine set up did it in English, only problem I ran into was the voice was not working when I pressed the button so I forced closed the bixby voice, home, ECT and redid the activation and everything worked fine no problems and voice is now working.

Really it's nothing to be "excited" about I have it now on my Galaxy S8+. It's not bad but I find no reason to use Bixby and Google Assistant. The latter is far more mature and awesome. With the lead that Google Assistant has, I'm not sure Bixby will ever catch-up

Using the Bixby Voice Wake Up breaks "Ok Google" function...not happy about this.

Don't worry Bixby didn't break your Google Now. Once you get done with Bixby (after you clear all the cache in each Bixby app because you can't uninstall) you have to reset Google Now. Also I recommend clearing system cache. Of course do a restart as well.

My ok Google and hi Bixby works just fine?

Got it today. Actually works decently well, I am surprised. We will see if I use this as much as my Echo or Google now commands but it will be fun finding out. I have no issues using okay Google and Bixby btw.

Good luck. You can't use both. Bixby locks your voice capabilities down.

You can use both though..

Wow...Bixby is not bad, not bad at all. There are some bugs, and don't overload it with too much, but Samsung may have just pulled off their biggest surprise since Samsung Pay.

Damn, hope I get mine soon.

I signed up for early access and... nothing yet.

I received my Bixby voice today.

This is actually pretty darn cool! I signed up and was given the ability to check it out. So far so good! I've used it take screenshots, take pictures, compose a text, and make a phone call. It's a tad bit slow to respond to the section, but that's expected.

So I've been using this now since yesterday and I can honestly say that this is way more intuitive than Siri, Google Assistant and Cortana... Samsung has a real hit on it's hands and this could be a mega hit when this comes out of beta. Bixby already does more than the other virtual personal assistants out now. This could be a real game changer for all connected devices..

I am very impressed with my Galaxy S8+. I quite proudly show it off, though I fall short of being a fanboy. I did get it through T-Mobile knowing the Bixby feature was not fully baked. However, since April 29th when I got my S8+, I have found the Bixby button to be a mild nuisance. As much as I love the Samsung hardware, I prefer to use other apps for my basic functions not supported by Bixby; Inbox, Textra, Today Weather, Google Chrome, Google Calendar etc. All the other Samsung apps that perform the same functions were disabled or deleted as they got in my way.
So now comes Bixby with a flawless update, and it updated all the apps I specifically do not want as well. I suppose it is my fault as I must have overlooked a step. That said, one day later, I regret downloading Bixby to my phone. Now, that is not to say it is not a technical wonder, however; I will have to wait for Bixby 2.0 when it seamlessly integrates with the apps I use. This may not be fair but it is the way I want to use my phone. I really wish Samsung would allow the programming of that button to launch another app, natively. Oh well, 'til Bixby 2.0!

Is it gonna be a software update or is it gonna be On Galaxy app store or bixby voice assistant Because I haven't gotten anything yet and I'm from Colorado And how do I get bixby assistant and I have Samsung account

I swear I live in a different world than most. I got the Bixby voice update 2 days ago on my S8+ and it installed perfectly in English and took me all of about 10 minutes to setup. It's done about 90% of what I threw at it including opening my Outlook app and Facebook and stuff, so, again, I am sitting here using this thing without a single problem that anyone has posted...soo...as far as I'm concerned it's pretty much a game changer. I compared it with a co workers i7 Plus and Bixby did all kinds of stuff that Siri said...uh...I can't do that..so the co worker was once again wondering why he got an i7 in the first place..