Bixby Voice expands to the UK, Canada, Australia and 200 other countries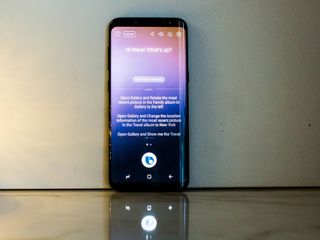 Well, it's finally happened, just not in the way many expected. Samsung has announced that Bixby Voice, its assistant-slash-intelligent-interface, is going to be available in more than 200 countries starting today, including Canada, the UK, Australia, and South Africa. Why point out these in particular? Because the service is still only going to be accessible in U.S. English, along with its original Korean, so while it will certainly be available in more places, it's still only for English speakers.
Bixby launched on every Galaxy S8 and S8+ earlier this year in a limited capacity, its full potential limited by the lack of voice capabilities that it demoed alongside the phone in March. After launching in its native Korea, Samsung expanded Bixby Voice to U.S. users as a preview, and then to more people as a final version, though with the caveat that it is still very much a work in progress.
As it rolls out to nearly every country on earth, Bixby is still that work in progress, but the company believes that the deluge of new data from millions of people around the world is going to be helpful in making Bixby Voice a better service. Samsung says that 30% of Galaxy S8 users have tried Bixby in some form, and that Voice users are extremely happy with the results, even if it doesn't always provide exactly the intended result.
According to the press release, "Samsung plans to continue expanding Bixby's voice capabilities to additional countries, languages, devices, features and third-party applications. By further enhancing its mobile experience and solutions offerings, even more users can interact with their device and manage their apps and services more seamlessly and instinctively."
Bixby Voice is available on Galaxy S8 and S8+ units today, and on the Note 8 whenever it goes on sale. It's accessible by holding down on the dedicated button located on the left side of the phone, or by saying, "Hi Bixby" from any screen.
Android Central Newsletter
Get instant access to breaking news, the hottest reviews, great deals and helpful tips
Daniel Bader was a former Android Central Editor-in-Chief and Executive Editor for iMore and Windows Central.
Google should learn something from this. For some reason Google thinks nobody in the world speaks English except USA and UK, and hence has blocked Google assistant in most other countries.

I haven't got it yet and I'm in the UK 🙁

Yeah still waiting in the UK, got the updates a couple of days back, hasn't been activated yet :/

I've just cleared the data for all bixby related apps and opened bixby and voila update, bixby voice is finally here!!

Actually no it isn't lol it updated something though lol

Yeah got another update this morning but still nothing

Nothing for me yet in Canada

Working now in Canada on Rogers

Got another set of updates this morning but still no voice.

Working in UK now but it can't understand me at all for the pronunciation

Still not working yet in the uk....

Hi, clear the data for all bixby related apps, open bixby it should notify of another update, if bixby voice still isn't working, clear just the data for bixby voice and try again. That worked for me hope this helps.

Thanks Paul it works, although it don't understand half the things I say 😣

Was looking forward to this but gave up waiting for a feature that should have been there many months ago. Sold my s8 and s8 Plus and moved on already. (not just because Bixby Voice was so late)

To add insult to injury, I can't use Bixby voice because it has to be on a newer system software, that God knows when I'll receive from my slow-a$$ carrier...

Try to reset it up , it had that same message too but I reset bixby the second time an all is good.

How did you reset it? I force quit it, cleared all the Bixby related apps data and reset my phone.

I just re started the setup process all over again my wife had to do the same thing. And it finally went through

It won't pick up my voice at all... Almost like my microphone isn't working! (and it is working!)...

Pretty impressed with the capabilities for the short time I got to play around with it today. Will be a nice companion for GAssistant

Yes it works very well for me to . Now I get why they put that button there . It all makes sense
Android Central Newsletter
Get instant access to breaking news, the hottest reviews, great deals and helpful tips
Thank you for signing up to Android Central. You will receive a verification email shortly.
There was a problem. Please refresh the page and try again.