Best zombie games for Android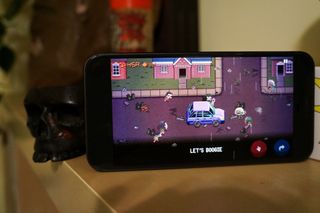 Few moments in gaming are as satisfying as mowing down a gnashing horde of zombies with a machine gun. Or as exhilarating as outrunning a swarm of the living dead.
Zombies have a special place in our hearts as one of the best video game baddies of all time, and nothing beats a good zombie game. Whether you're the type to go in guns a-blazing, or opt for a more stealthy and strategic approach, there's a zombie game for Android that's right up your alley.
Just remember: Don't get bitten!
Death Road to Canada
Why you can trust Android Central Our expert reviewers spend hours testing and comparing products and services so you can choose the best for you. Find out more about how we test.
Death Road to Canada is a $10 game — I want to open with that just to get the sticker shock out of the way before I talk about how freaking awesome this game is.
Facing a zombie apocalypse, you must lead a scrappy squad of diverse characters on a deadly mission from Florida to the relative safety of Canada. Along the way, you'll need to explore and loot places for supplies, while also managing your team's health and morale.
Everything within Death Road to Canada is randomly generated, making every play-through a unique experience in this dynamic road trip action-RPG. You can randomly generate your character and buddy or custom design your starting characters with different attributes to help them stay alive, but you probably don't want to get too attached unless you're a really good shot.
The controls admittedly take some getting used to, and there's a pretty steep learning curve as you learn which weapons are most effective and what times it's better to fight or run. And you will die, early and often, although that's part of the fun of a zombie apocalypse, right?
There's a ridiculous amount of depth in this game, including 10 different game modes to unlock. The price might seem a little steep, but if you're a fan of rogue-like zombie games, it's well worth the investment!
Download: Death Road to Canada ($9.99)
Telltale Games: The Walking Dead
How could we not include one of the most popular zombie franchises out there? Telltale games hit it out of the park with its series of games based on AMC's "The Walking Dead."
The game follows Lee Everett, a convicted criminal, in his efforts to protect an orphaned girl. Telltale Games have a unique storytelling method where the decisions you make throughout the game, including any conversations with other characters, have a major impact how the story plays out. This allows for some variety in multiple play-throughs.
You get the first episode in the series for free when you download the app, with the remaining five episodes available via in-app purchases.
Download: The Walking Dead Season One (Free w/IAPs)
Dead Trigger 2
Dead Trigger 2 continues to be the quintessential zombie-shooting experience on mobile. The graphics are amazing, though the game hardly takes itself seriously — there are lots of tongue-in-cheek references and over-the-top baddies to mow down. This version is a little different in that players now have their own hideout and a crew that can build stuff for them. The controls have also been streamlined for touch; all you have to do is move the crosshairs over a zombie, and if you're in range, you'll automatically start shooting.
There are many missions to enjoy, and the in-app purchases have been scaled back with the removal of the premium currency — now you can buy and build everything yourself without spending a cent.
Download: Dead Trigger 2 (Free)
Into the Dead 2
Into the Dead 2 is a first-person game that puts you in the role of a survivor in a post-zombie-apocalyptic world. You must run for your life to stay alive, occasionally finding weapons to help you fight back.
There's a surprising amount of variety in this game with a story that spans over 60 stages with multiple endings. Unlock and upgrade your weapons and even play with a canine companion as you explore military bases and survivor campsites looking for other survivors.
On top of the unique gameplay, this game also looks gorgeous. It's the perfect game to play with the lights off.
Download: Into the Dead 2 (Free w/ ads, IAPs)
Plants vs Zombies 2
Plants Vs. Zombies is one of those classic game franchises that's just so fun to play. I can still remember beating the first one after marathon sessions in University while I was supposed to be studying.
Plants Vs. Zombies 2 continues with that winning formula, offering a new campaign that spans over 11 unique worlds spanning all of space and time — from Ancient Egypt to outer space. Collect and choose your favorite plants as you battle against swarm after swarm of brain-hungry zombies.
It's just classic a classic strategy action game with a splash of zombie fun that's fun and accessible for the whole family. Not your "traditional" zombie game compared to the other entries on the list, but a great game nonetheless and certainly worthy of its spot here.
Download: Plants vs Zombies 2 (Free)
Zombie Gunship Survival
Zombie Gunship has always offered a unique zombie gaming experiences on mobile. Rather than compete with the flashy first-person shooters or more challenging strategy games, Zombie Gunship Survival has you take to the skies as you offer support to ground troops looking to push back the hordes.
The graphics are outstanding as it's got a very authentic look and feel during gameplay. As you complete missions you can upgrade and your weapons and start building out your remote airfield as your base of operations. Like so many other games, your basic duties are to survive and save other survivors.
Check out Zombie Gunship Survival if you're looking for a fresh take on the zombie survival genre.
Download: Zombie Gunship Survival (Free w/ ads, IAPs)
Zombies, Run!
Part fitness tracker, part audio drama, Zombies, Run! is the perfect app for those of us who really need to be motivated to keep running. Developed by Six to Start, this app has been around for quite some time, but it's always a fun recommendation to throw out there for anyone looking to start a running routine. Simply load up the game on your phone, pop in your favorite workout headphones and head out on your adventure.
You fill the role of Runner 5, a survivor of an ongoing zombie apocalypse that must venture out into the infected lands to collect supplies and find new survivors. You're able to listen to your own music with the story cutting in between songs. If you start slowing down, you might begin to hear zombies following you — a not-so-subtle reminder to pick up the pace.
The base app is free, but you can pay a monthly or yearly subscription to unlock all the missions and content at once. If you've never tried it before, it's definitely worth checking out.
Download: Zombies, Run! (Free w/ optional subscription available)
How do you like to slay zombies?
There are our picks, but did we miss your favorite? Let us know in the comments!
Get the Android Central Newsletter
Instant access to breaking news, the hottest reviews, great deals and helpful tips.
Marc Lagace was an Apps and Games Editor at Android Central between 2016 and 2020. You can reach out to him on Twitter [@spacelagace.