Best tempered glass screen protectors for the LG G5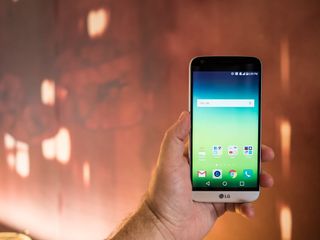 You've got your brand new LG G5 and, of course, you want to protect your investment. The latest in smartphone technology is never cheap and shattering that nice LCD would suck big time, right?
Worry not, we've got you covered — here's our roundup for the best tempered glass screen protectors for the LG G5.
Joto LG G5 tempered glass screen protector
Joto's tempered glass screen protector offers superb protection from most forms of damage, while not interfering with the functionality of your LG G5.
You'll hardly realize that you've got a screen protector on your phone at all, since it weighs just under an ounce, so it doesn't make your phone feel heavier. And, at 0.30millimeters, it's ultra thin, too.
Forget worrying about nasty fingerprints and marks from sweaty hands. The tempered glass is coated with an oleophobic film that repels sweat and oil.
Finally, installation is easy and worry-free. There are no bubbles to deal with and, if you ever have to remove the protector, it leaves behind no residue.
See at Amazon (opens in new tab)
iLLumiShield HD tempered glass 2-pack LG G5 screen protector
Offering a lifetime replacement warranty, iLLumiShield's HD tempered glass protector for the LG G5 comes in a pack of two.
It's a little thicker than some of the other tempered glass protectors on this list, at 0.33millimeters, but 0.33millimeters is still ultra thin and hardly noticeable. Like most of the other protectors, it can protect your screen from even the toughest scratches. Additionally, its curved edges prevent chipping.
Of course, it also protects against fingerprints and smudges with its "Clear Tech" anti-fingerprint, oil-repellant screen coating.
Last but not least, iLLumiShield's "Pure Placement" installation method avoids most installation frustrations by ensuring that you don't have to deal with the bane of all screen protectors — bubbles screwing up the process.
See at Amazon (opens in new tab)
Monoy LG G5 tempered glass screen protector
Monoy's thin but solid screen protector gives you protection without sacrificing the sleekness of your LG G5. Why buy a slim phone if you're going to bulk it up, right?
It has rounded edges that blend in with the contours of the phone and, like most other tempered glass screen protectors, it is thin, at 0.30millimeters. Since tempered glass is around four times as strong as regular glass, it is built for resisting scratches and other damage.
See at Amazon (opens in new tab)
YooTech LG G5 tempered glass screen protector
YooTech's tempered glass screen protector for the LG G5 is the lightest and thinnest one on this list. Out of all of the other screen protectors, this is the one you want if you want protection but dislike knowing that it's there.
Measuring a scant 0.26millimeters thick and weighing less than half an ounce, you won't be able to tell where your LG G5 ends and where the screen protector begins.
However, even though it's very thin and light, it protects just as well as thicker screen protectors. It prevents your phone's screen from scratches and from shattering in the event you drop it. It has rounded edges that prevent chipping, too.
Due to its silicone adhesive, installation is hassle-free and without bubbles and it comes with a lifetime warranty.
See at Amazon (opens in new tab)
Sooyo premium tempered glass screen protector
Another tempered glass screen protector with a lifetime warranty comes from Sooyo. In the event that anything happens to the screen protector (like, ever) Sooyo will send you a replacement.
Like the other screen protectors, it will protect against scratches, falls, and any other little bumps or dings your phone may accrue throughout the day.
Get thee behind me, fingerprints! Yes, it's hydrophobic and oleophobic, so fingerprints and smudges marring your phone's display are things of the past.
Installation is super-easy with this screen protector, too. There won't be any of those frustrating bubbles and if you ever decide to take it off, it leaves nothing behind.
See at Amazon (opens in new tab)
Which screen protector is your favorite?
Do you have a go-to favorite screen protector? Let us know in the comments!
If you still want to protect your G5, but don't want a screen protector, then check out our roundup of best cases for the LG G5.
And how can we compare between these screen protectors and see which is best without actually having to buy and test them? Posted via the Android Central App

Can see it now. Taking of the bottom to slap in the camera module and the bottom part just barely catches the corner of the screen protector, jarring it loose and it falls shattering on the concrete.....

Naw. The bottom piece is flush with the screen. The tempered glass would need to be installed by a noob for that to happen Posted via the Android Central App

Review didn't answer the single most important part for G5 owners.. Does any of them cover the entire screen? As in the slightly curved top portion? No. Didn't say a single thing about it. Was why I didn't buy one, cause you will have a nice gap at the top that you will catch everytime you swipe a notification. I looked for one when I got mine. Nope. Unless any of these actually curve at the top and cover everything it's a no go. Posted via the Android Central App

the Yootech one supposedly covers the top section too. I am eagerly waiting for them to start shipping. Posted via the Android Central App

worthless piece of article, total crap. most of the tempered glass screen protectors actually doesn't fit well on G5 due to its curved screen. this article is just a copy-paste of the manufacturers' claim about their products. Posted via the Android Central App

Yeah the yootech one seems to say in its listing now that it covers full screen, along with a few reviews saying the NEW version does. So I guess you gotta do some digging and trust you get one that is full coverage. You would think the author of the review would have covered that, but like you said, junk. Posted via the Android Central App
Android Central Newsletter
Get the best of Android Central in in your inbox, every day!
Thank you for signing up to Android Central. You will receive a verification email shortly.
There was a problem. Please refresh the page and try again.