Best screen protectors for Samsung Galaxy Note 5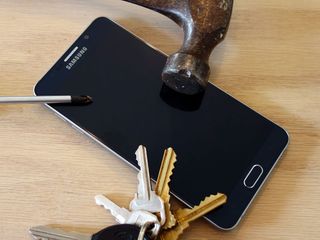 There are a lot of options for Galaxy Note 5 screen protectors available, but choosing the ones that offer a good fit with exceptional protection is key. The feedback on our Galaxy Note 5 forums and across the web suggest that even the most popular brands, including ZAGG and BodyGuardz have the possibility of adding the dreaded halo — a milky border around the edges of a screen protector that doesn't lay flush on the display.
Since the Note 5's display has a slight curve towards the edges, this known issue is why we're seeing different cuts with different manufacturers. These five Galaxy Note 5 screen protectors have proven to work fine, however, when applied with patience and precision.
Read on: Best screen protectors for Samsung Galaxy Note 5
Spigen Full HD PET Screen Protector
It's not tempered glass, but it'll certainly do the trick. Spigen's Crystal Screen Protector fits the display of the Galaxy Note 5 perfectly, retaining clear visibility and brightness. There are cutouts for the front-facing camera and home button at the bottom, leaving the rest completely protected from scratches. Included are 3 PET films for the Note 5's display that apply without any messy liquids — just a simple, dry installation.
ZAGG Glass Screen Protector
ZAGG's made the cut with their tempered glass protector for the Galaxy Note 5, measuring only 0.33mm in thickness. When applied, you keep optimal touchscreen sensitivity and clearity while resisting natural skin oils with its nano-coating. With a 9H hardness rating, the ZAGG Glass kicks screen protection up a notch when compared to a standard PET film. ZAGG's limited lifetime warranty covers you if your glass protector ever gets worn or damaged while you own your Galaxy Note 5.
Yootech Tempered Glass Screen Protector
Slightly thinner than the previous option is Yootech's Tempered Glass protector, a custom-fit glass shield that measures 0.26mm in thickness with a 9H hardness rating. Designed with rounded edges, this screen protector features an oleophobic coating that helps to resist fingerprints, smudges, and natural skin oils. Its also shatterproof, eliminating any chances of your cutting our finger if the tempered glass takes a heavy hit. Yootech offers a lifetime warranty as well, offering a replacement or refund if the protector doesn't fit your Galaxy Note 5 properly or there are any unremovable bubbles after installation.
BodyGuardz Pure Glass Screen Protector
Another excellent option is the BodyGuardz Pure Glass Screen Protector for Galaxy Note 5. Although it's a bit pricier than the others we've selected, you're always getting a quality protector with these guys. The exceptional clarity and touchscreen sensitivity of this pure glass protector ensures you're safe from nasty scratches and impacts to the display. Included is a microfiber cleaning cloth, alcohol wipe and a single tempered glass protector for the display of the Note 5.
Buy for $44.95 from BodyGuardz
Ailun Tempered Glass Screen Protector
Last up is the Ailun tempered glass protector for the Galaxy Note 5 that features a thickness of 0.33mm and an amazing clarity after its installed. There's an oleophobic coating on the glass itself that repels fingerprints and smudges. Its precise fit on the Note 5's display looks as if there's nothing at all protecting against the common scratch. The best feature of the Ailun glass protector is its unbeatable price for its level of protection. If you're on a budget, but want to go the tempered glass route — this is the one to scoop up.
What Galaxy Note 5 screen protector are you using?
Those are five screen protectors for the Galaxy Note 5 that should do you right in warding off annoying scuffs and scratches. Bear in mind, no matter what protector you decide on, there will be others that don't have the same experience. Applying a screen protector takes a fair amount of patience, especially on a larger display like the Galaxy Note 5. If you're not confident in nailing it the first time, have someone that's seasoned apply it for you.
Those of you already rocking a screen protector on your Galaxy Note 5: let's hear what you're using and how it's working for you in comments below!
Body guardz all the way. Been using them on several phones for about a year now. I dropped a 20lb and 25lb weight on two different phones and the bodyguardz took all the abuse Posted via the Android Central App

Cool article but I hate how you can't find anything for the note 5 in stores other than att Posted via the Android Central App

Try Best Buy if you have one in your area

I use ZAGG, everyone gets caught up on the high up-front price, but their warreny is hands down the best. Just register and click replace, and you get a new one for $5, and you can do it for the life of your products. * sent from my Note 5, with an S Pen safely inserted TIP FIRST.*

My Tech Armor and Skinomi glass screen protectors both have lifetime warranties and they're both under $15 on Amazon for any phone. Posted via Galaxy S6

How do they fit? Lifetime warranty on substandard product is worthless.

They fit fine. I had a ZAGG glass protector on my S6 until a few days ago when it started to crack because of some light scratches near the edge. I feel like people buy ZAGG for the name. Forgot to mention this, but the lifetime warranties on most glass screen protectors are free; no $5.99 fee. They just ship them out to you as soon as you show them your order number, or sometimes a picture of the cracked protector.

Thanks Posted via the Android Central App

I agree with you about zagg. No doubt about it, it's over priced. Posted via the Android Central App

The ZAGG fits ok, but has a very distinct halo effect (despite following the instructions to a "T" to ensure that it doesn't occur). I used Tech Armor screens on iPhone 6 devices and had them replaced a couple of times after they cracked absorbing shocks from falls. Zero damage to the phone screen, super-fast turnaround by Tech Armor, and they're super cheap on Amazon. Never had a halo issue with the iPhone protectors, but I can't comment on well they fit the Note 5 yet. I bought this phone used and the seller threw in an unused ZAGG protector. So, I used it. I'll eventually break down and spend the $12 on a TA and will hopefully be just as happy with the fit as I was on the iPhones.

I've put many ZAGG glass on the Note 5 and have not had any halo issues. Of the two I tried from Amazon, one broke within 3 weeks seemingly in my pocket so I have doubts about its hardiness and the other has the dreaded Halo. Guess it's time to pony up and buy a Zagg. And yes, their warranty is the best. Some mnfg claim a lifetime warranty but the wording is unclear and makes it seem like its not for damage, just defects.

I have used 2 different Zagg glass protectors on my note 5 and have the horrible halo around the edge on both of them. The guy at the zagg counter installed the 2nd one and told me that he has had the issue with every note 5 that he has installed it on.

Zagg is over rated. Not worth it. For the price of 1 you can get a 5 pack or more of a brand that's same quality or better. And those companies offer warranty too. The days of zagg being the best are no no more. Posted via the Android Central App

That picture makes me cringe. Should add a small pile of sand onto it as well. That's what probably causes most of the scratches.

I'm so glad that I wasn't the only one. That picture really started setting off alarm bells in my head and making me twitch.

I'm using Ringke protecting the front and back because the back is just as susceptible to scratches as the front Posted via the Android Central App

I have never protected my screens. What are people doing with their phones to get the screens so messed up? When I hit the beach, I throw mine in a zip lock baggie. Posted via the Android Central App

Most people don't want to do that. A zagg and a good case is perfect for the beach and no baggie is needed to distort the use of the screen. -Shawn
Noting the world one S-Pen at a time

When I use a screen protector... it's not meant to actually protect the screen at all... it's to get rid of the fingerprints. I've only owned Samsung products (1 tablet, 2 phones) and ALL Samsung screens are sensitive to smears and prints. It's horrible.. and I got tired of always having to wipe the screen. It's weird.. I know someone with a Kindle Fire HDX and after using it for a full day you hardly notice any fingerprints or smears on it.

Great, then this article isn't for you lol Posted via the Android Central App

No screen protector. The only thing that can scratch gorilla glass is diamonds and beach sand. Posted via the Android Central App

Thats so not true...even if they say the hardness is greater than everything other than diamonds and sand, that's a lie. And it may not be real big scratches that the screen endures from other things, but there's always gonna be scratches from miniscule things that are harder than the glass. Posted via the Android Central App

My wife's hair clips certainly aren't' diamonds or sand and they scratched her note 5 quite severely.

I am using the skinomi Tempered Glass Screen Protector which was a buck shipped. Not sure how good the warranty is, but I bought a few for spares. Overall it is pretty impressive considering the price. It barely covers the screen though, but with some work I was able to get no halo. I would have liked more coverage and beveled edges and easy install tabs... But for a buck vs $30-45 for zagg or bodyguardz, it is a no brainer for me. I posted about it here in case anyone was interested. http://forums.androidcentral.com/showthread.php?p=4665620 Posted via the Android Central App

What halo is everyone talking about? Does the S6 have that? because I have a tempered glass cover on it and I dont see anything?

Your smartphone's screen is already scratch resistant assuming you have a recent smartphone and not one that is five years old. If you're already using a screen protector, you may see a scratch or two on your screen protector and think it's doing a good job. This isn't necessarily true — materials that would scratch a plastic screen protector won't necessarily scratch your phone's glass screen. Even the keys in your pocket shouldn't be able to scratch a modern Gorilla Glass display. Gorilla Glass is harder than the metal used in keys, coins, and other common household metal items. Take keys or even a household knife to a modern smartphone's Gorilla Glass display and you shouldn't see any scratches. Screen protectors aren't a must-buy item anymore. You can safely use a modern smartphone with a "naked" screen, and even if you put it in the same pocket with your keys and coins it should be fine. Of course, you'll probably want to keep your keys and coins in another pocket there's a chance they could scratch some other part of your phone. Posted via the Android Central App

One thing you forgot to mention is... all screens will wear out over time... especially if you use "swiping-type" keyboards. After a year of heavy use, those areas where you touched will become slightly worn out. A Screen protector will help prevent that... as well as protect against awful-looking fingerprints.

Hmmm, is that legitimate? I need a source on this. Posted via the Android Central App

It's not just for scratches. I swear by glass screen protectors now. They really do a great job against cracking the screen when dropped. It's supposed to only crack the screen protector. Posted via the Android Central App

Would you care to record a demonstration for us using your favorite smart phone and a first full of keys? Sure, gorilla glass should be fine, but the fact is hundreds of people crack and scratch screens every day. This post does a good job showing that you can protect your screen for next to no cost, so why not? Especially for people like myself who spend a lot of time at the beach, it's 100% worth it. Ever see someone drop a phone with a tempered glass screen protect, and the tempered glass breaks but the phone is intact? I've never heard anyone in that situation say, "I really wish I would have skipped that screen protector" Posted via the Android Central App on my Nexus 7

I've been selling cellular phone for almost 20 years and I find this type of thinking hilarious. Even apple who when the iphone first came out recommended to customer that they don;t need screen protection now recommends screen protection. Even the most scratch resistant screen still scratches, and the general idea of screen protectors is it is much cheaper to replace a $15 to $25 tempered glass than it is to replace a $200 screen. I do occasionally see a year or 2 old phone with out scratches on the screen without a screen guard it is very much the exception.

Dude. That's not how it works. I have gotten scratches on every single phone screen that hasn't had a screen protector. Posted via Galaxy S6

Ok. Then why don't you get some keys and put it in your pocket with your phone every day for the next month. Lol. Gorilla glass isn't completely scratch resistant. Even they have that disclaimer. Posted via the Android Central App

This is so true. I have a defective note 5 screen + digitizer that came off my phone due to a factory defect. Had it replaced under warranty and got to take the original parts. Tried scratching it with a key and a knife, No visible marks at all.

Every glass one I try sticks up around the edges it's pretty annoying. Anyone found one that does not do this yet? Posted via NOTE 5

its due to the slight curvature Samsung uses towards the edge of their screen. Have seen this since the Note 4 and on. Ideally a company old make one that only fit the exact view-able area of the screen but I haven't found one yet that does that.

I think you answered my question below -- they taper the glass on the sides, right? If so, I hate that. I settled for a tempered glass protector that's a tiny bit smaller than my Note 4 screen. I'd rather have that than the halos.

Yeah ill have to find one similar. But going to try the one from zagg I have on my edge. Just not sure how the flexible one would work with the s pen. Posted via NOTE 5

The glass Zagg does not halo. I've installed quite a number of them on Note 5s that I've sold.

Zagg is the best one the list. They'll replace the screen protector for life.

Most of the ones on Amazon do the same, except you don't have to pay $6 every time. And the ones on Amazon are usually less than half the price of a ZAGG. Posted via Galaxy S6

I agree, Zagg invisibleshield is the best on the list by far. And the fact that they have a kiosk at almost every mall and will install a new one for $5 is much more convenient than having to email a company and wait a week or so for a replacement. I'll take a warranty from a company that has physical stores that I can go to vs Internet warranties any day. Posted via Note 5/AC App...

Yep, $34.99 up front, then $5 for every replacement is better than $15 for several similar quality protectors with no replacement cost. Ok Posted via the Android Central App

If you use the S Pen, go with tempered glass, or it will feel rubbery. What I want to know is did Samsung make the same mistake with the Note 5 that they did with the Note 4, and taper the glass on the sides? That design on the Note 4 makes it impossible to put a tempered glass protector on the phone without either having halos, or having the protector smaller than the actual screen.

Yep, that halo drives me nuts. I go naked because of it Posted via the Android Central App

Only the zagg screen protector and similar feel rubbery. If you get a regular screen protector then make sure it's pet or oleophobic and it will not feel rubbery. Posted via the Android Central App

Why in the world should I get something for $35 when I can get a similar item for $5? I ordered the Ailun last Thursday and should be getting it any day now. Got it on Amazon Prime so there shouldn't be issues. The Mpero case I got didn't cost much more. There are some things you can't scrimp on. Case and screen protector? I've found you don't need to pay $40 each for them. Posted via the Android Central App

Is there halo effect on the Ailun? Thanks.

Are there tempered glass screen protectors for the EDge+?

After paying a fortune (well, paying monthly) for my Samsung Galaxy Note 5, I had no choice but to protect the screen. I bought the Zagg Glass screen protector, and ask a lady at Best Buy mobile to install it for me. That just saved me from messing it up ;)

Ordered the XtremeGuard Spartan Tempered Glass Screen protector. Costs $60, but they had a great coupon going. Hoping it will hide a bunch of scratches I got after sliding the phone over tile that had some sand on it. Sand will cut through like butter!

Does anyone make a "glass protector" for the REAR of this device. The other even larger exposed fragile surface? Surely someone will come out with at least a plastic one.

Word Power Swahili is suitable for tourist visiting Southeast Africa, including Tanzania, Kenya, Uganda, Rwanda, Burundi, Mozambique and the Democratic Republic of Congo. It's help you to communicate with locals for your daily activities. If you have any plan to give a visit to Southeast Africa, then it's a good place to start. http://wordpowerswahili.org/
Android Central Newsletter
Get the best of Android Central in in your inbox, every day!
Thank you for signing up to Android Central. You will receive a verification email shortly.
There was a problem. Please refresh the page and try again.