Best Samsung Galaxy Z Flip 3 screen protectors 2022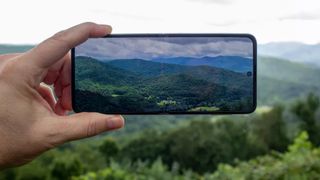 (Image credit: Nick Sutrich)
There's no denying the Samsung Galaxy Z Flip 3 is one of the best foldable phones available right now. The futuristic clamshell packs a lot of improvements over its predecessor, including a more prominent external display, water resistance, and, more importantly, a gorgeous foldable OLED panel that comes pre-installed with a harder screen protector. But you can never be too careful with a device this fragile (and expensive!), which is why we've rounded up some of the best Samsung Galaxy Z Flip 3 screen protectors you can get for your swanky new foldable.
Here are the best Galaxy Z Flip 3 screen protectors
Orzero TPU screen protector (3-pack)
Staff pick
Orzero's soft TPU screen protectors do a great job of guarding the inside, outside, and even the hinge of your Galaxy Z Flip 3 from damage. They are made from an ultra-thin material for that barely-there feel, and also come with hydrophobic and oleophobic coatings that reduce smudges and fingerprints.
LK self-healing TPU screen protector (3-pack)
Case-friendly protection
Featuring extra space around their borders, LK's TPU-based screen protectors are compatible with most (if not all) of the Samsung Galaxy Z Flip 3 cases. Their self-healing technology automatically repairs minor scratches and bubbles within just 24 hours.
Ermorgen anti-scratch screen protector (2-pack)
All-around protection
If you want complete protection for the entirety of your Samsung Galaxy Z Flip 3's exterior without going for a bulky case, this combo offering from Ermorgen is probably going to be your best bet. Each pack consists of protective films for the phone's screen, back panels, as well as the hinge.
Whitestone Dome Glass screen protector
Smudges and scratches begone
This EPU screen protector from Whitestone offers edge-to-edge protection for your Galaxy Z Flip 3 and is a lot more resistant to fingerprints and smudges than conventional TPU screen protectors. Apart from the screen protector, the package also includes three films that cover the phone's entire back panel.
Skinomi anti-glare matte screen protector (2-pack)
No more glare
Made in the U.S., Skinomi's matte screen protector for the Galaxy Z Flip 3 not only reduces glare (and thus, eye strain), but also does an excellent job of repelling fingerprints and smudges that may build up over time. It's made from a durable elastic polymer that features self-healing properties. It's also backed by a lifetime warranty
ZAGG InvisibleShield screen protector
For that outer display
This expensive but highly durable screen protector from ZAGG is designed for the Z Flip 3's tiny cover display. You get an easy-to-apply, scratch-resistant protector made of premium materials and self-healing nanotechnology. It's made using D3O molecules that lock together on impact to reduce its force.
Corefyco Direct screen protector and TPU film
No surface left uncovered
Keep every angle heavily guarded with this set of five protective films that cover the entirety of your Samsung Galaxy Z Flip 3. The TPU screen protector features oleophobic properties and ensures full touch sensitivity. You get protective films for the whole back panel, as well as the hinge.
Supershieldz Clear Shield screen protector (2-pack)
Just the essentials
If you're a bold person and don't find much use in slapping protective layers over your Galaxy Z Flip 3, stick with the basics. This Supershieldz screen protector only shields the most essential part of your phone: the inner folding OLED screen. The TPU screen protectors are easy to apply, and leave no residue when removed.
Keep that Samsung Galaxy Z Flip 3 display new as ever
Foldable phones are getting better with each generation, but as we all know, glass is still fragile. Since the outside and inside of the Samsung Galaxy Z Flip 3 is all glass, getting an extra layer of protection to keep it free from damage certainly makes sense. Our top vote goes to Orzero's premium screen protector, which also comes with protective films for the phone's back panels and hinge. If you'd rather have something that's easier on the eyes, go for Skinomi's matte screen protector, which comes with an anti-glare coating.
A screen protector is great for preventing damage to your smartphone's display, but what about its entire chassis? If you want to keep your foldable in top condition for years to come, you might want to check out some of the best Galaxy Z Flip 3 cases available out there.
Namerah Saud Fatmi is a freelance writer for Android Central. She has a passion for all things tech & gaming and has been an honorary Goodreads librarian since 2011. When she isn't writing, she can be found chasing stray cats and dogs in the streets of Dhaka or slaying dragons in the land of Skyrim. You can reach her on Twitter @NamerahS.
Android Central Newsletter
Get the best of Android Central in in your inbox, every day!
Thank you for signing up to Android Central. You will receive a verification email shortly.
There was a problem. Please refresh the page and try again.