The best photo sync services for Android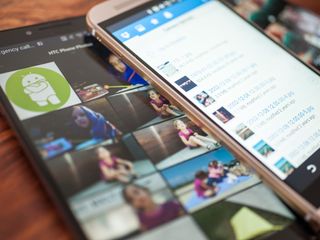 It's 2015. There's absolutely no reason to ever lose a photo that you've taken on your smartphone. If anything, the bigger problem should be that you're saving too many pictures and have to cull them from time to time. (That's another post for another day, though.)
Then question, then, is how to best sync your pictures from your phone to ze olde cloud. And forget plugging in. This is the future, folks.
So here, now, is our take on the best photo sync services for Android. We're not talking social sharing, we're talking shoot, upload and worry no more.
Take me to the best apps for syncing photos!
Dropbox
Why you can trust Android Central Our expert reviewers spend hours testing and comparing products and services so you can choose the best for you. Find out more about how we test.
Dropbox probably is the simplest way to make the pictures that are on your phone accessible, well, anywhere. If you've never used dropbox before, it's just about the simplest service there is. On computers, it lets you sync any folder from one machine to another. And those folders become accessible on your phone as well. And for mobile, it'll take (with your permission, of course) your pictures and upload them to a common "Camera Uploads" folder. You then can get to those pics from any other mobile device or computer connected to your dropbox account.
Dropbox starts you off with 2 gigabytes of storage space for free, and you can add to that by referring friends to sign up. Paid plans start at $9.99 a month for 1 terrabyte of storage.
Learn more and download Dropbox for Android
Google (Photos/Drive/Whatever)
And then there's Google. While the Big G's photo strategy has been more than a little muddied over the years — from Picasa to Photos and with Google+ Google Drive mixed in — it's also a great way to make sure the pictures from your phone are saved somewhere a little more secure than a device you've got the potential to lose.
To back up photos from a mobile device, you'll be using the preinstalled Photos application, which will then back up your photos to Google+. (There are strong rumblings that Google will split things up at some point and properly use Google Drive. Stay tuned.) Photos are private by default — and they're also a little tough to sift through. But they are, indeed, backed up.
More: Backing up your photos to Google+
Adobe Lightroom Mobile
Lightroom is a relatively new entry to the mobile space, and even newer to Android. But it's quickly established itself as a player. Upon installing the Android app (which for now is still only for phones), you'll either start a free 30-day trial, or sign in with your Creative Cloud account. Tell Lightroom where to look for pictures, and it'll start uploading them automatically.
And because this is Lightroom, you'll be getting (nearly) the full power of the Lightroom editing suite — and changes sync back through your CC account so you can pick up on the desktop where you left off on mobile.
Download: Lightroom for Android (opens in new tab)
Flickr
Flickr is one of the oldest photo services on our list here, and it remains an excellent option. Now a part of Yahoo, Flickr gives you a full terabyte of space for free. That's 1,000 GB. From there, you'll be autosyncing all your images, but, again, your stuff is private unless you choose otherwise. Flickr also is a social sharing service, so you'll be able to easily see your friends' photos as well — provided they're using Flickr, of course.
Download: Flickr for Android (opens in new tab)
VSCO Cam
This one's a little more work than the others, and VSCO Cam is largely aimed at more serious photographers instead of your average pointy-shooty person. But the results are usually pretty stunning. In fact, there's a pretty good chance that if you're a semi-serious mobile photog you already know what VSCO is and an even greater chance that you're already using it. For many of us it's overkill. But for those who use it and use it well, it's about the best there is.
Download: VSCO Cam for Android (opens in new tab)
Android Central Newsletter
Get instant access to breaking news, the hottest reviews, great deals and helpful tips
Google here... Works great on both android and iOS. Love all the server side features and tricks Google photos add as well. Posted via the Android Central App

I love that it is just baked into the OS, keeps things simple. Posted via the Android Central App

Google here also. But as the article said, the pictures are a little tough to sort through. It would be nice if on the web I could choose to display only photos from a specific phone, or place taken, or date.

You can, while looking at your photos, just search for a location and/or a date, and there you go, all the relevant pictures. For a specific camera, just search for the name that shows in the Camera field of the metadata, e.g. #Nexus5 for my phone's pictures or #DSC-H20 for my old camera (while on the computer, you can just click the Camera name on the right sidebar).

Thanks, but that method requires you to know all the locations in order to search for them. For example, if I have a couple years worth of photos, I won't remember every location they were taken. I would like to start out with a list like country, then state, then city, etc. Same thing with camera, no way I am going to remember the model numbers various pictures were taken with.

I use google+ photos to backup. So much better than icloud on my iphone 5 and I can access photos online from any computer! I think one of my photo apps I use, myroll has photo backup feature. I usually use quickpic to view all my photos

I love the look and feel of carousel, but amazon looks good and is unlimited. Can't argue with that.

Gallery Drive Sync app or Auto sync for Google Drive. Keep all your stuff on Google Drive with 2 step verification. Pretty damn secure.. Or OneDrive camera sync. Works great too. Nexus 5 (AT&T)

+1 for Gallery Drive Sync. I already use Google Drive for my Chromebook, so it makes sense and works flawlessly.

all of them is great tool which avoid you the hassle Of manually check and upload photos. But none of them let you sync metadata such as lib, tags, title, geo location, or contact name.
Am I right ?

No love for OneDrive? :P I mainly use it as I'm a heavy Windows user but also have backups going to Google because why not?!

Well for most android users Google photos works the best. One drive app on android or even iOS is not great. UI is alright and uploads are also not fast and reliable compared to Google photos. I use amazon cloud drive, Google photos, one drive and iCloud on iOS and like Google photos best on android, iCloud works great among iOS devices. I auto upload to all of them since multiple backups doesn't hurt :) Posted via the Android Central App

One Drive has been recently updated, and it works just as well as Dropbox. It starts you off with 15GB so that in my opinion gives it the edge when comparing the two.

The OneDrive app on Andorid is still a bit lacklustre compared to other platforms. It doesn't have the albums or tags feature available on web and iOS for example. Until it gets these, I wouldn't say it works as well as Dropbox on Android (which does have albums). Having said that, I use OneDrive myself. I'm a Windows PC, Android phone, and iPad user, and I'm betting that long term, OneDrive will give me the best collective experience across all these devices.

That is true. It does lack those features. I use it mainly because i have tons of space available and its cross platform.

I use Onedrive too. Posted via the Android Central App

Same here, Google photos and One drive.

I use one drive to sync photo with my windows phone camera roll, since dropbox only give a little space and google never came to windows phone

What about OneDrive! 15GB for free, and if you have an Office 365 account it's unlimited! Posted via the Android Central App

I like OneDrive since I have an Office 365 subscription.

I would love Google Photos if it didn't keep losing my photos. Posted via the Android Central App

I would love it too, if it didn't suck Nexus 5 (AT&T)

OneDrive is a great way to back up your photos or any files as well. You get 15GB free. If you sign up for Bing Rewards you get 100GB for 2 years. And for 6.99 (for personal) and 9.99 for (5 users) you get unlimited storage, Microsoft Office for you desktop, mobile. On a family plan, each of 5 people gets Unlimited. And they got a really great gallery view on the web.

This. I ended up having 129GB on Onedrive and I barely used less than 1GB. Not to mention the 50GB from Mega, and another 30 or so from Google Drive. Posted via the Android Central App

I got that 100 GB from Bing rewards, and the extra15 GB that they were offering when Apple was having their little ios 8 update debacle, so I am sitting on a pleasant 130 GB. Posted via my HTC One (M7)

Amazon isn't the most elegant solution but it is unlimited storage for prime members. Posted via the Android Central App

Same here. . I don't see cancelling Amazon prime anytime soon.. The only thing I wish, was that my wife (whose Amazon account is linked to my Prime account) could also benefit from the unlimited storage too. Posted via the Android Central App

That should be no issue, just sign in to the Amazon Photo App(whatever its called) with your credentials. That's what I did with my wife's phone and it has been flawless.

I agree, I'm also missing Amazon in the list (https://play.google.com/store/apps/details?id=com.amazon.clouddrive.photos) - free unlimited storage for prime users
- it's not just for full-size jpegs ... it also includes adobe dng raw files which gets important in 2015 where we can shoot raw thanks to the camera api v2
- the backed up photos can easily be watched through the amazon prime instant video app many tv's have Their interface can be quite annoying if you search anything or wan't to organize them, but as a pure backup solution it's great for Amazon prime customer.

My problem with Amazon Photos (as it's called now) is that it is wildly unreliable. Whenever I check the app it seems to have forgotten to upload the previous months downloads. When I moved from my Nexus 4 to Nexus 5 I was shocked at how many important photos weren't uploaded and had to plug it into the computer to make copies to be sure. Dropbox is too limited on space. I wish Copy had a photo backup function; I have tons of space there.

Google Photos, Dropbox, Box, MEGA, and just adding Flickr now. Google Photos is my first choice because of unlimited standard storage and access to Drive Photos Folder. With the redundancy in photo backup on my devices, they are all set to WiFi only (while charging). Rooted Galaxy S III Stock Galaxy Note 4
Rooted LG G2
If it ain't Tech, it ain't Right!

Unlimted standard storage? I don't know what that is.
I pay for 100gigs and I hope for sort of proper Photo-GoogleDrive storage system around the corner, but I am interested in "unlimited standard"!
Just noticed: By doing "auto backup" into google+ and then changing "full size backup" to "standard size", you get unlimited uploads.
Cool.... for now.
I do use OneDrive for it's unlimited storage, but because I am "all google" for most things, I'd like to get the better integration with a google backup solution. So, I'll set up the standard size backup now and let full size uploads go to OneDrive.

Which service organizes uploaded photos (and videos) by the date you took the photo and a plus any other EXIF data such as location?

I use office365 - if you took advantage of that recent loophole with the Home subscriptions, it was crazy cheap to create account that will run well into the 2020s for very little money and serve 5 users - plus you get office, free skype minutes for less than the dropbox price which is just storage.

How about Onedrive - it will sync your photos and give you an extra 3 GB bonus to do so. Onedrive has a very nice Android app. Posted via Android Central App

For those use BOX, you can download photosync for box
https://www.androidcentral.com/e?link=https2F2F...

You left out OneDrive, which does a good job of automatically backing up photos and has a nice layout.

No he didn't he has the google internal (rectal?) virus that blinds him from anything MS. lmao (or purely a click-bait omission)

There's also the Copy cloud storage app with referral bonuses and Photocopy option for automatic backup. Posted via the Android Central App

I use Mega, free 50gbs and they have an android app as well as a desktop app. Box and Dropbox work well too.. Google drive takes from you total allotment for email, docs etc. Posted via the Android Central App

I use the Dropsync app to upload to Dropbox instead of using the Dropbox app itself, since it actually... Syncs things. If I delete crappy pics off my phone, I want them deleted from Dropbox as well. If I delete pics on Dropbox.com via web, I want those changes mirrored back to my phone. Only dropsync does this automatically. Google's photos app lets you do it manually, and only in one direction with their "delete everywhere" option.

Google photos works well for me Posted via the Android Central App

You really should look into plex camera upload. Multi platform and the cloud is your own home computer. I never worry about losing my photos. Posted via the Android Central App

Hi everyone, do you know if I lose quality in dropbox? That's what I use for now but I'm limited to 2gb (don't wanna pay if I can avoid it but want to keep the best quality as I possible). If the answer is yes what would you recommend? Thanks for your help.

Aww, I was hoping this was about backups to a PC or Mac. I've been looking for a program for that. Too much stuff to deal with folders now. "I'm da Blur boys!" - Me with 1200 ping. Fiber in Nashville? Save me based Google.

This article is missing a lot of information that would be relevant in comparing the services. For example: Do they allow for video uploads?
Do they upload full resolution photos and videos?
If they upload lower resolution photos, how do they compare?
What apps are available for viewing the uploaded content?
Do they have corresponding web sites for viewing, sharing uploaded content?
What kind of privacy policies do the services have? For example, can they use my content for other purposes?
What kind of editing features do they provide on their web sites and apps?
Are they cross platform?
What kind of cost is involved once I hit their storage limits?
Can I export/download the content once its up in their cloud?
Do they copy and store EXIF or other meta data along with the media? And as others mentioned, there are other major services not even mentioned.

I probably overkill a bit, but my photos backup to OneDrive, Google, AT&T locker and carbonite! I'm not taking a ton of photos with my phone, but when I do, I don't feel like these 4 backups tax the phone at all. Posted via the Android Central App

On my Android phone I use QuickPic to back up to my google drive. On my iPad, I use iOS icloud photostream to push photos to my Mac, where I then have some Automator workflows set up to move the photos to my google drive. On the iPad I tried using google drive autoupload and Dropbox autoupload.... neither seemed to work until I opened the app... not what I wanted... I wanted them to upload any photo immediately, as soon as it hit my iPad photos app. Posted via the Android Central App

Dropbox and carousel make an excellent combination for uploading and viewing picture while saving storage space on my phone Posted on my Galaxy S5

I don't auto upload Google+ photos because I would eventually have thousands of photos to comb threw. Instead I selectively upload photos to Google+ albums. Takes a little time but in the end things are better organized. Posted via the Android Central App

Dropbox is really good and easy. But with only 2GB it is limiting. I was surprised not to see OneDrive. 15GB for free and works really well. If you have Amazon Prime you get unlimited storage space for free. G+ is good but your photos aren't at full resolution. Unless you have a really low resolution camera. Box is ok if you use an app like FolderSync. I use FolderSync to backup to my local NAS each night on my local network. Virtually no storage limits.

I use flickr, easy and it works! Joe, Kalispell, MT
Posted via Android Central App

I have been using Flickr for few months. But it affects battery life due to too many wake locks (hiding behind Android OS in battery info) on my opo. I use flick folio for Flickr HD instead.. Posted from Mi3W via the Android Central App

OneDrive for me. I can switch between my android and Windows phone without a second thought. Posted via Android Central App

Gotta throw some props to Smugmug.

Wd my cloud. 4 TB space for one payment of 180 Posted via the Android Central App

OneDrive for me. Over 25GB of free storage. Plus I don't get a good feeling that Google can be trusted to not delete or move my data. They have already screwed with 'my maps' and other data that I had on Google. That is data now gone. So I fear they might pull the plug on my photos before I copy them to my offline storage. And I don't care for the way the photos are managed on Google+. I trust OneDrive more.

Another vote for free unlimited storage on your own "homecloud". PC Photo Upload app

I'd really like to see an article on curating ALL THE THINGS!!! I went through about 16k photos last year, a few years worth of shooting and duplicates from saving files to multiple machines. I used a program on Windows, don't recall the name, that identifies duplicate and near duplicate pics. It also flagged blurry pics, and blown out pics. The current problem is, if I'm clouding everything, it appears I have to download a hundred gb of pics to run this processing on. Do any of the current ones provide any analysis of the pics? Or if I go shoot all week on the dslr, and take a dozen pics of every scene to get a perfect print, do I have to go through all the thousands by hand? Posted via Android Central App

One of my favorite apps is Amazon Photos. Yes, it does require Prime subscription for the unlimited space but full res pictures are awesome. I use dropbox, Google+ and Amazon Photos.

Big fan of Eyefi auto backing up my photos and videos into smugmug. While smugmug is a pay site, it's totally worth it. Oh, and if anyone wants a referral coupon code for it, hit me up! Posted via Android Central App

I'm loving Gallery Drive Sync Pro. Perfect for backing up to Google Drive until Google finally does away with G+ Photos and starts doing it the right way.

Just tried Flikr on my Moto X. Its default setting was Public, and it said it does not sync existing photos from before the app's usage. That is disappointing. Has anybody else had this problem? Posted via the Android Central App

Google has almost lost me since photos keep backing up when I'm not on wifi despite the settings. How can you mess up that big and not fix it for that long?? And yes, I have done plenty of things to try to fix the problem. Plus it backs up photos multiple times that are already backed up. And this is on a Google Play Edition phone! The worst was when they burned through all my data a few days into my billing cycle.

Mega gets the job done. Posted via the Android Central App

Smugmug! 40/year if you pay annually for the 'Basic' level: unlimited storage, photos up to 5omb each, vids up to 3gb/20 minutes long. For 60/year, which I pay, you can direct your own domain name to your smugmug page, and you can customize your photo site with tons of gorgeous themes. If you're a Pro, you can also monetize your pics, and regardless, it's easy for relatives/friends to order photo hard copies or various merchandise w/ your photos printed on them. They have a couple of apps. Smugmug app will just sync all your pics to a private folder, and you can re-organize, make them public at your convenience. They also have Camera Awesome, which also syncs your pics, but has advanced camera controls and filters.
Android Central Newsletter
Get instant access to breaking news, the hottest reviews, great deals and helpful tips
Thank you for signing up to Android Central. You will receive a verification email shortly.
There was a problem. Please refresh the page and try again.