The best photo sync services for Android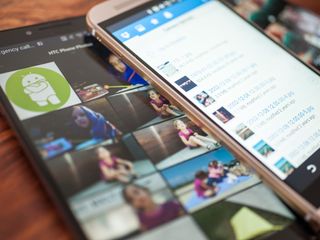 It's 2015. There's absolutely no reason to ever lose a photo that you've taken on your smartphone. If anything, the bigger problem should be that you're saving too many pictures and have to cull them from time to time. (That's another post for another day, though.)
Then question, then, is how to best sync your pictures from your phone to ze olde cloud. And forget plugging in. This is the future, folks.
So here, now, is our take on the best photo sync services for Android. We're not talking social sharing, we're talking shoot, upload and worry no more.
Take me to the best apps for syncing photos!
Dropbox
Why you can trust Android Central Our expert reviewers spend hours testing and comparing products and services so you can choose the best for you. Find out more about how we test.
Dropbox probably is the simplest way to make the pictures that are on your phone accessible, well, anywhere. If you've never used dropbox before, it's just about the simplest service there is. On computers, it lets you sync any folder from one machine to another. And those folders become accessible on your phone as well. And for mobile, it'll take (with your permission, of course) your pictures and upload them to a common "Camera Uploads" folder. You then can get to those pics from any other mobile device or computer connected to your dropbox account.
Dropbox starts you off with 2 gigabytes of storage space for free, and you can add to that by referring friends to sign up. Paid plans start at $9.99 a month for 1 terrabyte of storage.
Learn more and download Dropbox for Android
Google (Photos/Drive/Whatever)
And then there's Google. While the Big G's photo strategy has been more than a little muddied over the years — from Picasa to Photos and with Google+ Google Drive mixed in — it's also a great way to make sure the pictures from your phone are saved somewhere a little more secure than a device you've got the potential to lose.
To back up photos from a mobile device, you'll be using the preinstalled Photos application, which will then back up your photos to Google+. (There are strong rumblings that Google will split things up at some point and properly use Google Drive. Stay tuned.) Photos are private by default — and they're also a little tough to sift through. But they are, indeed, backed up.
More: Backing up your photos to Google+
Adobe Lightroom Mobile
Lightroom is a relatively new entry to the mobile space, and even newer to Android. But it's quickly established itself as a player. Upon installing the Android app (which for now is still only for phones), you'll either start a free 30-day trial, or sign in with your Creative Cloud account. Tell Lightroom where to look for pictures, and it'll start uploading them automatically.
And because this is Lightroom, you'll be getting (nearly) the full power of the Lightroom editing suite — and changes sync back through your CC account so you can pick up on the desktop where you left off on mobile.
Download: Lightroom for Android
Flickr
Flickr is one of the oldest photo services on our list here, and it remains an excellent option. Now a part of Yahoo, Flickr gives you a full terabyte of space for free. That's 1,000 GB. From there, you'll be autosyncing all your images, but, again, your stuff is private unless you choose otherwise. Flickr also is a social sharing service, so you'll be able to easily see your friends' photos as well — provided they're using Flickr, of course.
VSCO Cam
This one's a little more work than the others, and VSCO Cam is largely aimed at more serious photographers instead of your average pointy-shooty person. But the results are usually pretty stunning. In fact, there's a pretty good chance that if you're a semi-serious mobile photog you already know what VSCO is and an even greater chance that you're already using it. For many of us it's overkill. But for those who use it and use it well, it's about the best there is.
Get the Android Central Newsletter
Instant access to breaking news, the hottest reviews, great deals and helpful tips.