Best phone photography gear for kids (and their parents)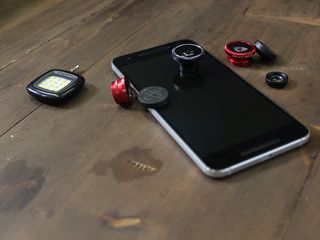 Shooting with your Android device may be a great way to capture some incredible moments with your family, but it's also an awesome tool to get your children involved with the fun and creative world of photography!
Photography – and phone photography – is a great way to encourage kids to get active, explore the world outside their bedroom, look at things from different, unique angles, allow for valuable, one-on-one teaching opportunities, and so much more.
Being able to go out and shoot some pro looking photography on your own is one thing, but shooting with a little sidekick can be a bit more difficult if you don't have the right gear. You don't need a full arsenal, either – all it takes is a few different pieces of tech to get your kids shooting like a professional with your Android device!
External Lenses
External lenses are fantastic, tiny tools that secure onto your Android phone's front or back camera to add different effects to your phone photographs, similar to how changing the lens on a DSLR camera will give your photography a completely different look and feel.
The most common type of lenses are macro, wide-angle, fisheye, and telephoto, each of which alter images to appear as if they were edited through Photoshop (though those aren't the only ones available by any means).
More: Best universal add-on lenses for Android phones
Lenses can also be a really great way to shoot pictures with kids! By offering new perspectives and points of view, kids can get really creative with shots that a regular Android phone camera would be unable to capture. Fisheye shots can encourage kids to stand back and play with angles, while macro lenses can draw kids into small items that would otherwise seem boring and unexciting.
There are even funky lenses (opens in new tab) lenses that add strange fly eye-like effects to your photos, turning selfies into bizarre kaleidoscope dreams and photos of flowers into a whole new creative experience for you and your little future photographer.
Durable or Waterproof Phone Case
While having a rugged case for your Android phone is a good idea regardless, picking up a reliable or even potentially waterproof case to use is a really great move to make if you're looking to shoot phone photography with your kids!
Most people wouldn't let their kids shoot photos and video with a fancy DSLR camera without at least showing them how to wear the strap around their neck, so a rugged case is just that: an extra precautionary measure as you hunt out the perfect snapshot with your little one.
Not only will a durable case protect the screen, but also the phone's camera, which can get damaged during falls from high places (like straining on your tippy-toes to get the ideal photograph)! Picking up a waterproof case for your Android phone might be worth it, too, but for a couple of other reasons, too:
Waterproof phone cases that are also durable are the perfect protective double-whammy. You won't have to worry about dropping your phone and having it crack or having it accidentally go for a swim with a rugged, waterproof case.
Underwater photography is potentially some of the most fun, creative ways to shoot and see the world – and being able to do it with your Android phone is even better! Some waterproof cases even come with different lenses, so you can shoot wide-angle underwater shots with your kid like a pro.
Backup Battery
Plain and simple, a backup battery is a tool of great power in your kid-friendly phone photography arsenal. If you're out on and about, the worst thing that can happen besides smashing your phone (but that's why you have the durable case!) is having your Android phone die without any means of charging it.
There are plenty of different types of boring battery chargers out there, but you can always pick up some fun-looking, kid friendly ones, or even customize your duller battery packs with colorful tape and stickers.
After you have the perfect pack, just slip it into your camera bag or purse and put your kid in charge of monitoring the battery life as you shoot: if they catch that the battery is about to die and manage to get the phone plugged in, you can take a break from your photography adventure and share an awesome snack as a reward!
Editing apps
After snapping your phone photography masterpieces and capturing some super cool outdoor moments with your kidlet, editing through your pictures can be just as much fun as shooting them!
By downloading a number of free photography editing apps, you can get weird and wild with your Android phone photos. Apps like Prisma (opens in new tab) let you explore different art and photo styles, while Photo Lab Picture Editor (opens in new tab) allow you to add effects and details to pictures in a similar style to Photoshop.
Even exploring the photo editing app options (opens in new tab) is a task in itself, so be sure to allot a bit of time to explore, download, play, and pick your absolute favorite photo apps to tinker around with. Of course there are apps directed specifically towards kids, but this is also a great opportunity to teach your little one about photo editing and adjusting contrast, brightness, vibrance, and so much more, just like a regular pro!
Portable printer
After shooting and editing your Android phone photographs, you'll want to be able to not only post them online, but print them off for your kids to show off, too. That's why having a small, portable wireless printer is an great tool in your phone photography gear bag.
There are plenty of different wireless printers out there that connect to your Android phone and print your photos in an instant. Just pick the size of picture you want, and print away! Make duplicates of your perfect photography day out, the incredible macro shot your kid captured while at the park, or the goofy selfie the two of you took with the fisheye lens.
A good option is LG's Portable Pocket Printer (opens in new tab), which, for around $90, connects over Bluetooth to any Android phone and prints tiny, high-quality photos.
What do you think?
Do you think phone photography is a great way to get creative with your kids, or do you think it's an unnecessary hassle?
As a former pro photographer, and now owning Fuji mirrorless cameras, the best camera is the one you always have on you. I would recommend an app that allows you to batch rename photos and also enable backup to dropbox, etc. over wifi.
There are a few out there.
For instance, as an Architect, we visit a job site and take hundreds of photos. Instead of having the device's file naming convention I can hit a preset and then have all photos from a specific point rename them, i.e. file FS1738_0.jpg becomes AC Headquarters_001, etc. It helps to organize pics to be able to find them later and not have them in a few different locations unless it's a backup.

Is it possible for you to do a review on this? I wanna know if it's worth it a mini portable photo printer! https://www.androidcentral.com/e?link=https%3A%2F%2Fwww.awin1.com%2Fcrea...

Tony donuts, what do you recommend for apps?
Android Central Newsletter
Get the best of Android Central in in your inbox, every day!
Thank you for signing up to Android Central. You will receive a verification email shortly.
There was a problem. Please refresh the page and try again.