Getting started with add-on camera lenses for your Android phone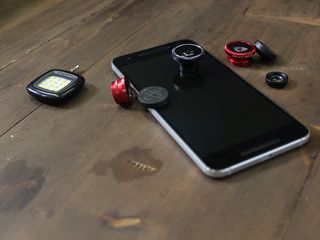 Let's cut to the chase: your Android phone's camera is a powerful little tool. With it you can capture vivid video, professional portraits, trippy time-lapses, and so much more, all without any extra bells and whistles weighing you down.
Phone photography lenses are incredibly quick, practical, and convenient tools to have in your back pocket, and the four most common kinds you'll come across are wide-angle, fisheye, macro, and telephoto lenses. They can take your Instagram posts to the next level, transform a get-together with friends into a memorable photo moment, and make your Snapchat stories all the more compelling to watch.
With phone photography blossoming online and amongst real-life pro photographers, having a few phone lenses ready to go can be a great way to switch things up in your shooting routine.
Here are the different, most common types of phone photography lenses to check out if you're looking to get creative and break the mold on basic, boring phone photography!
Wide-angle
Wide-angle lenses are a really great, straightforward way to add a bit of a different perspective to your Android photos and videos without making them look too terribly cluttered and over the top.
As a phone photographer shooting with a wide-angle, external lens, you'll be able to allow more of the background image to be captured in your photograph or video. If you want to get more technical with things like focal length, that's totally a-okay, but to keep things simple, it's key to essentially remember that the shorter the focal length is, the wide the field of view is, and therefore, more stuff can fit into your image.
Wide-angle lenses are fantastic because they can be used in a plethora of shooting styles, including portraiture, nature shots, food pics, large group shots, selfies, and so much more! By expanding and changing the way your Android phone sees things, you can really up the overall quality and look of your photos.
Remember, a wide-angle lens is used more to shift your perspective and make you get a creative, not warp your photo completely like other phone photography lenses.
Fisheye
If you've ever watched a GoPro video, you've probably noticed the familiar look of the camera lens: it's less intense than looking through a peephole, but more intense than a typical wide-angle lens. This look is called a fisheye effect, and it's an incredibly popular shooting tool amongst phone and professional photographers!
First used in the 1920s for meteorology and cloud formation, fisheye lenses have recently made a comeback (after a spike in popularity in the 60s) in everything from action photography, wedding photography, underwater photography, food photography, music videos, horror movies, portraiture, and so, so much more. A fisheye lens can be appropriate to use in almost any situation, giving the viewer a bit more of a 'I'm actually there in the photo!!!' perspective.
You can use a fisheye lens with your Android phone to add a super unique perspective and feel to your photos. Depending on how the lens is secured to your phone – via adhesive, magnets, a clip-on, or case – you can even imitate bigger-ticket video items like a GoPro camera with just your phone.
All you need is a little fisheye perspective, and a lot of creativity.
Macro
Sometimes, details are the most important things in a photo or a video. Capturing crisp, clear little flecks of dust, or the fine, hypnotic grain of wood, or even the sharp, jagged edges of fragmented, shattered glass goes the complete opposite of a fisheye or wide-angle lens, but with a macro lens attachment, you can really get up-close and personal with your subject.
Macro lenses are a pretty difficult tool to get used to, but they're relatively easy to shoot with once you get familiar with them. Depending on the strength of the lens – 10x to 20x is typically normal – you can capture intense detail that your Android phone's camera would gloss over completely.
With macro phone lenses, you want a lens that secures as close as possible to your phone's camera, making clip-on or even some magnetized lenses a bit unreliable. Using a macro lens that works with a rubber band assures that the lens is producing the clearest images and video without or with very little distortion.
Macro lenses are typically not a day-to-day shooting tool (unless you love how hyper-detailed and beautiful macro shots can be!), but depending on the quality of the piece you pick up, you can even find some macro lenses that capture images at a microscopic level.
Telephoto
Telephoto lenses are used for giving you that zoomed-in look on a photo without actually zooming in manually.
You're probably thinking, "Why can't I just zoom with my phone? This seems unnecessary." But when you use your Android device's zoom, you start to sacrifice the quality of the photo, the look of a video, or the overall detail of a picture. It's frustrating, but having a telephoto lens in your back pocket can do a lot of interesting things for your phone photography.
There are plenty of different strengths of telephoto lens you can buy, including 4x, 8x, 12x, and more. Of course phone lenses aren't as expensive as lenses for DSLR cameras, so you can pick up a few different types to play around with them and experiment creatively.
While most other external lenses for phones are quite small, telephoto lenses can get a bit bulkier. You can't always just attach a telephoto lens and start shooting because some may be too large for your phone to attach via magnet or clip (so a strap or case needs to be involved), while others need to be used with a stand or a mounting piece.
Telephoto lenses can bring some different looks to your phone photography and video without ruining your picture quality or sacrificing your creative vision.
What do you shoot with?
Is there a not-so-common phone photography lens that you can't get enough of? Let us know what you love shooting with in the comments below so we can check it out!
Get the Android Central Newsletter
Instant access to breaking news, the hottest reviews, great deals and helpful tips.