Best of MWC 2018: What Android Central loved at this year's show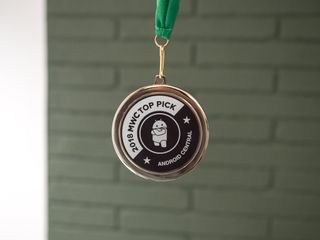 Following a long week of announcement after announcement, 2018's Mobile World Congress has finally come to a close.
MWC is always one of the biggest shows for Android-powered tech, and this year proved to be no different.
We saw a good mix of products at MWC 2018, ranging from minor spec bumps to radical new concept phones that give us a glimpse of the smartphone future we're quickly approaching. There were 10 gadgets in particular that caught our eyes the most, and without further ado, here they are.
Best of MWC / Design Nokia 8 Sirocco
Why you can trust Android Central Our expert reviewers spend hours testing and comparing products and services so you can choose the best for you. Find out more about how we test.
Last year saw Nokia return to form under new leadership from HMD Global, and so far in 2018, it's coming back with a bigger punch than ever before. Nokia had a lot to show off at MWC, but its most impressive handset was easily the Nokia 8 Sirocco.
The Nokia 8 Sirocco is all about looking as flashy and sexy as can be, and boy does it deliver. The Sirocco's body is 95% glass with sharp curves on either side so the screen melts over into a solid stainless steel frame, and this is coupled with a wider 16:9 aspect ratio and a sleek black paint job. It's not the most ergonomic phone we've ever encountered, but it's definitely one of the sharpest we've ever seen.
Nokia's asking price of €749 may be steep for some, but when you combine its excellent hardware with Zeiss-engineered dual cameras, fast silicon, and a stock Android One software experience, you're met with a solid contender against the Galaxy S9.
Nokia 8 Sirocco hands-on: Android One goes sexy and expensive
Best of MWC / Innovation Vivo Apex
If the Nokia 8 Sirocco is the flagship phone of today, the Vivo Apex is the handset we'll be rocking a couple years from now. After wowing us at CES last January with the X20 Plus UD and its in-display fingerprint sensor, Vivo turned things up to 11 with its Apex concept phone. Vivo doesn't have any plans to sell the Apex quite yet, but that hasn't stopped us from drooling all over it.
Simply put, the Vivo Apex is a bezel-less marvel. The screen-to-body ratio is over 90% on this thing, and it does so without succumbing to the infamous notch. More than one-third of the 6-inch OLED display can be used to unlock the Apex using a large in-display fingerprint sensor, and the front-facing camera pops out of the top of the phone when you want to use it. The Apex is clearly the future of smartphones, and it's a future I can't wait for.
Vivo's Apex concept phone has tiny bezels, pop-up camera, and in-display fingerprint sensor
Best of MWC Alcatel 5
For folks that want a phone with the looks of a flagship minus the outrageous price tag to go along with it, that's where the Alcatel 5 comes into play.
The Alcatel 5 features a 5.7-inch IPS display with virtually no bezels aside from its forehead, and this is paired with dual front-facing cameras, a rear-mounted fingerprint sensor, face unlock system, and USB-C. The internals aren't the best we've ever seen, but for just €229, the Alcatel 5 is a welcome addition to the mid-range space.
Alcatel makes new 5, 3, and 1 series phones official, topping out at €229 and focusing on value
Best of MWC Huawei MediaPad M5
It can be easy to think that Android tablets are dead, but Huawei apparently didn't get that memo. The company used MWC 2018 to show off its new MediaPad M5 series, and it looks surprisingly good.
Huawei's offering the MediaPad M5 in 8.4- and 10.8-inch flavors, both of which are equipped with large batteries, the Kirin 960 processor, and Android 8.0 Oreo. There's also a special M5 Pro, and it comes bundled with Huawei's M Stylus (capable of 4096 levels of pressure sensitivity) and a keyboard dock that switches the M5 Pro into a more capable desktop mode.
Recommending an Android tablet is a fairly difficult task in early 2018, but the MediaPad M5 should hopefully change that conversation.
Huawei's MediaPad M5 has upgraded hardware and Oreo out of the box
Best of MWC LG V30S+ ThinQ
We're not expecting LG's next flagship to come out until some point this June, so in the meantime, we got the V30S+ ThinQ. Horrendous name aside, the V30S is actually a nice package for folks that missed out on the V30 the first time around.
Along with everything that made the V30 great to begin with, the V30S adds more RAM, internal storage, new colors, and a new "Bright Mode" in the camera app that should help a lot when it comes to low-light photography. The V30S is as iterative as upgrades come, but considering that LG's just improving upon an already great phone, it's hard to really complain about what's being offered here.
LG V30S hands-on: A 2017 smartphone with 2018's buzzwords
Best of MWC Nokia 1
Google used MWC 2017 to really push its Android Go initiative, and one of the phones that'll be spearheading this is the Nokia 1.
Looking solely at the Nokia 1's specs, there's not much to get excited about. There's a 4.5-inch 854 x 480 display, MediaTek MT6737M processor, 1GB RAM, 8GB storage, 2,150 mAh battery, and a pair of 5MP and 2MP cameras on the back and front, respectively.
What is impressive is that you get all this and a lightweight, stock version of Android Oreo for just $85.
Nokia announces €749 Nokia 8 Sirocco, improved Nokia 7 Plus, and Android Go-powered Nokia 1
Best of MWC Nokia 7+
In between the highs and lows of the Nokia 8 Sirocco and Nokia 1, we've got the Nokia 7+. The Nokia 7+ places itself right in the middle of these two phones at €399, and the best way to describe it is a budget-conscious version of the Google Pixel 2 XL.
The Nokia 7+ dons a metal design with a two-tone paint job, 6-inch 18:9 display with slim bezels, two 12MP rear cameras, Snapdragon 660 CPU, 4GB RAM, 3,800 mAh battery, and the clean, zippy software that is Android One. The spec sheet for the Nokia 7+ isn't as impressive as the Sirocco, by it could very well end up being the more popular of the two phones thanks to its awesome value.
Nokia 7 Plus hands-on: A Pixel 2 XL for the frugal set
Best of MWC Samsung Galaxy S9
What, did you think we'd forget about the Galaxy S9?
The Galaxy S9 is a very similar phone to the S8 from last year, but it makes improvements in all the places that count. The fingerprint sensor has been moved to a more logical location (below the camera sensor), the new Snapdragon 845 should offer more speed and better power efficiency, a variable aperture system is a big win for low-light photography, and the new Lilac Purple color is stunning.
Owners of the Galaxy S8 can likely sit this year's upgrade cycle out, but for anyone that's still holding onto their S7 or older, the Galaxy S9 will be a phenomenal phone for them.
Samsung Galaxy S9 and S9+ hands-on preview: The biggest gets better
Best of MWC Samsung Galaxy S9+
Last year's Galaxy S8 and S8+ were nearly identical phones, but Samsung created for a bigger divide between the S9 and S9+ this year. While you've got the standard affair of a larger battery (3,500 mAh vs. 3,000 mAh), the S9+ also has 2GB of extra RAM and a second camera on the back.
Those who choose the Galaxy S9 over the S9+ shouldn't feel like they're missing out on too much by going with the smaller of the two phones, but it is interesting to see Samsung draw a bigger line in the sand this time around.
Samsung Galaxy S9 and S9+ hands-on preview: The biggest gets better
Best of MWC Sony Xperia XZ2
Last but not least, we've got the Sony Xperia XZ2. Sony's makes quality phones each year, but their outdated designs often result in them feeling second-rate. That's all changing with the XZ2.
Gone are the large bezels and flat edges of past Xperia phones, as they've bee replaced with a narrow 18:9 screen, stunning glass back, and rounded corners. The XZ2 is easily one of the best-looking phone's Sony's kicked out in years, and when you add this fresh look together with all of the latest specs you could ask for, you end up with a nice alternative to the Galaxies and Pixels of the world.
Sony Xperia XZ2 preview: Slimmer bezels, wider appeal
Get the Android Central Newsletter
Instant access to breaking news, the hottest reviews, great deals and helpful tips.
Joe Maring was a Senior Editor for Android Central between 2017 and 2021. You can reach him on Twitter at @JoeMaring1.