The Best Music Videos to Watch in VR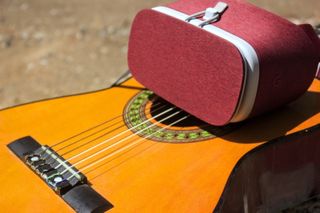 Did you know that there are actually music videos available in VR? A lot of the 360 videos don't really use the power of VR to the fullest, and music videos are an art form all their own. We have combed the internet and found some of the best ones that showcase what VR can bring to different genres so that you don't need to wade through some of the more questionable videos lurking out there.
These music videos may not be the best songs or be your type of music but all of them show some positive action towards making good VR content.
Noa Neal: 'Graffiti'
Why you can trust Android Central Our expert reviewers spend hours testing and comparing products and services so you can choose the best for you. Find out more about how we test.
A new entry in at number 4, this video shows off the way in which performers need to have something in every position for the viewer to focus on. As the car with the band keeps moving forward, no matter where you look there is something happening to hold your interest. From the bikers flying by to the Cheerleaders and even the art on the walls, this video gives you a visual treat from any angle. Often the dancers and actors will move through your field of vision making you turn to track them.
IS this video perfect? no, but it gives you a good idea of what can be done even on a low budget if you want to make good VR content.
Hamilton: Wait For It
Holding steady in the top 3 this week is Hamilton: Wait for it. Sometimes simplicity is a powerful tool. Watching this paired down recording from the Hamilton cast at the Tony Awards shows you the raw talent of performers in a way that seeing them in a choir line doesn't allow. In 360 video the cast can be spread out more and yet still close to the camera, making this feel far more intimate than a standard video would be. You can see each cast member and the effort and passion that comes from them.
This isn't a technical video. It doesn't wow you with visuals or move through the world. It just invites you to be a part of something you wouldn't be able to see or do normally. To me, that's pretty special.
Gorillaz: Saturnz Barz
Straight in at number 2 is the eye watering explosion that is a Gorillaz video in VR. For any fan of the Gorillaz, you will know their videos are always eye catching and filled with weird, drug addled imagery. The team behind this video have put a lot of effort into make this as crazy as can be. You are transported to different areas while an assortment of band sing, rap and generally go crazy.
This is a fun video and nearly made it to the number one spot if it wasn't so frantic. When you, the viewer, are moved through space by someone else you can start to fell a little motion sick. If that happens while you are also watching meteors fly through space the result can be vomit inducing.
SCHOOL OF ROCK: The Musical "You're in the Band"
Taking this weeks number 1 spot for the 3rd week running and our Top of the Pops is You're in the Band from School of Rock. This video has everything you need to make a compelling 360 video. Having the video stationary lets you enjoy all aspects of the video without having to worry about motion sickness and placing you in the center of the classroom lets you experience the show like never before. The use of movement from all the Cast, as thy move from band member to band member, forces you to look around to follow the action and creates the same feeling of excitement the kids are feeling. That inclusiveness is what elevates VR videos and the School of Rock team did a great job of providing it. While all of the main parts of the video are happening you can still look at any part of the classroom and see the Cast still acting for you. No one drops character for even a second, making the whole experience feel much more real.
That's the challenge of VR that content producers face and need to overcome. Every part of every video needs to be produced as perfectly as the rest to make 360 videos a viable platform for music. Both the Gorillaz and the School of Rock video show what can be done with a little time and effort.
And the Wooden Spoon goes to...Booty Man by Redfoo
The wooden spoon always goes to the very worst in a category. We thought we would show you how not to make a VR video.
Booty Man by Redfoo is bad. Leaving aside the appalling song and ridiculous video, the 360 aspect of the video leaves much to be desired. The stage has a hole in the roof. Is this by choice or by lack of foresight? I don't know but it looks awful in 360. One of my pet hates in 360 videos is forcing people to look at the thing you want them to. This breaks the feeling of immersion and this video does it in spades. Every 10-20 seconds it smash cuts to the perspective it wants you to look while also making the platform spin. It's nauseating, confusing and leaves you, the viewer, with no idea of where you are in relative space.
So here it is but I warn you, this video is not for those with sensitive eyes. or taste, or ears.
Do you have a favorite?
We waded through a lot of bad content but maybe we missed some gems? What are some of your favorite 360 music videos on the web? Let us know in the Comments!
Sign up for Black Friday email alerts!
Get the hottest deals available in your inbox plus news, reviews, opinion, analysis and more from the Android Central team.
Since the days of the HTC Hero James has had two or three Android phones stuffed into pockets. James is always on hand to offer advice on phones, apps and most recently, PlayStation, especially VR, It's now something of an obsession. Find him @keridel wherever Media Socials itself.