Best Multiplayer Games for PlayStation VR in 2022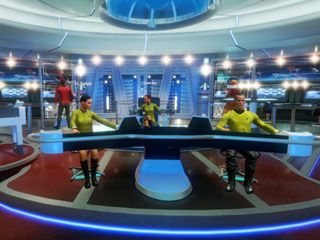 (Image credit: Red Storm Entertainment)
PSVR's library of games keeps growing, and it continues to attract some gems. One thing about virtual reality, mostly due to the physical nature of the headset, is that it can be a bit of a solitary experience. If you'd like your gaming experience to entail meeting some new friends or duking it out against human intelligence, we've rounded up the best multiplayer games for PlayStation VR.
The reality is...
... you can't go wrong with these virtual reality picks. PSVR has come a long way since its release a short four years ago. Along with all the other VR systems, PlayStation has had to deal with troubles finding its footing, but we are now at a full sprint for great game releases in every genre. Games like Werewolves Within (opens in new tab) and Eagle Flight are family favorites.
If you desire to leave the flights of fancy behind and hit up something more competitive, EVE: Valkyrie (opens in new tab) is a good place to look. Not only is this an immersive experience, but its balance between single-player and multiplayer also doesn't feel like an afterthought which makes both exceptionally enjoyable experiences. Grab your PSVR, some friends, and challenge each other to some games.
Android Central Newsletter
Get the best of Android Central in in your inbox, every day!
Thank you for signing up to Android Central. You will receive a verification email shortly.
There was a problem. Please refresh the page and try again.