Best microSD Cards for Lenovo Mirage Solo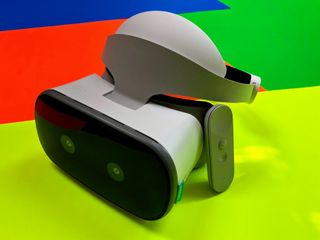 Lenovo's Mirage Solo is a compelling option for those that love virtual reality, since you don't need to buy an expensive phone just to enjoy VR. The Mirage Solo offers 32GB or 64GB of internal storage, but while it includes a microSD slot, it's not what you're expecting.
Here's what you can do with a microSD card in the Mirage Solo, and the best cards!
What can you do with a microSD card on the Lenovo Mirage Solo?
Why you can trust Android Central Our expert reviewers spend hours testing and comparing products and services so you can choose the best for you. Find out more about how we test.
Most Android devices let you use a microSD card as adoptable storage to serve as permanent storage. Failing this, every other Android device lets you browse the contents of the microSD card, and apps like Google Play Music or Netflix let you download music or movies onto the SD card.
The Mirage Solo doesn't let you do either of these. You can see your movie files with the built-in file browser, but trying to select them doesn't actually do anything. Similarly, Plex, Netflix and other movie players don't give you the option to save media to the SD card.
The only official use for a microSD card in the Mirage Solo is to playback footage that was filmed on Lenovo's Mirage Camera. This is a 180-degree camera specifically for recording VR video.
Best microSD cards
Since you'll be recording high-resolution video, you'll need a card that has the fastest write speeds you can find. Here are our picks!
Samsung EVO Plus 256GB
If you need to spend money on a card for capturing videos, you may as well spend a bit more and get the biggest card you can. Samsung's EVO Plus card offers 256GB of storage, and is fast enough to handle all the footage you take. The card is heat-, water- and cold resistant, so feel free to take your camera to extreme locations. There are other cards that offer more storage for less money, but they aren't nearly as fast as this one.
The Samsung EVO Plus 256GB is available for about $90.
Sandisk Extreme Pro 64GB
This card doesn't offer as much storage, but it's also not as expensive. Just like the previous choice, this card is safe to use in almost any harsh environment, so you can take your camera snowboarding or hiking without worry. Most importantly, it's more than fast enough to handle your 180-degree footage. If you don't mind offloading storage from the Mirage Camera regularly, give this card a look.
The SanDisk Extreme Pro 64GB is available for $38.
Samsung EVO Select 128GB
Samsung has another card that is a nice middle option, depending on how much storage you're looking at. The EVO Select is available in 32GB, 64GB, 128GB, and 256GB flavors, but the 256GB version is more expensive than the EVO Plus above. The lower tiers are a great value though: the 128GB version runs for $40. The card offers 100MB/s write speeds, more than fast enough to keep up with your VR camera. Like the other options, this card can withstand seawater and extreme temperatures, meaning your footage will survive wherever you can take the camera.
Samsung's EVO Select 128GB card is available for $40.
What say you?
Which card would you pick for the Lenovo Mirage Camera? Let us know down below!
Sign up for Black Friday email alerts!
Get the hottest deals available in your inbox plus news, reviews, opinion, analysis and more from the Android Central team.