Best heavy duty cases for the Galaxy S7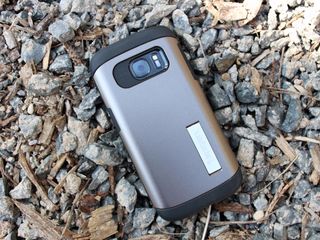 Let's face it, sometimes keeping your phone protected is the most important thing. After all, you carry it around everywhere so it's bound to be put into some dangerous situations. If you are prone to dropping your phone on the ground, down the stairs, or even in the water, you may want to think about a heavy duty case.
Heavy duty cases are not typically meant as fashion statements. Their big, bulky, and sturdy design is made for one purpose and one purpose only. Keeping your phone as safe as possible.
i-Blason Armorbox
This two-piece case will do its part to keep your phone as safe as possible.
The frame the phone sits in is made of hard polycarbonate — to protect it from scratches and bumps — and flexible TPU plastic which will protect your phone in case it falls on the ground. Plus, the headphone jack and charging port have plastic flaps that cover them up to prevent dust from getting in when they are not in use.
The great thing about the Armorbox is it has a separate screen protector that you can either use or not. It's easy to take on or off whenever you want so you can use the screen protector only when you think you will need it.
See at Amazon (opens in new tab)
Obliq Naked Shield Series
While clear cases aren't usually the first to come to mind when you think heavy duty, this offering from Obliq certainly changes that perception.
A crystal clear see-through one-piece shell — with both the shock absorbing power of TPU and the durability of hard polycarbonate — fits snugly on your phone without impeding any of the phone's functionality. The edges of the case raise above the screen to offer protection when your phone is lying on a flat surface.
An added bonus of this case is the metal kickstand. Watching videos on landscape mode has never been so easy since the kickstand gives you the ability to still use both your hands.
If you want something that protects your phone really well and shows off the craftsmanship of the Galaxy S7, this could be a great case for you.
See at Amazon (opens in new tab)
Otterbox Defender series
Otterbox is known for making some of the most rugged cases around and their Defender series is the toughest of the bunch.
The Defender series is made up of four layers to offer your S7 the most protection: It has a screen protector to prevent your screen from being scratched up, a foam buffer to ensure your screen protector isn't rubbing against the screen, an inner shell that protects the rest of the phone from damage, and a hard outer slipcover that seals up the ports to prevent dust and particulates from getting in. Plus, Otterbox puts all of their cases through rigorous testing, such as drop tests and tumble tests, to ensure their product is as rugged as possible.
Due to its design, expect the Defender series case to add a significant amount of weight and bulk to your S7.
See at Amazon (opens in new tab)
Spigen slim armor
Spigen's slim armor case may not have a part that covers the front of the screen, but with the edges of the case protruding at least 2mm it doesn't really need it. On top of that, the camera also has lots of protection from table scratches by the high edges of the case as well.
Spigen's slim armor is drop-tested military grade. Now we know that sounds like some random label that a company would stick on it's packaging just to sell phones, but in this case it actually means a lot. It literally means that it was tested by a third party and is approved for use in the military. This is the kind of case Rambo would have had if he had a cell phone.
The added feature of a metal kickstand is just icing on top of this delicious heavy duty cake.
If you want to learn more about the Spigen Slim Armor, check out our full review.
See at Amazon (opens in new tab)
Supcase Unicorn Beetle
Supcase sounds like two frat boys started a phone case company, but we promise it's no joke of a product.
The Beetle Pro series has everything you need in a heavy duty case. A hard, polycarbonate shell protects all sides and edges of the phone. There is a screen protector built into the case and dust covers protect your charging port and headphone jack.
The one difference from the other cases we have featured in this roundup is the removable clip that attaches to the back of the phone. Now wearing your phone on your waist isn't everyone's cup of tea; however, if you need to have easy access to your phone it's a super useful feature.
It comes in a few different colors but, if you get the blue one, you can say you have the power of Blue Beetle so why get any other color?
See at Amazon (opens in new tab)
The end of the road
Heavy duty cases are a great way to protect your phone. Their thickness, weight, and sturdiness make them super secure in your hand and make you worry much less when you have those little accidents. If you think a heavy duty case is way over kill and want some different options don't forget to check out our round up of the best cases for the Galaxy S7
"Heavy duty" Pass Posted via the Android Central App

Seidio Convert Combo -- best heavy-duty case ever.

I have the slim case and love it. Posted via the Android Central App

Bah! Not sure how these were selected, but these aren't close to the best, and the clear one, while it may offer reasonable protection for a slim clear case, is far from "heavy duty." The truth is that there are far too many high quality cases to identify a few "best" ones. I'm beginning to think these reviews are paid advertisements.

The Unicorn Beetle case is awesome. So is the Defender case. Even that armor box case is cool. Living In An Android World

The Slim Armor is my personal pick. (I live by 3 words. fastboot flashing unlock)

I have the Spigen and it's really great. It has a great feel to it in your hand too. It goes nice with the gold color of my phone and didn't cost very much.

Can't do it not those big ass cases haha spigen thin clear for my gs7 edge and note 5 got the wife a thin one to for her 7 Posted via the Android Central App

I have an Otterbox case, but the wireless charger in my vehicle struggles to charge.
The one I have in my office however works fine. I'd have thought these reviews would have included any affect on the wireless charging?
Android Central Newsletter
Get the best of Android Central in in your inbox, every day!
Thank you for signing up to Android Central. You will receive a verification email shortly.
There was a problem. Please refresh the page and try again.