Best Headphones for PlayStation VR in 2022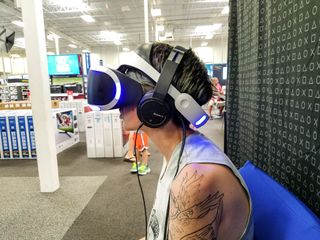 The full immersion experience, where your physical world is replaced by the virtual one, has a lot to do with hearing sounds from all around you. Being able to hear from any direction is a big deal for you to know when to turn your head. If you can hear the real world too, it will just take away from the experience. The higher quality the headphones, the better the immersion is in the VR World. If you're looking for headphones to upgrade the PSVR experience, we've found the perfect options for you to consider.
Get yourself some wireless headphones
Killer wireless headphones will be a big deal with PlayStation VR because it means there won't be another cable dangling from your body while you're trying to play. You want to avoid dealing with that problem when furiously moving around with PlayStation Move controllers in each hand. PlayStation Gold Wireless (opens in new tab) is my top pick for a number of reasons. Not only do the headphones improve the immersion of my VR experiences, but also remain safely on my ears no matter how much I'm moving around. They were made with PlayStation gaming in mind, so you'll be able to use them in and out of your VR experiences.
If you don't mind spending a ton of money, then you can't go wrong with the ASTRO Gaming A50 (opens in new tab) headset. There's a reason it's so pricey, and that's because the quality is nearly unmatched, with crystal clear audio and 7.1 surround sound. The extra mod kits available don't hurt it either.
And if you're hunting for something a little more discreet than a bulky headset, grab a pair of Sony's earbuds (opens in new tab). They're easily one of the most affordable options and they come with an integrated microphone. You'll almost forget that you're even wearing them.
Essa Kidwell is an expert in all things VR and mobile devices who can always be found with an Oculus Go, a Pixel 2, and an iPhone 7+. They've been taking things apart just to put them back together for quite some time. If you've got a troubleshooting issue with any of your tech, they're the one you want to go to! Find them on Twitter @OriginalSluggo or Instagram @CosmeticChronus.
Android Central Newsletter
Get the best of Android Central in in your inbox, every day!
Thank you for signing up to Android Central. You will receive a verification email shortly.
There was a problem. Please refresh the page and try again.