Best Headphones for Lenovo Mirage Solo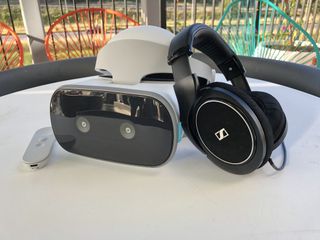 The new Lenovo Mirage Solo is a great way to get into virtual reality, since you don't need to go through the hassle of strapping your phone into an enclosure. Just strap the headset on, and you'll be transported to a whole new virtual world. The Mirage Solo doesn't include any speakers or Bluetooth support, so unless you want that virtual world to be silent, you'll need some wired headphones.
Here are the best headphones for the Lenovo Mirage Solo!
The included headphones
There are wired earbuds included in the box, and few things in life are better than something that is free. If you don't have any wired headphones, give the included ones a try before spending any more money.
Bose QC35 II
Yes, these are billed as wireless headphones, but they still include a 2.5mm input jack for this headset. If you're spending money on headphones, you may as well spend a little extra and get something that will work with all of your devices. While this headset includes a 3.5mm jack, some newer phones do not. For those other devices, Bluetooth may be required.
Another advantage this headset has is Bose's legendary Active Noise Cancellation. Part of the appeal of virtual reality is totally immersing yourself in the virtual space. Sounds leaking from the outside world would be a fast way to lose that immersion, so ANC would be a life saver in this instance. Finally, the QC35 headphones are superbly comfortable, meaning you won't be fatigued by the end of your virtual session.
The Bose QC35 II's are available for $349 at Amazon. If you don't need Google Assistant built into the headphones, you can get the same ANC, sound and comfort in the previous generation QC35's for $329.
Audio Technica ATH-M50x
If you don't want to spend the extra money on a pair of wireless headphones, you can save a good bit and get some premium wired options. Audio Technica's ATH-M50x headphones have been favorites for years now because of their great sound and comfortable fit. The headphones have a removable audio cable, but a proprietary locking system means you can use just any audio cable. This is an over-ear design, meaning you'll get as much noise isolation as possible. They also fold up for easy transportation.
The Audio Technica ATH-M50x headphones are available for $149 at Amazon.
Audio Technica ATH-M50x headphones at Amazon
Klipsch R6i earbuds (#klipsch)
Why you can trust Android Central Our expert reviewers spend hours testing and comparing products and services so you can choose the best for you. Find out more about how we test.
If you prefer earbuds but want something that sounds nicer than the included pair, Klipsch has just the pair for you. The R6i II may not be the cheapest option out there, but they're well built and sound fantastic. And because they're earbuds, you can just wind them up and throw them in your pocket. The longer cable will be annoying since it'll drape on you, but you can wind it up and velcro the cable to keep it in place.
The Klipsch R6i earbuds are available for $79 at Amazon.
What say you?
Which headphones do you use with the Mirage Solo? Let us know down below!
Get the Android Central Newsletter
Instant access to breaking news, the hottest reviews, great deals and helpful tips.