Best Chromecast to use with your Oculus Go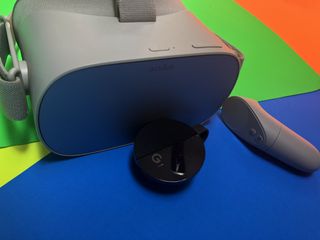 Oculus Go headsets are a great way to isolate yourself from the world to immerse yourself a movie, game, or other content. But, say you want to share your gameplay with someone else at your house. You're never going to strap two heads inside of a VR headset, but there's a better way with the Chromecast Ultra.
Chromecast Ultra
The best streaming possible
Why should you cast your Oculus Go with a Chromecast?
Why you can trust Android Central Our expert reviewers spend hours testing and comparing products and services so you can choose the best for you. Find out more about how we test.
Let's face it. As much as we all wish we could strap more than one person into a headset, it just isn't possible. If you want your friends and family to experience all the things you love about virtual reality (VR) you're going to want them to see what you're doing. Sure, it's still fun to watch the reactions of people in a VR headset, but it's so much more enjoyable when you can also see what's making them flail around like they are. For some reason, you still can't cast with audio, and that's a bummer, but at least it brings us closer together with visuals.
Chromecast Ultra is the upgrade we've been looking for
If you've been using a Chromecast since the first version was released in 2013, you'll want to get one of the newer models. The first gen Chromecast is fine for streaming from Netflix or Hulu, but it chokes a bit when trying to stream from headsets like the Oculus Go.
The 2013 model of the Chromecast still has issues when trying to cast from any sort of VR headset. Audio is delayed by about two seconds while the screen froze a few times. It's not a deal breaker, but not a perfect situation either. When you want to share the games you love with your friends and family you don't want the visuals to randomly be cut off, right?
That's why the Chromecast Ultra is here to save the day. Very rarely was the audio was delayed and, when it was, it was only by one second (if that). Meanwhile, there had no issues with the screen tearing or freezing. Another advantage that the Ultra has is it comes bundled with the Chromecast Ethernet adapter, which should help your Chromecast perform better than if you decide to use Wi-Fi. The Ethernet adapter costs $15 on its own, so the $70 for the Chromecast Ultra isn't a huge price jump from the cost of the standard Chromecast and the Ethernet adapter combined.
Alternative to the Chromecast Ultra
Chromecast
4K output
No freezing screens
No screen tearing
Hardly any lagging
Bundled with Chromecast Ethernet adapter
Casting audio doesn't work
The one to two-second audio delay when casting to the Oculus Go can be quite a bummer if you're using the standard edition of the Chromecast. If your loved one is using your headset nearby you should be able to get away with muting the TV and turning up the volume on the Oculus instead. When it comes to image quality, however, you may find yourself not wanting to watch from the TV anymore after the image freezes up for the fourth time. Regardless of the poor quality of casting form a VR headset, the Chromcast is still a great device when it comes to streaming. While I have a few warnings when it comes to casting I can say that the standard edition is just fine when it comes to using apps like Hulu or Netflix.
Bottom line
It's a price jump from the standard Chromecast, but if you plan on casting a lot of your game footage, the Chromecast Ultra is your best option. An extra second of audio delay may not sound like a lot, but it can quickly become aggravating while you're trying to game. The Ethernet adapter is a nice cherry on top, and being able to stream your favorite shows and movies in 4K will be a nice bonus too.
Credits — The team that worked on this guide
Essa Kidwell is an expert in all things VR and mobile devices who can always be found with an Oculus Go around their neck. Outside of creating stories for Dystopia Rising they're always taking apart their tech and finding new ways to have fun on their Pixel 2! Find them on Twitter @OriginalSluggo.
Russell Holly Russell is a Contributing Editor at Android Central. He's a former server admin who has been using Android since the HTC G1, and quite literally wrote the book on Android tablets. You can usually find him chasing the next tech trend, much to the pain of his wallet. Find him on Google+ or Twitter.
Get the Android Central Newsletter
Instant access to breaking news, the hottest reviews, great deals and helpful tips.
Essa Kidwell is an expert in all things VR and mobile devices who can always be found with an Oculus Go, a Pixel 2, and an iPhone 7+. They've been taking things apart just to put them back together for quite some time. If you've got a troubleshooting issue with any of your tech, they're the one you want to go to! Find them on Twitter @OriginalSluggo or Instagram @CosmeticChronus.