Best Buy preps for Galaxy Tab 10.1's arrival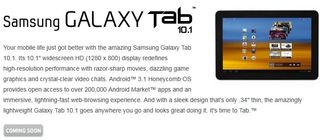 We're a little more than a week away from the June 8 launch date of the Samsung Galaxy Tab 10.1 (and the 8.9-inch version as well), and that means it's just about time for retailers to get their acts together. First out of the gate is Best Buy, which has just listed the Android 3.1 (guess it's going to launch with the update) tablet on its website as "coming soon" -- which, as we all know, it is.
Best Buy doesn't list pricing, but we figure it should be in line with the $499/$599 16- and 32-gigabyte versions mentioned back at CTIA in March. Just a few more days, folks.
Source: Best Buy (opens in new tab); More: Galaxy Tab forums; Thanks, Adam!
Android Central Newsletter
Get instant access to breaking news, the hottest reviews, great deals and helpful tips
hope every one jumps on the ipad2 clone. guess when u have no ideas on your own you go and clone someone else's.

I keep forgetting how apple created the rectangular slab and made it their own.

Hah..hater. Enjoy your heavier, less powerful, less functional pad, complete with lcd bleeding.

Meh...I had a tablet PC back in 2003. A similar troll could bring up how Apple just waited around until they could make the same thing with less powerful hardware in a thinner form factor...but it would be a stupid remark. Tech isn't about firsties. It's a constant evolution. Apple is one of many companies who is always working to add this or that improvement in order to move more product. This is no different.

Ios 5 is rumored to be integrating widgets and a new notification system. They must have thought that up all on their own. Kinda like copy and paste!!! Hahaha!!!!!

No no, Samsung didn't clone the iPad 2. What they did is saw the iPad 2, then they made something better. If it was a clone it would have the same specs, but it doesn't, it has better specs, a thinner body and better camera's.

Where is the pre-sale, I'm ready to get my order on.

Again, it says with 3.1, and no TouchWiz...

i'm hoping it comes with TouchWiz 4.0

Samsung seem a little confused and not sure if they do or don't want to put Touchwiz on this thing. The picture seems to display Stock HC but in the description down below definitely says Touchwiz with Live Panel....unless they have toned down their Touchwiz additions with 3.1? https://www.androidcentral.com/e?link=https2F2Flink...

Sweet! I'm sooo buying this the first the first day it comes out. Got my $480 Best Buy gift card and taking the day off from work…

Still lists the screen as TFT. I thought it was supposed to have a newer tech. Otherwise its not any better than my Transformer, yet $100 more (most likely).

Samsung's official website lists the 10.1v's display as: 10.1" 1280*800 (WXGA) TFT, so I'd say that the Best Buy listing is probably accurate for the 10.1.

It has a PLS screen, which is a slightly improved version of IPS - 10.1" WXGA (1280x800) TFT(PLS)- from the IO Tab specs. Don't confuse it with the 10.1v though, which doesn't have PLS.

what about the 3G version?!

When I first heard about the wifi version release date I thought the same thing... but then I remembered that I have an HTC Evo (running CM7) with hotspot capability AND an unlimited data plan begging to be utilized AND I live/work in a 4G coverage area. Cannot wait for this. Now. the only question I have is.... when will Otterbox start making cases for this tab!?!?!

I'm really looking forward to the 8.9 but as far as I'm aware there has never been a release date set for it...when it was announced they said 8 June for the 10.1 and then later in the summer release of the 8.9. Really hope the 8.9 gets same release as 10.1 cos them I'm going to have to find someone to ship one of them suckers over to London :)
Android Central Newsletter
Get instant access to breaking news, the hottest reviews, great deals and helpful tips
Thank you for signing up to Android Central. You will receive a verification email shortly.
There was a problem. Please refresh the page and try again.