The best Android phone you can buy, as of July 2012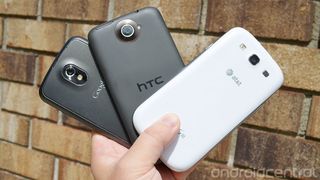 We've heard your cries over the past month or so -- the latest next-gen devices from Samsung and HTC are now on the market, so what's the best Android phone you can buy? With Android 4.1 Jelly Bean arriving imminently on the Galaxy Nexus, is that phone once again worth considering, despite its ageing hardware? And what of the other contenders from manufacturers like Motorola, LG and Sony?
You'll find answers to all these questions and more as we seek out the best Android smartphone, as of July 2012.
The Top Three (in no particular order)
Why you can trust Android Central Our expert reviewers spend hours testing and comparing products and services so you can choose the best for you. Find out more about how we test.
Samsung Galaxy S III - fastest phone, best battery life, best features
Say what you want about TouchWiz (and we have), Samsung's Galaxy S III is a beast of a smartphone. The software design may be growing a little long in the tooth, but there's no denying the speed of Samsung's 2012 flagship. The quad-core Exynos 4 chip (or Snapdragon S4 for those in the U.S.) delivers staggering performance whether you're browsing, gaming or just rapidly multitasking. Samsung also brings a shedload of functionality to bear in the S III, including a full-blown video and photo editor, DLNA sharing options and unique innovations like Smart Stay, which uses the front-facing camera to work out when to dim the screen.
In a smartphone world where battery life is readily sacrificed in favor of thinner, lighter designs, Samsung manages to deliver both, with an 8.6mm thin chassis and a 2100mAh battery, which should be more than enough to see most users through most working days.
The S III's HD SuperAMOLED panel is no longer the king of displays, but it looks great regardless, and photos and video quality is improved thanks to some selective sharpening and contrast enhancement tweaks. Add in a top-notch 8MP camera, and it's easy to understand the hype surrounding the Galaxy S III. It might not boast the sleek software design of stock Android, or the elegant build quality of the HTC One S, but that doesn't change the fact that this is a fast, feature-packed phone without any serious weaknesses.
Samsung Galaxy Nexus (GSM) - best software, best support, best value
If you'd asked us just a week or so ago, this phone probably wouldn't have made the list. But Jelly Bean changes all that, putting the Galaxy Nexus on par with 2012's latest and greatest, and underscoring the importance of software in the process. The Gnex, as we've come to know it, becomes a new phone with its Android 4.1 update. Gone are the subtle delays that presented themselves in Ice Cream Sandwich, replaced with instant responsiveness and buttery transitions. And we should also mention Google Now -- the replacement for the standard Google Search app, which brings in useful background info based on your Google account history.
But the focus of Jelly Bean is speed, and the optimizations that've been made as part of Google's "Project Butter" elevate the Galaxy Nexus to new heights in terms of performance. To most consumers, the Nexus with Jelly Bean will feel just as fast as the Galaxy S III. The phone's Achilles' heel? That 5-megapixel camera wasn't particularly impressive last November, and it's looking decidedly ropey alongside the latest 8MP setups from Samsung and HTC. And HD SuperAMOLED has since been surpassed by rival SuperLCD2 and IPS panels. In our not-so-humble opinion, though, none of that matters. Jelly Bean, and the pure Google software experience more than compensate for the phone's other shortcomings.
Pricing is important, too, and the fact that you can buy a Nexus outright for $350 from the Google Play Store means it's by far the best value Android phone out there. Being a Nexus device also guarantees you speedy updates from Google, and that's actually why we're singling out the GSM version for praise here, as opposed to the CDMA variants. Verizon's Galaxy Nexus has been plagued by update delays, and we're certainly not holding our breath for that device to receive Android 4.1 anytime soon. If you're after a Nexus, we can heartily recommend the unlocked GSM model.
HTC One X and One XL - best display​, best camera
Despite HTC's precarious financial results, the veteran Android-maker came out fighting this year, with its flagship HTC One series, lead by the flagship of flagships, the One X. With it, the Taiwanese manufacturer brought stellar performance and a new version of its Sense software, which builds upon the Android 4.0 design language with welcome, user-friendly additions.
The One X also sports the best display on any smartphone, bar none. Its SuperLCD 2 panel boasts exceptional brightness, clarity and daylight visibility, besting rival AMOLED and IPS panels. What's more, HTC's ImageSense tech and dedicated image processor result in some seriously impressive still photos from the phone's 8MP rear shooter.
Internationally, the One X delivers impressive speed and gaming performance with a quad-core NVIDIA Tegra 3 CPU (albeit at the cost of battery life), while AT&T in the U.S. gets a similarly speedy dual-core Snapdragon S4 with support for 4G LTE networks. And with a chassis molded from a single piece of polycarbonate, it's one of the lightest, best-looking plastic phones we've used. If you're in the market for a high-end Android phone, you shouldn't overlook this 4.7-inch monster from HTC.
The Android Central Recommendation
Samsung Galaxy Nexus (GSM) - ​t​he best Android phone you can buy
It was never going to be anything else, right? Since we first got to play with Android 4.1 Jelly Bean on the Galaxy Nexus at Google I/O, it's reminded us of the real advantage of owning a Nexus phone. The Gnex -- in its undiluted GSM form, at least -- has delivered on the promise of a top-notch "Google experience" smartphone with timely updates straight from Mountain View. Buy one directly from the Google Play Store for $350 from now on, and it'll ship with Jelly Bean, likely months before any skinned or carrier-branded handsets. It's unlockable and completely open to hacking and development. And speed-wise, the Galaxy Nexus with Jelly Bean matches its Galaxy S III and One X competition. What's more, vanilla Android still beats anything we've seen in the way of an OEM skin in the past seven months. That's why the GSM Samsung Galaxy Nexus, with Jelly Bean, is the best Android smartphone you can buy in July 2012.
Also worth a look...
The Galaxy Nexus gets our vote this time around, but there are plenty of Android smartphones that may be the best fit for you. Here are a few you may want to consider --
HTC EVO 4G LTE: If you're on Sprint in the U.S. and the Galaxy S III isn't doing it for you, this is probably the phone you'll want to pick up. It's pretty much the HTC One X in a redesigned shell, with CDMA and LTE radios and a funky red kickstand.
HTC One S: If the One X's little brother shipped with a higher-resolution screen, it may well have made our top three. The One S, available on multiple European carriers, and T-Mobile USA, is an absolutely gorgeous piece of technology, with an exquisitely-designed 7.6mm-thin aluminum unibody and HTC Sense 4.0, backed up by Android 4.0 Ice Cream Sandwich. If you can get past the qHD-resolution SuperAMOLED screen, there's a lot to like about the One S.
Motorola (Droid) RAZR MAXX: OK, so maybe we weren't being 100 percent truthful when we said the Galaxy S III had the best battery life of any Android phone. The eight-month-old Motorola Droid RAZR MAXX, and its international cousin the RAZR MAXX, both ship with a stonking 3300mAh battery. On Verizon's 4G LTE that'll get you through a full day of extremely heavy use, while on European HSPA+ networks you're looking at multiple days from a single charge. And it's just been updated to Ice Cream Sandwich, too.
LG Optimus 4X HD: LG's latest Android offering is a bit of a wildcard. Currently only available in parts of Northern Europe, it shares many characteristics with the HTC One X -- a quad-core Tegra 3 CPU, a super-clear 4.7-inch screen (IPS this time around) and a thoughtfully-designed skin atop Android 4.0 Ice Cream Sandwich. Based on LG's track record, however, we're not holding our breath for a North American release, or any timely update to Android 4.1 Jelly Bean.
Sony Xperia GX: Sony's really dropped the ball this year when it comes to high-end Android smartphones in Western markets, and we can't recommend either the Xperia S in Europe or the Xperia Ion on AT&T in the U.S. However, if you're in Japan, we might suggest taking a look at the Xperia GX, aka the NTT Docomo SO-04D. It sports a sleek, Xperia Arc-like design, with Android 4.0, a 4.6-inch HD Reality Display and a Snapdragon S4 CPU, putting it on par with most of the high-end phones we've mentioned in this article.
Looking ahe​ad ...
We're in for an interesting few months in the Android universe, as we move forward into the latter half of 2012. Motorola's just announced the Atrix HD, along with its first batch of Intel-powered smartphones towards the year's end. The successor to Samsung's Galaxy Note is rumored for launch at IFA 2012 in Berlin, Germany in August, and we're still expecting a refreshed flagship phone from Sony at some point.
Then there's the question of the next-generation Nexus phone (or phones?), in whatever form they may take. We'll be waiting with bated breath this November, expecting a new flagship from Google and its hardware partners, and perhaps a new version of Android to go with it.
In the meantime, for the current crop of Ice Cream Sandwich and Gingerbread phones, those Jelly Bean updates can't come soon enough.
We'll look once again at the best Android phones you can buy in a few months, or whenever the Android phone market significantly changes. Be sure to keep watching Android Central in the months ahead.
Sign up for Black Friday email alerts!
Get the hottest deals available in your inbox plus news, reviews, opinion, analysis and more from the Android Central team.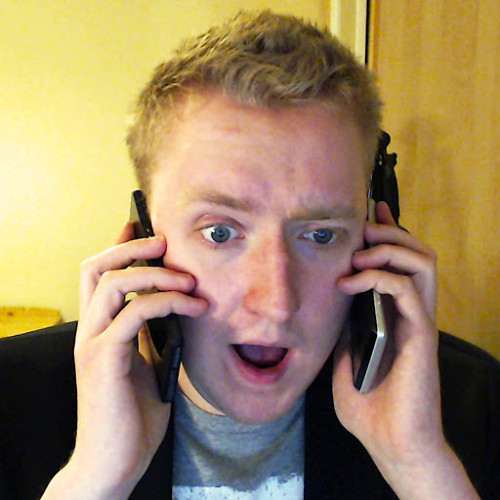 Alex was with Android Central for over a decade, producing written and video content for the site, and served as global Executive Editor from 2016 to 2022.