Best accessories for the Moto 360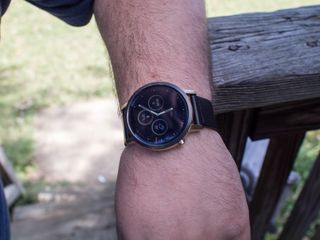 You've got yourself a smartwatch, sweet! You chose the Moto 360, awesome! Immediately you start tapping and swiping and customizing the Moto 360 to work exactly the way you want. But once that's done a hollow feeling begins to settle ... is there no more customization to do with your brand new watch? Not at all! Customize your Moto 360 from the inside out by pairing it with the absolute best accessories.
Moto 360 Replacement Bands
Why you can trust Android Central Our expert reviewers spend hours testing and comparing products and services so you can choose the best for you. Find out more about how we test.
From leather, to steel, to whatever that rubbery sport stuff is, the world of Moto 360 watch straps is wide and deep! Between Motorola-created designs and the big world of third party styles you have a lot to choose from. We created a list of the best third-party watch straps for the Moto 360, but for the time being, here's a recommendation for great replacement band.
From Motorola itself, you can choose from a nice variety of leather or metal bands in different colors to give yourself some more variety instead of just using the one that came with your watch. The main advantage of choosing a strap for Motorola is so you can choose a second generation strap (assuming you have the latest model) with the quick release button. This was not available on the first-gen line of Moto 360 and is hard to find with most third party straps. If you use a third party strap, you usually need a small tool to swap your straps, but using straps designed with the quick-release button allows you to simply switch between sporty and classy strips with minimal effort.
Watch Strap Display Case
As you amass a large collection of straps in a full pallet of colors and materials you're going to have this stylish rainbow of accessories to choose from. The problem is, when these straps aren't organized nicely, you forget what you have, top and bottoms can get separated, and ultimately you stop harnessing the full power of your stylish accessories and default to always wearing your favorite all the time.
Prevent this dilemma by picking up a handsome watch strap case. These don't have to be smart-watch specific so this gives you more shopping options. Moto 360 straps are generally 22mm in size so keep that in mind when checking out cases. Swiss Watch International has slots for 24 straps held inside of a velvet interior to protect your straps from damage. It can be zipped shut and tossed in a drawer or propped open to display your lovely collection.
ArmorSuit Screen Protector
You interact with your Moto 360 by tapping and swiping on your phone. The interface is designed to very intuitive; however, oil from your fingers can smudge up the screen pretty quick. Choosing a great screen protector for your Moto 360 can help reduce screen glare, hide fingerprints, and even add some durability to your Moto 360's screen.
The [ArmorSuit] screen protector is a great third-party option, specifically tailored to your Moto 360. Remember, the Moto 360 comes in two display sizes (46mm and 42mm), so whichever screen protector you choose, make sure you get the right size for your model. ArmorSuit has made protectors for each generation and size of the Moto 360, each designed to prevent glare and reduce the appearance of fingerprints. One additional feature that is pretty cool is ArmorSuit's self-healing screen protectors which automatically repair themselves from minor surface scratches.
Moto 360 Charger
Generally your Moto 360 should last you through the entire day, but if you're sitting at your desk for extended periods of time, a frequent traveller, or want to have an extra option to charge and display your smartwatch picking up an additional charger might be worth the money.
Whatever charger you decide to go with, make sure it works with the generation of Moto 360 you're on (as the charging points on the Gen 1 and Gen 2 chargers are slightly different). If you order the genuine Motorola charger for the second generation of this smartwatch you can count on it to function exactly like the one that came in the box. While your watch rests in the cradle, it will automatically display the time, which is a handy feature if you want to use this as a bedside clock.
To accessorize, or not?
Aside from straps, screen protectors, and maybe an extra charging dock for work, you're Moto 360 is ready to go right out of the box. What do you do to dress up or your Moto 360? Do you have any accessories you can't live without? Make sure to let us know in the comments!
Get the Android Central Newsletter
Instant access to breaking news, the hottest reviews, great deals and helpful tips.