Best Third Party Watch Bands for Moto 360 (2015)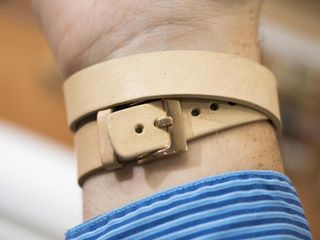 Updated May 2017: These are still the best third-party bands for the Moto 360.
The Moto 360 (2015) comes with a pretty nice leather band on its own, but if you're looking to give it an upgrade — or just a new style — we've rounded up some of the best third-party watch straps for your strapping smartwatch!
Important Note: Make sure you know the size of band you will need for your Moto 360! The Moto 360 2nd Gen comes in three different sizes that require three different watch band widths.
Men's 42mm case uses a 20 millimeter band.
Men's 46mm case uses a 22 millimeter band.
Women's 42mm case uses a 16 milimeter band.
With that in mind, we have rounded up some of the best third party wristbands for the Moto 360 that we could find. We divided them up into the material they're made of, so you can focus on the type you really want.
Leather
Why you can trust Android Central Our expert reviewers spend hours testing and comparing products and services so you can choose the best for you. Find out more about how we test.
We know that the Moto 360 already comes with a leather band, but that doesn't mean you don't want a different one. Whether you want a different color, a different thickness, or just one that you think looks nicer, leather bands are definitely worth checking out.
MOTONG genuine leather band
This leather band is a little more defined than the one that ships with the Moto 360. The stitching along the sides and the two-toned wash really makes this band pop when it's on your wrist.
It only comes in the one size (17.5cm) so it may potentially feel too tight or too loose on your wrist. The good thing about leather is it's easy enough to poke an extra hole or two to make sure you get the right fit.
Hadley-Roma genuine leather strap
If you want a band that stands out a little more than the stock Moto 360 leather band, Hadley-Roma's band has a really nice look to it. The leather is worked to look slightly worn and the stitching along the band is very contrasted to give the band a defined look.
It also comes treated with a water-resistant coating that is useful to help prevent sweat and light amounts of rain from wrecking the leather.
Sport
Typically made out of silicone, sport bands are ideal for people who are very active. The bands are waterproof and very tear-resistant.
VIMVIP silicone sports watch band
This is a pretty typical sports band that's made out of silicone, so you can rest assured that your sweat won't ruin it, which makes it perfect for working out.
The band itself doesn't look like anything special, but it does have the added bonus of an inside texture. This means the band doesn't wriggle around and can still allow air to move in between your skin and the watch.
Lwsengme silicone band
If you want a sports band that will stick out from the crowd, look no further than the Lwsengme silicone band.
Its textured silicone gives it the look and feel of a high-end watch strap at a fraction of the price. Its stainless steel clasp and quick release system will make sure you can swap this out anytime you need. Lwsengme silicone bands comes in a few different color combinations, and the holes in the band aren't just for securing the watch to your wrist — they also increase air flow allowing you to wear the band longer without risk of skin irritation.
Barton Quick Release soft rubber band
As mentioned by the user "tlaswell" in the comments below, Barton's quick release band is perfect for people looking to change bands often.
Barton's soft rubber band has a slightly textured inside, meaning air can flow between your skin and the band providing extra comfort for extend periods of use. The rubber is durable and washable, so you never have to worry about keeping it looking clean.
Barton's quick release comes in a variety of colors, such as Black, White, Slate Gray, Aqua Blue, and more. The bands are also available in all the Moto 360 sizes —16mm, 20mm, and 22mm — so you can find the perfect fit for your Moto 360.
Metal
Metal bands are super durable and very stylish. An excellent way to make your Moto 360 look high-end and polished.
GOOQ stainless steel metal band
A metal watch band doesn't always have to mean links. GOOQ's watch band is made from a stainless steel mesh, which gives it a neat textured look and feel. The great thing about the mesh is arm hair doesn't get pinched inside it, which makes moving the watch around on your wrist much more comfortable.
The clasp is also made of stainless steel which makes this whole band pretty rust-resistant. The durability of the metal will also help it from showing any wear and tear.
Fitian stainless steel band
The Fitian's metal band we've featured here is your more classic metal band. It's comprised of stainless steel links and connected by two spring pins that are easy to install. This is your classic metal band that you just can't go wrong with.
MODE Bands
MODE bands were just released from Google and they get rid of the hassle of dealing with those tiny pins all the time. They might just be the easiest bands you have ever installed! This neat video on the MODE site, shows you just how simple clipping one of these to you Moto 360 actually is.
To use them all you have to do is replace the original pin that is on your Moto 360 and then add the MODE pin. From there it's just a matter of sliding your MODE band over the pin, and locking it shut!
Hadley Roma is the only company making the MODE bands right now, and they start around $50. Don't forget, want size band you will need.
Be an expert in 5 minutes
Get the latest news from Android Central, your trusted companion in the world of Android