Best accessories for Fossil Q smartwatches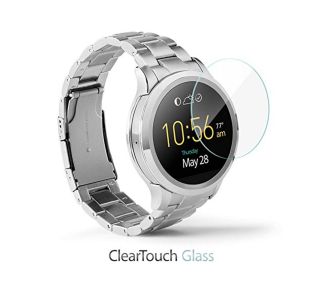 Fossil's Q series smartwatches come in two styles: the digital display Q Founder and the more traditional Q Grant. The brand also released two stylish and functional bracelets, called the Q Reveler and Q Dreamer — fitness trackers that come in a variety of styles.
No matter what device is on your wrist, you'll want to some accessories to protect your investment, or customize your Fossil Q smartwatch to take your sense of style to the next level.
Tempered glass screen protector
Tempered glass is often known as safety glass– and for good reason! Screens covered with a tempered glass protector are more resistant to breakage than they would be with a standard one. That's why this Fossil Q Founder screen protector is perfect.
Designed to fit edge-to-edge with bubble-free application, this screen protector will cost you around $18 on Amazon for the tempered glass option (and around $13 for the crystal clear and anti-glare protectors.)
See at Amazon (opens in new tab)
Fashionable watchbands
Customize and accessorize your Fossil Q smartwatch with their wide variety of dynamic watchbands!
Both the Q Founder and Q Grant smartwatches are compatible with 22 millimeter watchbands, so don't forget to browse (opens in new tab) for your perfect color and style combination!
See at Fossil (opens in new tab)
Fossil Q activity trackers
If you really want to get the full experience from Fossil's dynamic new wearable devices, then check out the brand's activity tracker. Functional and unbelievably stylish (think the classic-ness of Tiffany's with the fashion-forward flare of Marc Jacobs), Fossil's Q Dreamer and Reveler pieces look like a bracelets, but function like an activity tracker.
How does it work? Well, the band receives filtered notifications and tracks everything from steps to calories, while cueing you to complete "creative weekly curiosity challenges."
If you find the Q Reveler or Q Dreamer are more your bag, you can also swap out those bands as well for any 12 millimeter band.
See at Fossil (opens in new tab)
What's your favorite Fossil Q accessory?
Because the Fossil Q smartwatches are newer products, there aren't a ton of exciting accessories to go along with the device... Yet! Let us know what your favorite version of the Fossil Q is, and how you choose to customize it in the comments below!
I love Fossil and have the handbags,wallet and even frames by Fossil. But the reviews for the smartwatches have not been good. Which is disappointing since the watches are gorgeous. Posted via Priv

Speaking not as a reviewer, but an owner, I can't really say anything bad about my question founder. Yes it has the flat tyre look, which you quickly forget. The battery life is the same as the smartphone i.e one and a half days of normal use. This is the same for most and it's a fact if technology. The screen is crisp, has a ambient light sensor and the wireless charger is awesome... For 290 bucks (cheaper than my mechanical watch), I can't really fault it.

Soon as the q founder drops a little in price Ima pick one uo Posted via the Android Central App

Um tempered glass is known as safety glass because when it breaks, it shatters into smaller pieces and doesn't produce long sharp shards of glass. It is NOT stronger/break resistant glass. Posted via the Android Central App

Wrong, it's several times stronger than regular glass. Research about it.
Android Central Newsletter
Get the best of Android Central in in your inbox, every day!
Thank you for signing up to Android Central. You will receive a verification email shortly.
There was a problem. Please refresh the page and try again.